Luthier: Vladimir Druzhinin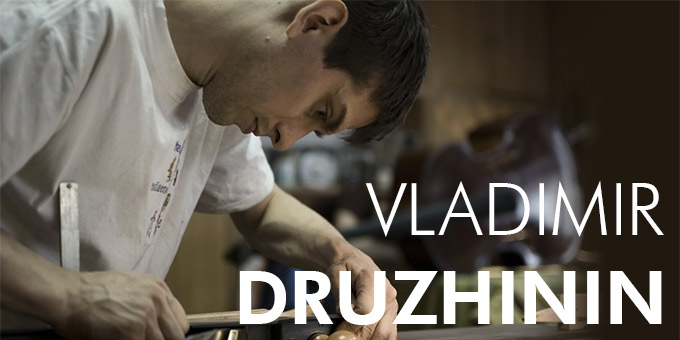 ---
Current Inventory     |     Past Inventory
---
Vladimir Druzhinin was born in 1983 in Novosibirsk, Russia into a family of scientists. In 2000, he graduated from high school with an emphasis in physics and mathematics, and subsequently successfully passed his entrance exams to Novosibirsk State University, where he enrolled. Not surprisingly, Vladimir graduated from Novosibirsk State University with a Bachelor's degree in Physics in 2004, and then in 2006, he continued with more success in receiving a Master's degree there, specializing in Accelerator Physics. It is a rare thing to encounter luthiers who have such extensive and focused training in a scientific area, let alone an area like physics that truly provides a deeper understanding into the natural underpinnings that occur in musical instruments; (guitar makers who come to mind are of course Greg Smallman and Simon Marty, two Australian luthiers who are known to study the physical nature of sound in relation to guitar construction to improve upon their designs, and I'm sure there are others) however, this seemed like a natural course for Vladimir coming from a scientist breeding ground since birth. From 2002 to 2008, he solidified his scientific training while working for the Budker Institute of Nuclear Physics.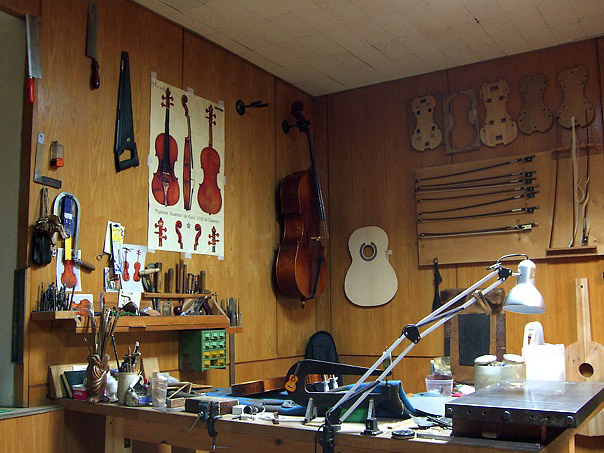 A true Renaissance Man in the 21st century, Vladimir has been studying the double bass since 2004 at the strings department of the Novosibirsk Music College.
In 2007, he was invited to fill a vacancy for bass player in his local philharmonic big-band, a position which he indeed accepted. And from that moment on, he became more involved in performing music. In 2007 and a few years following it, Vladimir had actively participated in the Novosibirsk jazz scene, worked in the Novosibirsk big-band and worked as a session musician in local studios.
In 2010, Vladimir moved to Moscow, where he met Timofey Tkach and was accepted by him as an apprentice guitar-maker. Since then, Vladimir decided to make luthiery his main occupation, since it recquires intense devotion, and his once busy Renaissance life had to cease in order to make way for this profession. From 2011 to the present, Vladimir has worked and continues to work in the Liuteria workshop, which is comprised of a luthier union, founded and inspired by Tkach himself. Vladimir's main focus while currently at Liuteria is on the Classical Spanish School of guitar-making. He also builds lutes and does restoration work to keep himself busier.
To top off Druzhinin's impressive training background and luthier credentials, we know that he is currently awaiting the end stages for his own workshop to be finished in the Moscow region. This may be a great milestone in which we'll be able to see even more productive, creative and truly unique works by Druzhinin – as if his body of work was not already impressive enough.
Notably, it always astonishes us to find such talented geniuses and geniuses-in-the-making who choose a profession as "Guitar-maker" (or "Luthier" to be classy!) as we see in Vladimir Druzhinin's case. We want to know what you think about this intriguing topic.

---
Let us know in the comments below

:

Is it essential for luthiers to have some scientific understanding of what goes on in the designs of their instruments?

Should scientists start transitioning more into the world of musical instruments?

In Druzhinin's case, do you think his scientific studies were a cause for him to start building guitars, or were his studies sort of a supplement to his stronger interest in guitars?
Leave a Comment