Martha Masters Records Works By Female Composers On Guitars Built by Female Luthiers.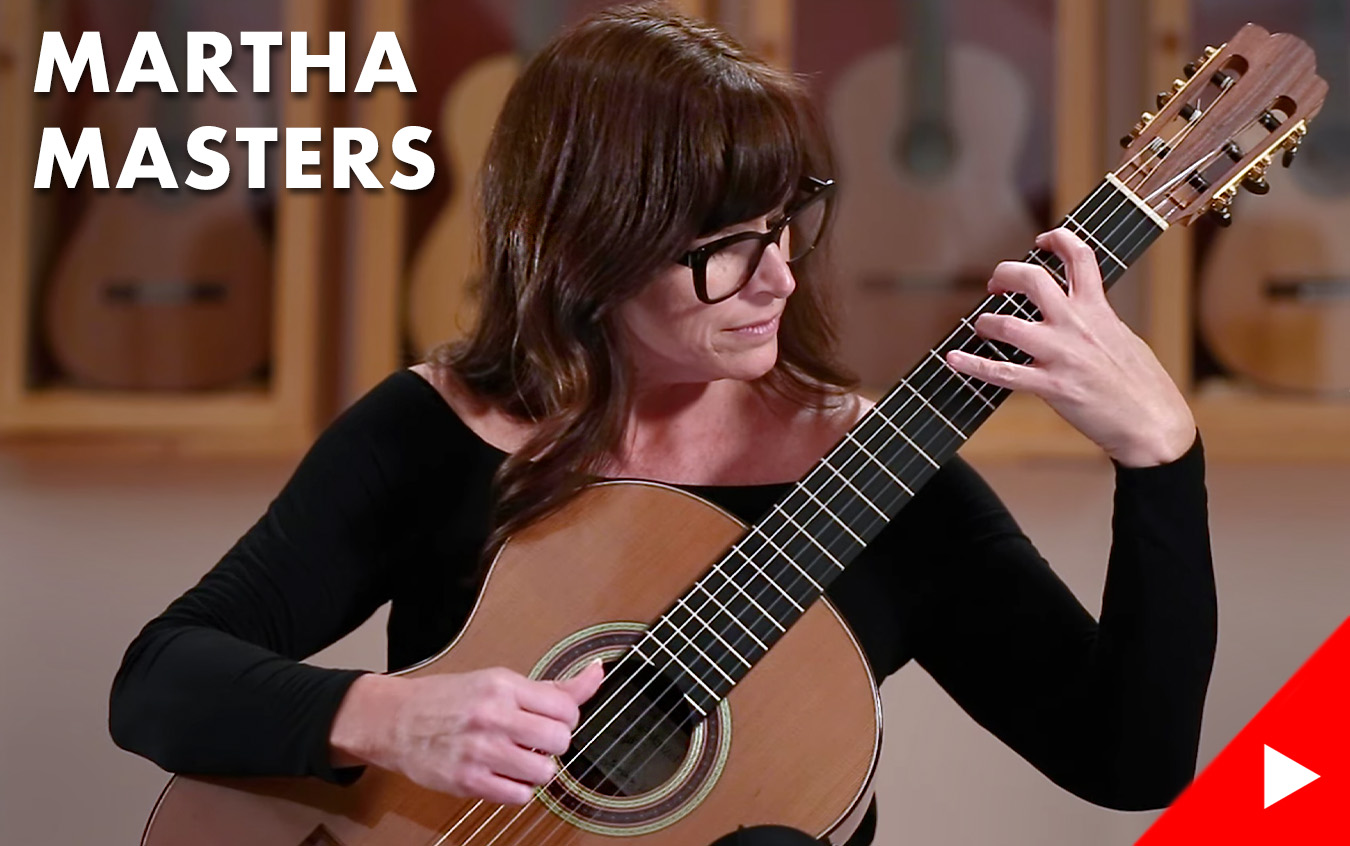 We're pleased to share with you five new videos that Martha Masters recorded in our showroom. Martha is a world-renowned guitarist and professor, the president of the Guitar Foundation of America, and a great friend and mentor to many generations of students. Martha has been living in Los Angeles for 30 years where she has been teaching at the Loyola Marymount University and California State University Fullerton. We didn't know it at the time of our recording session, but it turns out that we managed to record Martha just in time, as she will be moving to Arizona this fall where has she accepted a faculty position at Arizona State University!
While at GSI, Martha focused on works exclusively written by female composers and chose guitars made by excellent female guitar makers. Her recording session started with "A La Fueco (Å Roland Dyens)" by Dale Kavanagh. Of course, it's an homage to Roland Dyens' famous third movement, "Fuoco" from "Libra Sonatine". Martha recorded this piece on a 2022 Kathrin Hauser "Segovia" SP/IN. Kathrin is the fifth-generation builder of the Hauser workshop which was established by her great-grandfather, Hermann Hauser I.
Next, we could hear "Etude No. 2" from "6 Études Pour Guitare" by the legendary guitarist, Ida Presti. It's a beautiful composition with a captivating, yet simple melody. For this piece, Martha chose a 2015 Annette Stephany SP/IN. This guitar is a slightly modified version of an Enrique Garcia (the original, from 1906 is owned by Lorenzo Frignani). The bracing is a 9+2 symmetrical system copied from the original guitar. Some aesthetic details like head shape and rosette are also taken from the original.
Martha finished her recording session with Olga Amelkina-Vera's "Ka Ao, Ka Ao, Ka Awatea" (The Dawning Of A New Day). Olga is from Belarus but moved to the United States in the 1990s. Currently, she is based in Texas and is a highly-respected composer. "Ka Ao, Ka Ao, Ka Awatea" consists of four movements, "Karakia" (Chant), "Rākaunui" (Full Moon), "Wiriwiri" and "Haeata (Dawn)". This piece was commissioned by New Zealand guitarist, Jane Curry, and was inspired by the traditions and rituals of the Māori people - the indigenous Polynesian people of New Zealand. Martha recorded these movements respectively on a 2023 Amélie Bouvret CD/MH, a 2022 Paula Lazzarini CD/IN, and a 2022 Julia Wenzel CD/PW (used for both the third, and fourth movements which are performed attacca in a single video).
Leave a Comment