New Erez Perelman guitar features Return to Classic Design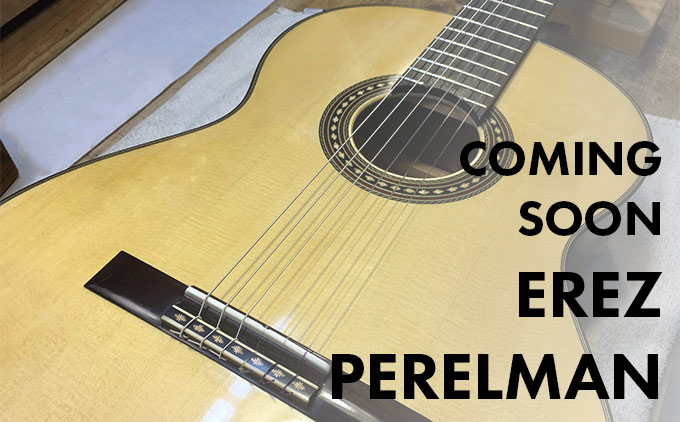 It's been a bit over 2 years since we last saw a new guitar by luthier Erez Perelman, so we're delighted to announce that he recently finished up a brand new six-string classical guitar (exclusively for GSI) that will arrive to the showroom shortly. Erez builds meticulously handcrafted instruments from his workshop in Israel, and has become known as a guitar maker whose approach draws from a synthesis of artistic, musical and scientific philosophies. You can learn more about Erez Perelman's intelligent approach to guitar-making, which yields beautifully built and sounding instruments like the one below, when you watch his 2015 Talk at Google.
With this new 2019 guitar, Erez revisits one of his older, classic rosette designs. As you can see below, he maintains that same aesthetic idea throughout the guitar as he adds the same design pattern to the tie block as well. This design is reminiscent of his early works from 2007-2012 when he alternated between this diamond motif and another square/line design. We do love his newer rosette (who wouldn't! it's gorgeous), but it's nice to have this classic reminder of Erez's earlier works when he was coming around the showroom to study the GSI inventory back then and when he was showing us his earliest guitars and ideas. Erez built this new 2019 guitar with a fantastic spruce top that has beautiful grain and character, and he used a set of CSA rosewood for the back and sides. Simple, but again classic.
Mr. Perelman will personally deliver this great guitar some time this month, so it will be nice to talk new ideas with him, and who knows, we might look through our new inventory together and talk guitars for hours.
---
Feel free to compare here!
Erez Perelman's New Rosette Design on a 2017 model | Classic Rosette Designs on 2007 & 2012 models.
Enjoy!
Leave a Comment