Olivia Chiang Visits GSI and Records Music by Montes, Segovia, Figueredo and Cardoso.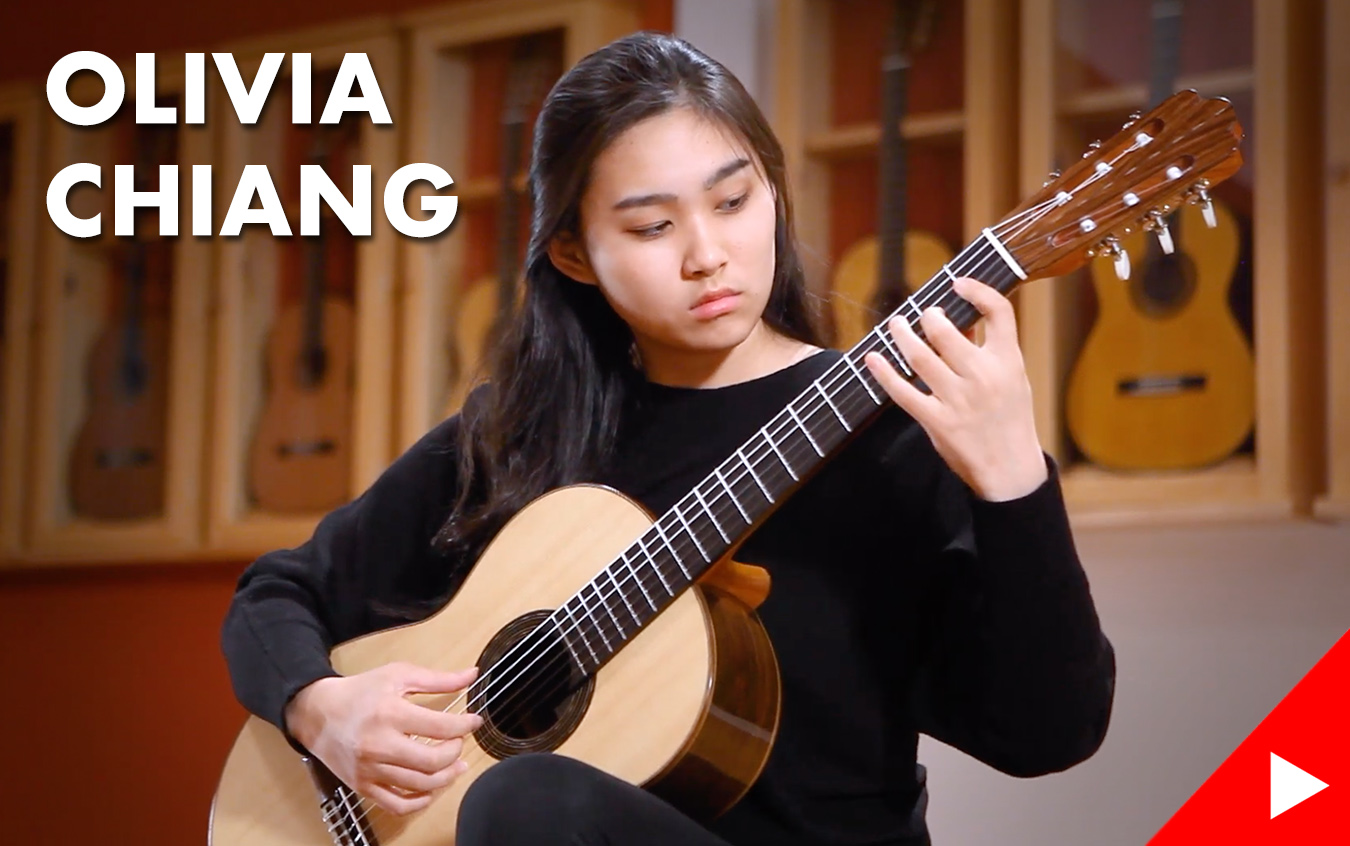 Olivia Chiang is a first-generation Taiwanese-American born and raised in Los Angeles. She began learning and playing the guitar from her father James Chiang, a self-taught musician, guitarist, and composer from Taiwan, at the age of seven. Growing up, she participated in masterclasses with Christopher Parkening and Roland Dyens and has had many musicians compose pieces for her, including Richard Glenn (USA), Alex Chudnovsky (Australia), Carlos Atilano (Venezuela), Maurice Sherbanee (France), Amir Abbasi (Iran), and Ricardo Boppre (Brazil).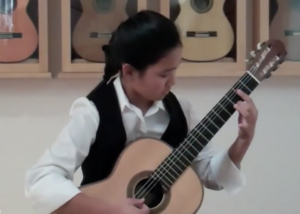 Olivia is our long-time friend. She began recording videos at GSI at the age of 12, debuting with her first video performance of Bach's Prelude and Allegro (BWV 998) recorded on a 1995 Edmund Blochinger SP/CSAR, as well as Bach's Chaconne three years later on a 2015 Matthew Chaffin CD/IN. She was also the first classical guitarist to record Barrios' Variation on a Theme by Tarrega (Lagrima) in 2015. She recorded this piece on a 2010 Teodoro Perez "Maestro" CD/AR. Currently, she is a third-year student studying classical guitar performance with Scott Tennant, William Kanengiser, Brian Head, and Pepe Romero at the USC Thornton School of Music. Looking ahead, Olivia hopes to continue to record more videos at GSI and teach private classical guitar lessons to the next generation of guitarists.
During her most recent visit to GSI, Olivia recorded four videos on four different guitars. Her recording session started with "Preludio de Adios" by Alfonso Montes who composed this piece after leaving his native Venezuela, knowing that he wouldn't be able to return. This composition has a very somber and pensive character. Olivia decided to record it on a 2021 Youri Soroka "Local Wood Challenge" SP/WN – a lightly built instrument with a low body resonance (F) that has great clarity and sustain. The sound of this guitar is very malleable and ultra-responsive to even the most subtle color changes.
Olivia's second piece was "Estudio Sin Luz" by Andrés Segovia. This title literally translates to a "Study Without Light," as Segovia composed it while he was temporarily "blind," recovering from eye surgery. Olivia decided to record this composition to reflect the dark times we're going through, hoping to bring light and comfort to all. She played it on a 2008 Dominique Delarue CD/IN. Delarue's instruments are noted for their excellent tonal colors and a broad dynamic range with remarkable balance and power.
Olivia also recorded Alirio Díaz's arrangement of "Los Caujaritos" by Venezuelan composer, harpist, and folk musician, Ignacio "El Indio" Figueredo (1899-1995). This energetic and lively piece translates to English as "Little Rubber Bands," mimicking the sound of the Venezuelan harp. Olivia performed this composition on a 2021 Vicente Carrillo "Primera Especial" CD/AR – a true concert instrument in every regard that combines the full richness and dark character of cedar with a clarity and great balance which is normally found in spruce guitars.
The last piece recorded by Olivia during this session was "Milonga" by Argentine guitarist and composer, Jorge Cardoso. Among over 350 compositions composed by Cardoso, "Milonga" is one of his best-known works. The Milonga is a folk dance that originated in Uruguay, derived from an earlier style of singing, the payada de contrapunto. This particular arrangement of this piece was made by Olivia's father, James Chiang. Olivia decided to record this piece on a 2021 Hans van Velzen "1917 Garcia" SP/IN. This model is based as precisely as possible on a 1917 Enrique Garcia (#187). Sound-wise, this design gives the guitar access to deep, dark basses and velvety trebles, all nicely balanced.
It was a pleasure for us to see Olivia recording in our showroom again. Check out all of her new videos below!