Orfeo Magazine #10 - Pepe Romero, Reynoso, Elliott, Byers & Sahlin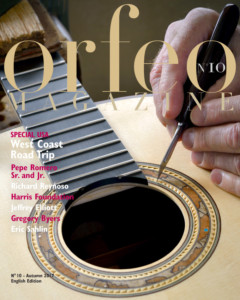 Orfeo Magazine's 10th release is particularly special to us – it showcases builders from our side of the world as the writers and photographers document their trip up and down the West Coast. It's great to see so many of our friends in this issue! Pepe Romero Jr., down in San Diego, talks about his family legacy, how he makes guitars and shows us his personal collection. We're excited to see Richard Reynoso here representing Los Angeles as he lets us into his inspiration for making such tasteful instruments. Then, we head to NorCal in Berkeley where we get a nice look into the Harris Guitar Foundation collection of instruments, which are available to the students at SFCM. Gregory Byers, in Willits, CA, is next and gives us a look at his extensive and unique research into guitar-making. Orfeo then visits Portland Oregon's Jeffrey Elliott to learn about his history as a luthier, his building process and the kind of sound he looks for. Their last stop is in Spokane, WA for none other than Eric Sahlin. Eric talks about being self-taught, his wood preferences and his innovative "twisted" fingerboards.
Orfeo No. 10 is almost like going on an actual road trip along the West Coast, and it is nicely guided by quotes by Jack Kerouac. Read the full Orfeo Magazine No. 10 in English here.
Leave a Comment