Pepe Romero - New Line of Strings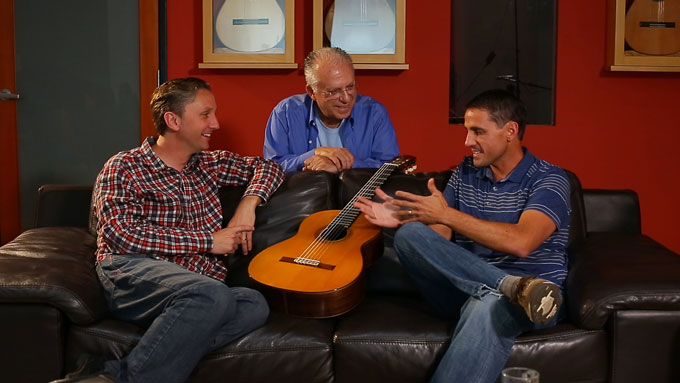 When luthier Pepe Romero Jr. told us about his new line of strings we had a lot of questions, starting with "why do we need another line of strings?". Turns out Pepe was able to develop his line of strings to fill missing niches that we didn't even realize existed. His father, Pepe Romero Sr. shares his experience of the development and evolution of guitar strings from the time he was a boy playing on gut, to the first nylon set he'd ever seen (a set that the family shared for several years!) and beyond. One of the sets is even named the "Pepe Senior" set, since it accurately re-creates an old-style of nylon (smooth, with a slightly milky color in the otherwise clear nylon) that Pepe Senior was very fond of in the early years of nylon, but was discontinued suddenly over 40 years ago.
The full line of Pepe Romero Strings includes rectified sets in normal and hard tensions, a lighter set for vintage or flamenco guitars, a clear nylon set, a fluorocarbon set, and the "Pepe Sr." set made specifically to the demands of the maestro. Check out the discussions below and learn all you ever wanted to know about this line of guitar strings as well as Pepe Sr.'s personal story of his experiences with strings over the course of his life and career.
Intro – Pepe Sr. & David Collett                                                   Pepe Sr. Set – Pepe Sr. & David
Vintage/Flamenco Set – Pepe Sr. & David                                  Rectified Set – Pepe Sr. & David
Fluorocarbon set – Pepe Jr. & David                                          Vintage/Flamenco set – Pepe Jr. & David
Rectified set – Pepe Jr. & David                                                  Pepe Sr. set – Pepe Jr. & David
Leave a Comment