More PHOTOS: Bastien Burlot's Third Guitar In His "Alkemia" Series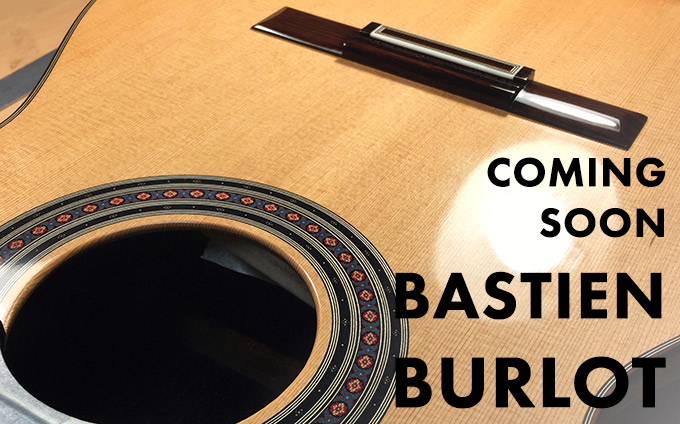 Bastien Burlot's newest guitar for GSI is currently being built. It is the latest installment in his "Alkemia" line of instruments based on the great cathedrals of France – this one based on the famous "Nôtre Dame" of Paris.
For Bastien, the great cathedrals that inspire him (see his "Alkemia-Chartres" and "Alkemia-Strasbourg" models) act as "bridges between the profane, material world and a more sacred one." It is this ideal that Bastien brings into the construction of this "Alkemia-Paris" guitar. In his own words about this particular guitar:
"When I started the quest that would lead me to the project "Alkemia", I knew that Nôtre Dame de Paris would be a special moment. We all know the tragedy of the recent fire that partially wounded the cathedral and it took me a long time to find out if I still had the courage to continue the work on this mode that I had undertaken a few months before the fire. I finally thought it would be a great hommage to anticipate its restoration by offering this very special guitar that I'm now continuing to work on. I opted for exceptional woods that I have kept precisely for such an ideal moment. I am using some very old CSA Rosewood (aged for over 70 years) and also a beautiful red cedar top that will bring, I hope, a lot of character to the instrument.
I was fortunate enough to visit Nôtre Dame de Paris recently and I was once again captivated by the immense evocative power of the building, particularly when passing in its forecourt, all the bells began to ring and I was struck by the timeless majesty that emanated from it. What beauty, what power … and what unfathomable magic too!
These are the reasons that led me to design this guitar with special attention. I wanted to capture the essence of this majesty and offer the strengths of a modern instrument of concert associated with the nobility of a timeless construction. To create the rosette I chose to take inspiration from the South Rose which is dedicated to the New Testament. The exterior elements are composed of modern stained glass for the windows by Jacques Le Chevalier. I have chosen a stylistic approach that crosses the ages and can also lead to a more symbolic vision for those who may seek to unravel their mysteries…"
We look forward to seeing this next "Alkemia" from Bastien Burlot. And for now, enjoy the photos below for a sneak peek at what is to come.