Player Spotlight: Yuri Liberzon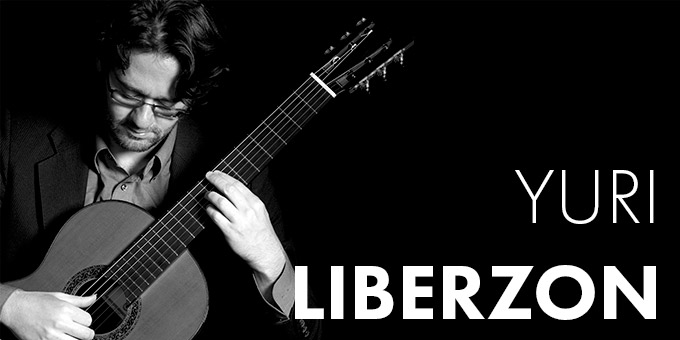 Russian-born and Israeli-raised classical guitarist Yuri Liberzon has been recognized for his impressive technical ability and musicality. USCIS has granted Mr. Liberzon 'Alien of Extraordinary Ability' United States Permanent Residency based on his achievements in the music field.
Liberzon's solo concert appearances include performances at the Marlow Guitar Series in Maryland, Lesher Center in Walnut Creek, Legion of Honor in San Francisco and 92nd Street Y in New York. His chamber and orchestra appearances as soloist include performances with the Diablo Symphony Orchestra, Palo Alto Chamber Orchestra, Gold Coast Chamber Players and Quartet San Francisco.
Liberzon has also been featured in articles and radio by media sources such as Voice of America International Radio Station, Kol HaMusica National Classical Music Radio Station of the Israel Broadcasting Authority, KUHF (NPR Houston), KUSF San Francisco, WDR German Television Network, San Francisco Chronicle and Classical Guitar Magazine.

"…If there were anyone in the classical guitar world that could manage to combine musical elegance with architectural logic, it would be Yuri Liberzon." – Classical Guitar Magazine
Yuri's most influential teacher at a young age was Maestro Yaron Hasson with whom he studied for 6 years in Israel before coming to the United States. He has been a frequent recipient of scholarships from the America-Israel Cultural Foundation.
Motivated by a desire to realize his potential, Yuri was privileged to come to the United States as a student to study at the Peabody Conservatory of the Johns Hopkins University. He was awarded full scholarships to study with two of the world's leading guitar masters: Manuel Barrueco and Benjamin Verdery. Yuri received his Bachelor's degree and Graduate Performance Diploma from Peabody Conservatory as well as Master's degree from Yale University.
In addition to his arrangements and transcriptions, his expertise has been called on to judge competitions in the United States, such as the Beatty Music Competition for the Classical Guitar in Washington D.C and San Francisco Conservatory of Music.
His arrangements of Domenico Scarlatti and J. S. Bach have been published in SoundBoard magazine, the official quarterly magazine of the Guitar Foundation of America. In 2015, he released a debut record Ascension, which was highly praised by respectable publications and critics including Classical Guitar Magazine, Fanfare and the Muse's Muse.
YURI LIBERZON GUITAR DEMOS

(view all)
Leave a Comment