Rachel Ginebra from Rochester, NY, Records Music by Tárrega, Barrios Mangoré, and Kleynjans at GSI!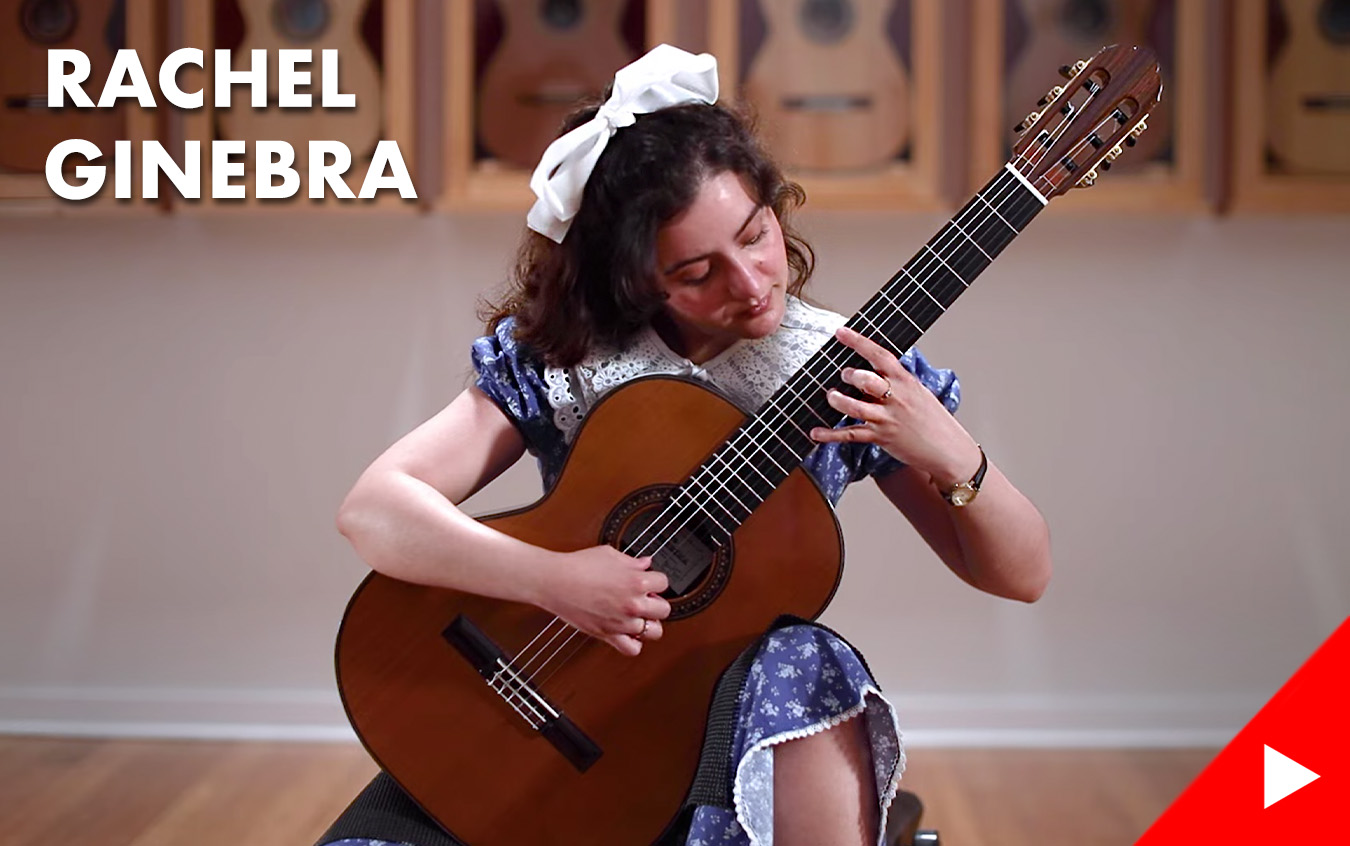 Classical guitarist, Rachel Ginebra, has recently visited our showroom and recorded five videos for our YouTube channel.
Rachel is currently based in Rochester, NY. She originally came to the U.S. from Pinar del Río, Cuba, where she took her first guitar lessons. In the States, Rachel received her Bachelor's and Master's degrees as well as an Artist Diploma from the University of Miami Frost School of Music. Currently, she is finishing her doctorate degree at the University of Rochester Eastman School of Music where she studies with Dr. Nicholas Goluses.
While at GSI, Rachel started her recording session with a piece titled "Vals Francés" by French composer Francis Kleynjans. This is a short, lovely piece with a simple, yet beautiful melody. Rachel decided to record it on a 1985 Javier Cayuela SP/MP guitar previously owned by maestro Pepe Romero. This guitar is one of Cayuela's top models featuring additional inlay work (including herringbone purfling in the top, back, sides, and back center seam, as well as a charming "treble clef with eighth notes" inlay in the heel). It has a warm and rich Andalusian sound.
Later, Rachel played two pieces by Spanish composer, Francisco Tárrega, who is often called the father of classical guitar. First, Rachel recorded his "Vals en Re Mayor" on a 2022 Marco Tejeda "Chamberi" SP/AR. This beautiful Spanish instrument was completely hand-made by Tejeda in the Teodoro Perez workshop. Marco Tejeda's guitar models are named after the neighborhoods of Madrid - in contrast to his brother-in-law, Sergio Perez, who names his models after the various cities of Spain. "Chamberi" is one of the districts that form part of Madrid's "Central Almond". After "Vals en Re Mayor", Rachel played Tárrega's famous "Lágrima". The title of the piece translates to a "teardrop" and Rachel's interpretation, and especially her use of rubato, is very expressive and moving. She recorded this piece on a 2022 German Vazquez Rubio "Solista" CD/IN. This guitar has a bracing system that fattens out the tone particularly in the trebles, giving the guitar an overall warmer sound.
Next, Rachel played one of the most famous pieces for tremolo technique, "Una Limosna Por El Amor De Dios" (a.k.a. "El Último Trémolo") by Agustín Barrios Mangoré. It was also Barrios' last composition written before his passing in 1944. Rachel recorded it on a top-of-the-line student/entry-level concert guitar, a 2022 Vicente Carrillo "India Estudio 640" SP/IN. It's a modestly priced instrument, but it sounds great and plays easily.
Rachel finished her session by recording an absolute classic that every guitarist should know - "Romanza" by an anonymous composer. She played it on a 2022 So Kimishima "Stella" CD/IN. So Kimishima is the grandson of the greatest classical guitar luthier from Japan, Masaru Kohno, and has been a member of the Sakurai-Kohno workshop since 2007 where he has worked and trained with the great Masaki Sakurai.
Leave a Comment