Taiwanese Guitarist, Yifang Ko, Records Five Videos During Her First Visit To GSI.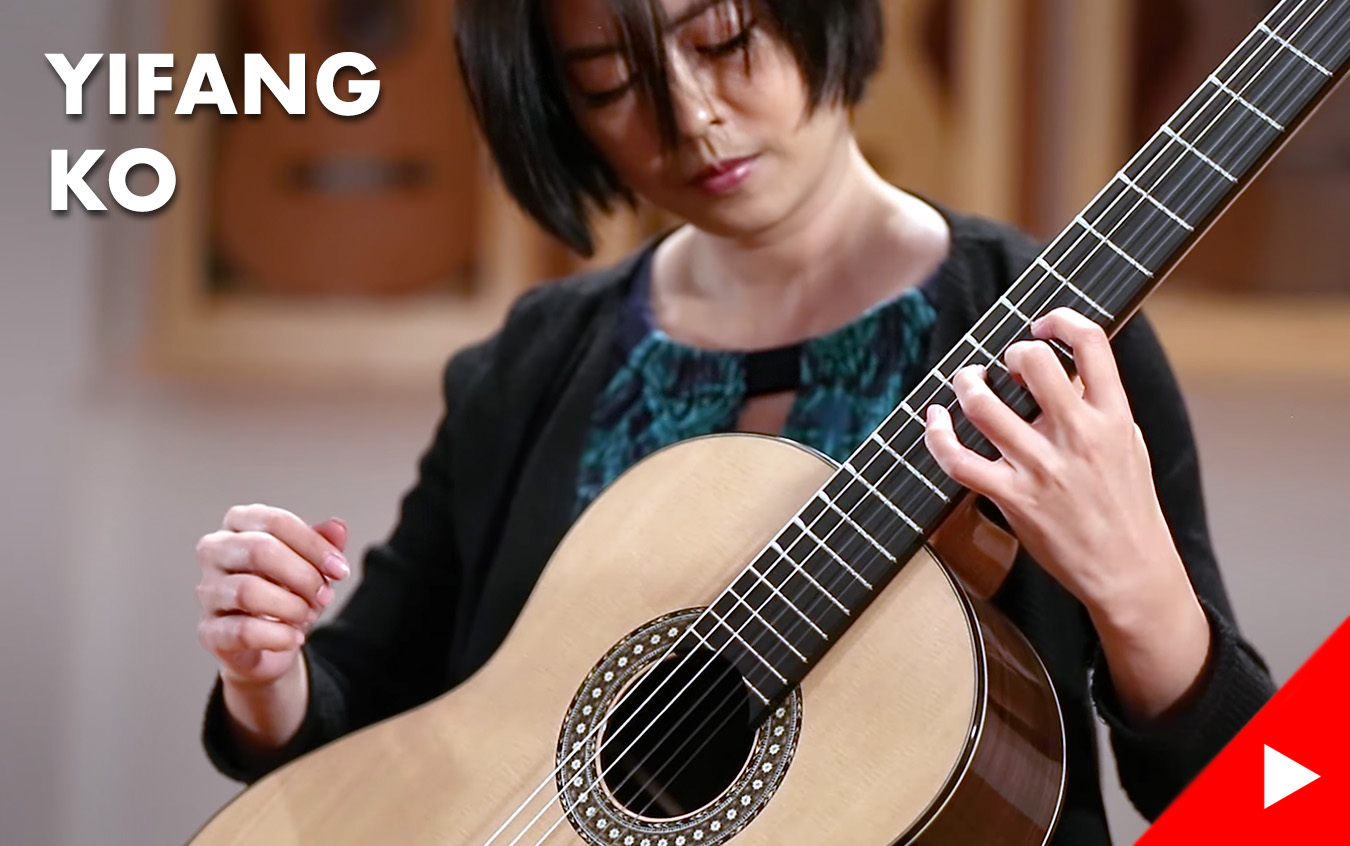 Recently, we featured a new artist on our YouTube channel. Yifang Ko is a classical guitarist from Taiwan. She graduated from Ball State University in Muncie, Indiana, where she received her Bachelor's, Master, and Doctorate degrees. Currently, Yifang is the executive director of the Taiwan Guitar Society and she works actively as a teacher, performer, and lecturer.
Yifang visited us during a very rainy evening and recorded five videos in our showroom. It was the first session in the history of our YouTube channel which was fully recorded during heavy rain outside - surprisingly, it had never been an issue for us in the Southern Californian climate. Our videographer, Felix, still managed to record Yifang, but if you listen carefully you'll notice the sound of rain in the background, which in our opinion added a lot of charm to the videos.
Yifang started her session with a performance of "Waiting For Dawn" by our good friend, Andrew York. Yifang chose a 2022 Sebastian Stenzel SP/CSAR for this video. With this instrument, Sebastian brought back an older style of sound that he developed in his smaller-bodied instruments years ago that we called his "crème brulee" sound - which features a layered sound of a creamy body with a crunchy attack (analogous to tapping a spoon through the hardened sugar layer into the creamy interior of a crème brulee).
Next, Yifang played "Milonga" by Jorge Cardoso for us. Her interpretation of this simple, yet beautiful piece is captivating. Yifang recorded this piece on a 2020 Stefan Nitschke "1912 Manuel Ramirez" SP/CSAR. This is Nitschke's tribute to the iconic 1912 Manuel Ramirez guitar that was Segovia's concert guitar for the first 25 years of this professional career. Stefan told us that even though this guitar is aesthetically modeled on the Ramirez, the internal construction follows more along the lines of Jose Romanillos.
In the third video, we can hear Yifang performing "Willow (楊柳)" by Taiwanese composer, Lu Chao-Hsuan (呂昭炫). (1929-2017). Yifang recorded this on a 2022 Miguel Angel Gutierrez SP/IN - a guitar made by the 3rd prize winner at the prestigious Antonio Marin Montero competition in Granada, Spain. Even before coming to our showroom, this guitar became popular on our Instagram thanks to its beautiful and unique inlay work in the head veneer, rosette, and tie-block.
To us, it's always very interesting to see what guitar our performers pick for the music of Johann Sebastian Bach. Yifang made a great decision to record "Prelude from Cello Suite No. 1, BWV 1007" on a guitar with tornavoz - 2022 Dominik Wurth "Torres" w/tornavoz SP/IN. Just hear the basses on this guitar! Check out the video below. This particular arrangement was made by Allen Krantz.
Yifang finished her recording session with a performance of Jiři Jirmal's "Simplicitas" from his "Baden Jazz Suite". Jiři Jirmal was a Czech classical guitarist whose music incorporates the elements of Brazilian music. For this final recording, Yifang picked a gorgeous instrument - a 2022 Kathrin Hauser "Segovia" SP/IN. Kathrin is a fifth-generation luthier from the Hauser workshop. Soundwise, this guitar has all the classic Hauser qualities - great balance, evenness of sustain, and supreme clarity.
Leave a Comment