Teacher Spotlight: Dennis Davis & The EKU Guitar Dept.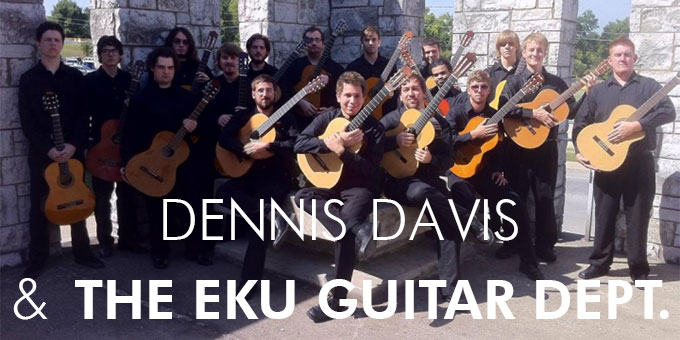 A multi-faceted guitarist, Dr. Dennis Davis outstandingly directs the Guitar Department at Eastern Kentucky University. His performances for NPR, Miss Kentucky Pageant, as well as clinics with top concert artists like Tennant, Kanengiser, Russell and Barrueco have served to showcase his musical talents; however, establishing core curriculum for his EKU Program, which has been adapted by other universities, as well as coordinating music technology studies are just a few extra facets of Davis' career that are little known. Continue on to read more about Dennis Davis – the guitarist and educator.
Dennis Davis has presented numerous concerts and recitals throughout the region including performances on National Public Radio and regional television. He has performed for celebrities and dignitaries such as Patrick Swayze and Wynonna Judd and for notable events such as "Off Broadway Live," the Miss Kentucky Pageant, and the Grawemeyer Award Concert and Ceremony. He has performed and shared the stage with Mel Torme, Ben Vereen, Doc Severinsen, Matt Neiss, and Jeff Tyzik, among others.
Dr. Davis earned his Ph.D. and undergraduate degrees at the University of Kentucky where he became the first classical guitarist to be selected as an Honors Recitalist (1991). He has performed in masterclasses for Christopher Parkening, Adam Holzman, Sharon Isbin, Frank Koonce, Joseph Hagedorn, Julian Gray, Ronald Pearl, and Oscar Ghiglia, and has received private coaching from David Russell, Manuel Barrueco, Eduardo Fernández, Scott Tennant, William Kanengiser, David Dolata, and Clare Callahan. William Kanengiser described his performances as "very expressive and solid playing." Dr. Davis studied jazz guitar with Scott Henderson, jazz improvisation (classes and clinics) with numerous educators, including Jamey Aebersold, Sam Holland, Jiggs Wiggsham, and David Baker, and has performed in jazz ensembles under the direction of Vince Dimartino, Miles Osland, and Dick Domeck.
Davis has performed with several professional groups including The Lexington Guitar Trio, The Kentucky Jazz Repertoire Orchestra, and Walnut Street Ragtime Ramblers. The most recent recording by KJRO, Flying Home, was praised by several reviewers and features classic big band transcriptions from the swing dance era. As a member of the Walnut Street Ragtime Ramblers, Dr. Davis performs traditional Dixieland and Ragtime Jazz. The group was invited to perform multiple engagements in Spain (January, 2011) and was featured on the 2006 Great American Brass Band Festival compilation CD.
Dr. Davis is a reviewer for Soundboard and has adjudicated music competitions and presented and conducted masterclasses at several guitar festivals. He currently directs the guitar program at Eastern Kentucky University and his curriculum offers training in classical and jazz guitar performance, including courses in pedagogy and literature. Scholarships are available for qualified students. The EKU guitar program offers students numerous performance opportunities including two touring guitar ensembles, two jazz ensembles, and frequent studio, chamber, and departmental recitals. The annual guitar festival features concerts and masterclasses with nationally recognized artists such as Marcin Dylla, William Kanengiser, Carlos Perez, and Chris Buzzelli. Dr. Davis presided over the Guitar Society of Lexington-Central Kentucky for more than a decade and has held guitar instruction positions with the University of Kentucky Fine Arts Institute and The Kentucky Governor's School for the Arts (Louisville).
Davis also coordinates music technology studies at Eastern Kentucky University. His music technology curriculum has been adopted by several institutions, and he is frequent presenter at conferences for music education. He is an active member of TI:ME (Technology Institute for Music Educators), and he has taught technology certification workshops (Sibelius) for the University of Kentucky and TI:ME.
His freelance work spans more than 25 years of experience utilizing music technology. His performances regularly feature MIDI sequences that not only function as a complete digital ensemble, but also include real time digital vocal harmonization. Several theatrical companies have utilized his sequences for their live performances, including multiple productions by the Lexington Children's Theater.
Dr. Davis has received several grants from the National Endowment for the Arts, the Kentucky Arts Council, the Lexington Arts and Cultural Council, the EKU Office of Institutional Effectiveness, and the EKU Assessment Committee. His most recent awards were given for pioneering a technology-focused methodology for student self-assessment.
Leave a Comment