The Bassett Bros. Guitar Duo Records Music by Iron Maiden, Scarlatti, Johnson, and Einaudi!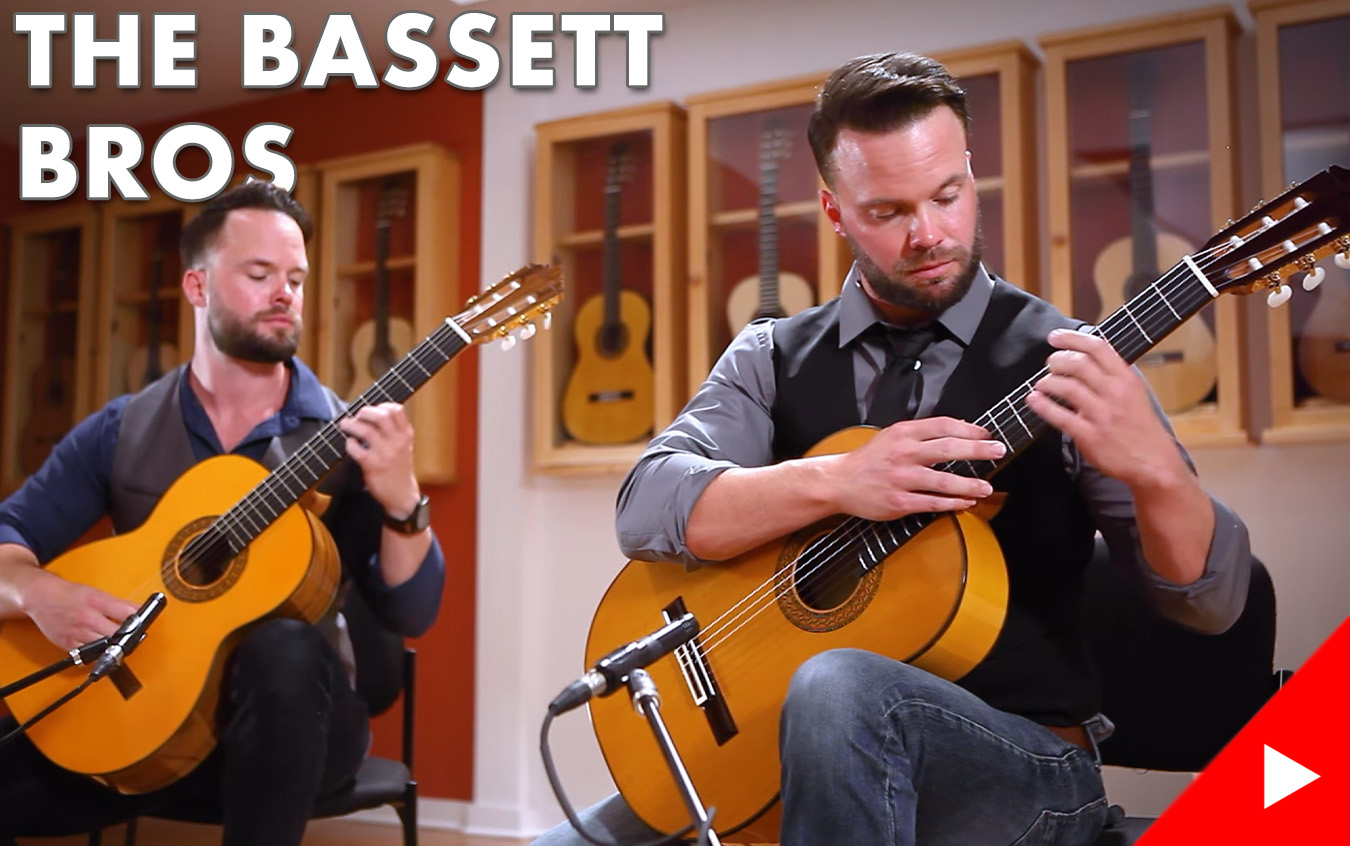 Recently, a new guitar duo visited our showroom to record videos. The Bassett Bros. are identical twins performing various musical styles, from medieval to Metallica. The list of their repertoire includes works from the Renaissance, Baroque, and Classical periods, all the way to contemporary styles, such as rock, blues and heavy metal.
Sean and Ian Bassett have been playing together since their youth. They're both based out of San Diego, California. Sean teaches music at the San Diego State University and Ian teaches at Mesa College.
In addition to their performance videos, Ian and Sean are also known for their YouTube channel, which features informative videos about music. In their free time, they enjoy cooking, surfing, outdoor activities, and fitness.
During their time at GSI, the Bassett Bros. recorded five videos. They started with Domenico Scarlatti's "Sonata K. 173 (L. 447)" performed on two La Cañada guitars (17 & 17A models). Then, they recorded two of Frederick Noad's arrangements of John Johnson's music – "The Flatt Pavin" & "Galliard To The Flatt Pavin". For these two pieces they respectively chose two 1974 Hernandis guitars, and two 2021 Elias Bonet guitars. Next, Sean and Ian recorded their own arrangement of Ludovico Einaudi's "Nuvole Bianche" on two 2010 Masaki Sakurai "Maestro RF". The duo finished their recording session with a hit song by the heavy metal band, Iron Maiden, titled "The Phantom of The Opera" composed by Steve Harris. This song was recorded on two flamenco guitars built by Gerundino Fernandez.
Check out their videos below!
Leave a Comment