Kithara Project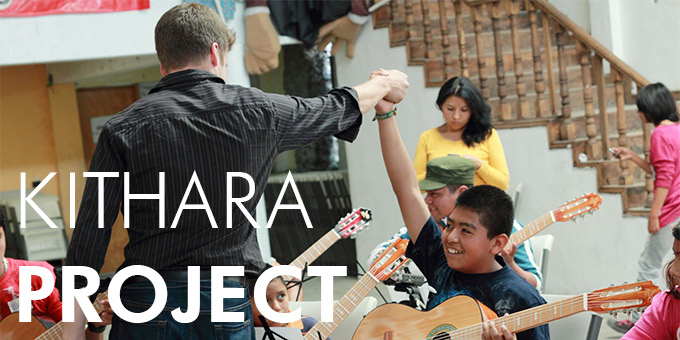 Our friends Adam Levin, Matthew Rohde and Scott Borg are classical guitarists, internationally acclaimed performers and teachers who run a nonprofit organization called Kithara Project. Kithara Project's mission is to promote widespread and equitable access to the classical guitar worldwide. Much like us here at GSI, the founders of the Kithara Project believe that the guitar is among the most democratic, culturally fluid, and versatile instruments in the world, and as such is an ideal tool not just for enriching the cultural life of a community, but also for stimulating social empowerment where it is most needed.
In general, the organization's work is concentrated in the creation of long term, sustainable guitar programs in under-served communities. These programs provide local students with instruments, weekly workshop opportunities, performance opportunities, and performance attendance opportunities — in short, all the ingredients of a first-class music education! The foundation currently oversees two such programs: one, in a low-income community in the Boston-area neighborhood of Allston; and the other, in a Mexico City shantytown called Yuguelito. Kithara Project also conducts a limited number of shorter term residencies in partnership with schools and universities throughout the US. We are beyond excited to partner up with Adam, Matthew, and Scott to promote music education through the magic of the guitar. Stay tuned for updates! Check out their website and activities at www.kitharaproject.org.
We strongly encourage our patrons to support their worthy cause!
Leave a Comment