Tobias Berg Shares Details About His New Guitar - No. 133. See the Sneak Peek Video!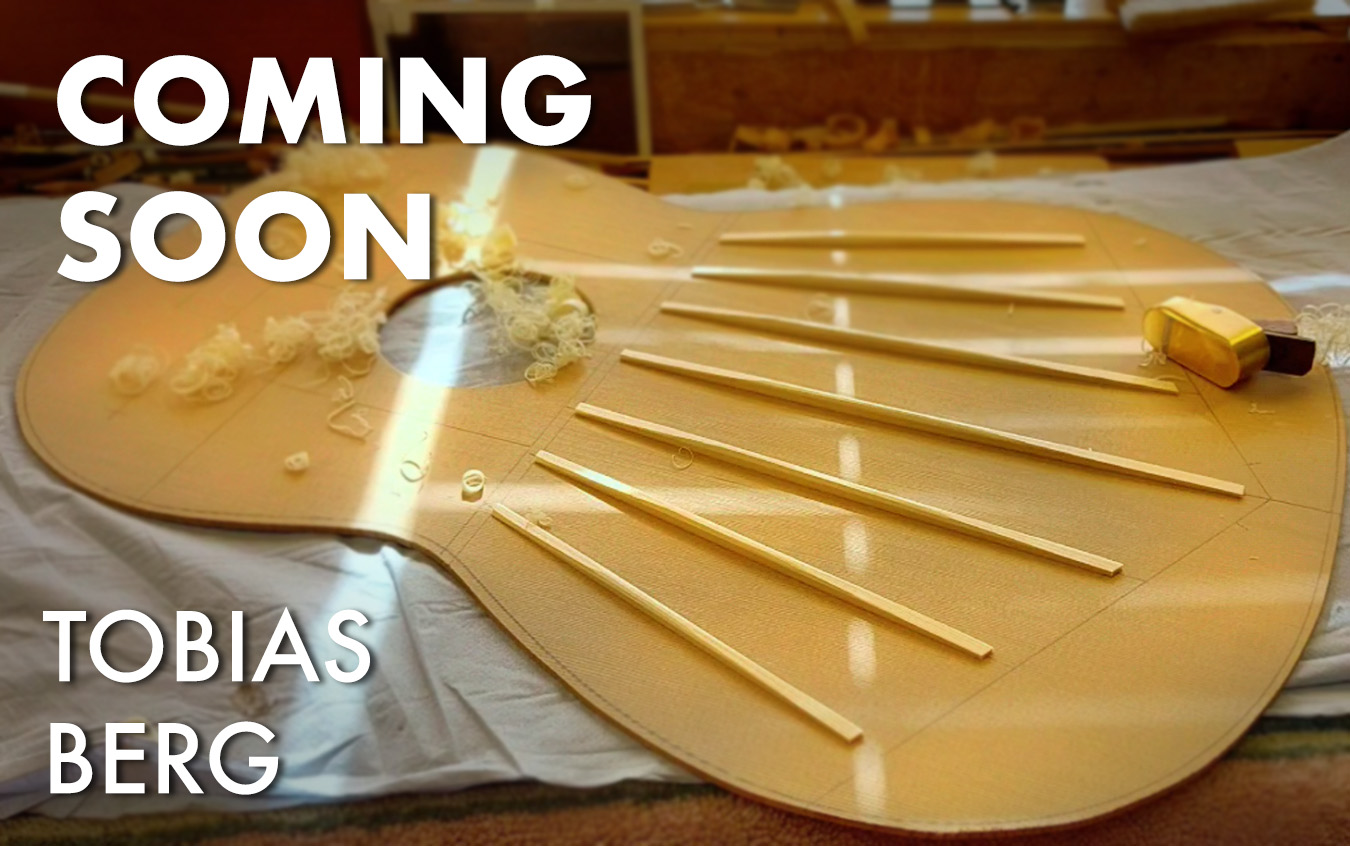 Tobias Berg has shared with us new information and a sneak peek video of his next GSI guitar. Tobias is a good friend of ours and we've been proudly representing his guitars for the past 16 years. This is going to be our 41st guitar from this maker and we're expecting to see it in our salon in April. We've been comparing some of Tobias's guitars to the newer instruments by Daniel Friederich, thanks to their "cathedral-like" sound quality.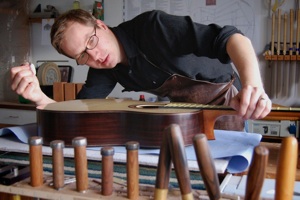 Tobias says:
Friederich has always been an inspiration for me to say the least – his craftsmanship was at the highest level and I also admired his aesthetics and sense for sublime design. Saddened to hear about his passing I thought of using materials that Friederich often used, namely East Indian Rosewood and Cedar. I've also included a back center strip on this guitar and mitered joints in a small nod to pay homage to his aesthetics but still using my own shape and overall design.
For the past 100+ guitars, I've always made minute changes in the quest of building an even better instrument. Doubling the sides gives a result I prefer. This last guitar has the neck reinforced with a square carbon rod and inside of it is laminated hard rock maple and titanium. This makes for an extremely solid neck but it doesn't add any weight. When I French polish the neck of an instrument the "box" is already starting to amplify the sound of the shellac pad being moved around the neck. That to me is a sign of the guitar being a full-bred concert guitar.
Recently, I started using a solid lining to join the top and sides. Another small "improvement" in my own way of thinking. As with doubling the sides, I believe the solid top lining adds more directness and presence. Having said that – I would never claim to have supernatural ears and being able to discern what kind of building method was used as a listener in the audience. We are talking about tiny, tiny details but as a maker, I want to improve and I do believe these things add up in the end – it's as simple as that.
As I started to build this guitar I thought of making some snapshots with my cell phone. The pictures document some of the various stages of building, they reveal a few of my techniques and tools that I use again and again. At least with this guitar, I plan to have a book printed with the pictures from the building process and I'll include it with the guitar and a personal note from myself to the future owner of the guitar.
Check out the video below! In case you're wondering, the piece used in the video is Ryuichi Sakamoto's arrangement of the theme song from the film "Merry Christmas, Mr. Lawrence" performed by L I N Ü on Tobias Berg guitars.
Leave a Comment