Vietnamese Guitarist, Minh Nguyen, Records Music By Debussy, Brouwer, Scalatti, and Llobet.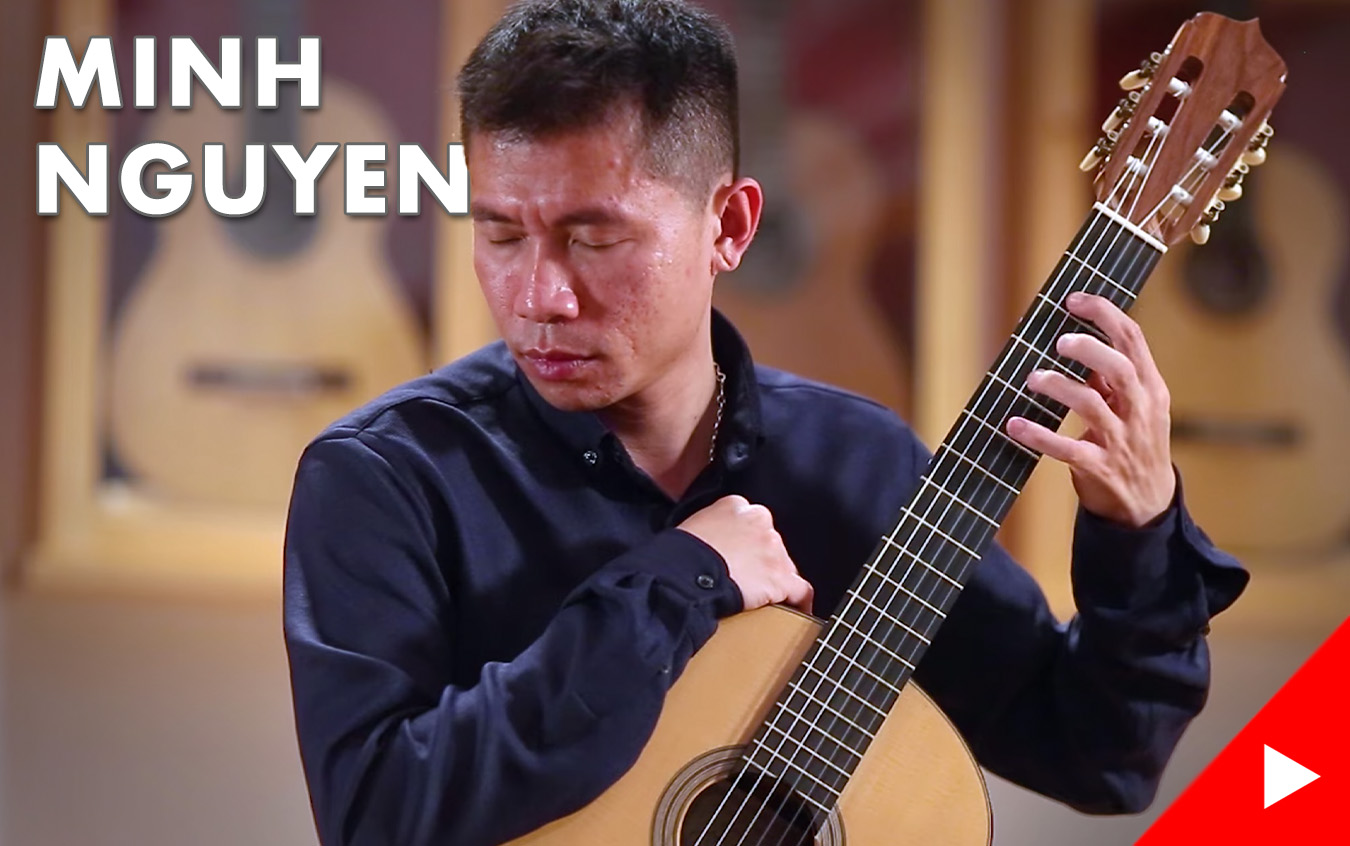 Vietnamese guitarist, Minh Nguyen, has recently visited GSI for the first time. Minh is our good friend. He currently lives in Orange County, California, and often performs in local venues. Minh graduated from the University of Southern California where he studied with Maestro, Scott Tennant.
During his first visit to GSI, Minh recorded four videos. He started his session with Claude Debussy's "La Fille Aux de Lin" [The Girl With Flaxen Hair]. The title refers to a poem with the same name by Leconte de Lisle. This simplistic piece is one of Debussy's compositions from his first book of preludes for solo piano. Minh decided to record this piece on a 2021 Mijail Kharash SP/AR. This spruce-top guitar has an excellent focus and balanced with warm, loose, and lush sound. It also has an extremely lightweight build.
Next, Minh recorded "Motivos de No. 1" by Cuban composer, Leo Brouwer. This is a new work by Leo Brouwer commissioned in March 2021 by the José Tomás Villa de Petrer International Guitar Festival and Tampere Guitar Festival. Minh recorded this piece on a 2021 Richard Reynoso SP/CSAR guitar. This is a beautifully built guitar with design elements which we've been calling "neo-art deco". The sound of this instrument is very bold and solid, just like its appearance!
Minh's third recorded piece was Carlo Marchione's arrangement of Domenico Scarlatti's "Sonata, K. 209". Scarlatti wrote 555 keyboard Sonatas within his lifetime. They were originally performed on keyboard instruments – harpsichords or pianofortes. However, nowadays, they're often transcribed to many other instruments, including classical guitar. Minh beautifully captured the "galant" style of this piece. He performed it on a 2021 Elias Bonet SP/GE. This guitar is a traditional model from Elias Bonet's workshop. It has ample volume, and a deep richness of timbre.
Minh finished his recording session with Miguel Llobet's "Variaciones Sobre Un Tema De Sor, Op. 15". This piece is incredibly virtuosic. Most notably, one of the variations is written for the left hand only. The composition finishes with a vigorous and dynamic final variation. This piece was also recorded on a very interesting guitar, a 1989 Otto Vowiknel SP/IN – it's a fantastic early guitar from this maker. His instruments have always been among the more lightweight of anything in our inventory, likely the result of a slightly more compact body size and efficient use of materials. It is incredibly easy to play, ultra-responsive and very powerful.
Check out all four of Minh's videos below!
Leave a Comment