Wood from Templar's House, Ancient Bog Oak, and Modern Cypress: Three Unique Guitars From Youri Soroka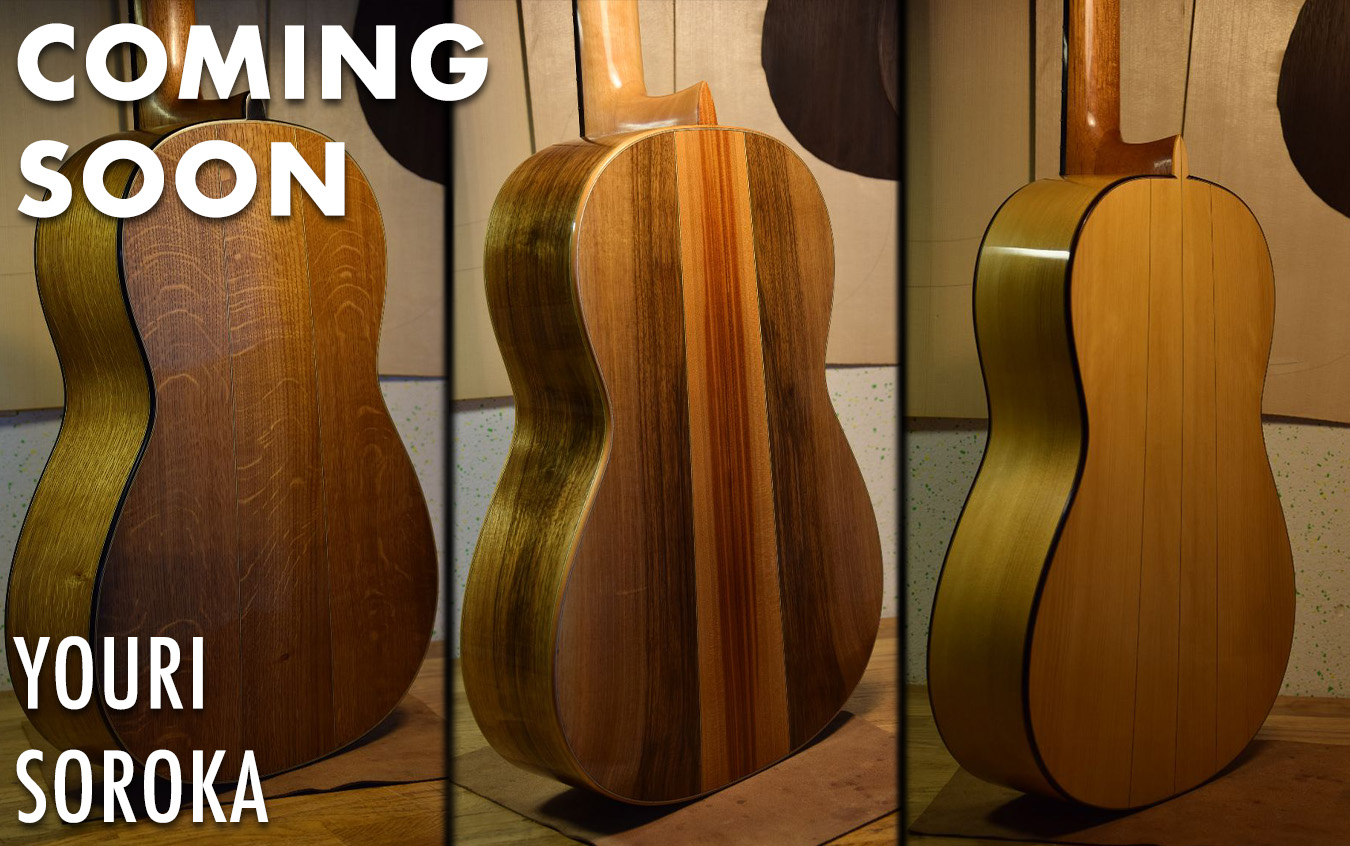 French-Ukrainian Luthier, Youri Soroka, has made three gorgeous classical guitars for GSI. Each of them is different and has a unique story.
GUITAR FROM TEMPLAR KNIGHT'S HOUSE
The story began in the summer of 2020 when Youri Soroka met with a group of visitors in his workshop in France. One of them, Monsieur Guerrier, is a retired doctor from Lyon, France. Monsieur Guerrier asked Youri if he'd be interested in building a guitar with 900-year-old oak wood salvaged from the house of a Templar knight. This seemed to be unbelievable at first, but after listening further to his story, Youri found out that this wood had been stored for decades in a shack next to his house. It comes from a Templar knight's house located in the region of Bugey. In the early 13th century, there was a big presence of Knights Templar in this area (e.g., in the communes of Ambérieu-en-Bugey, Saint-Rambert-en-Bugey) who left behind plenty of houses, temples, and commanderies (Read more).
In the 1960s, Monsieur Guerrier's father-in-law lived in the small village of Resinan, France, located next to Saint-Rambert-en-Bugey. One day, while coming back home, he witnessed a group of workers demolishing a historical house of the Knights Templar – Demeure des Templiers. Carpentry beams were lying around. He acquired them and cut them into planks in a sawmill. After that, he stored them at his house for many years, and after his passing, they were stored in the house of Monsieur Guerrier.
Youri instantly fell in love with the idea of using this wood to make a guitar. He visited Monsieur Guerrier and retrieved the wood in February 2021. Monsieur Guerrier's only condition was to be able to see the final guitar completed from this precious supply of wood. Youri told us that for him it was an unforgettable experience to work with wood from such a unique source. Now, the guitar is finished and is on its way to GSI. See the photos below. Check out also the video of Youri cutting this wood in his workshop, as well as a performance of Sacha Laurent playing "Cavatina" by Alexandre Tansman on this guitar.
GUITAR WITH ANCIENT BOG OAK FINGERBOARD
Youri's second guitar is one of his "Local Wood Challenge" guitars. As part of this challenge, Youri prioritizes the use of local materials, rather than exotic woods from far away. For this instrument, Youri used a mix of cherry and walnut for the back and sides and spruce for the soundboard. The fingerboard is quite unique because it's made of 5000-year-old bog oak that was kindly offered to Youri by his friend from Wales. See the photos below!
CYPRESS BACK AND SIDES CLASSICAL GUITAR
Finally, Youri's third guitar is classical with the back and sides made from cypress. The soundboard is made from spruce wood. Even though this wood is usually associated with Flamenco guitars, it works excellent for classical as well! In fact, we've had several excellent cypress classical guitars in our store. This guitar is going to be one of Youri's "Torres" models which are very popular among many fans of the Torres sound. Check it out below! You'll also find below two videos of Sacha Laurent playing two movements from "Cavatina" by Alexandre Tansman.
Leave a Comment