3 Fine Vintage Guitars Played by GSI's Andrew Lee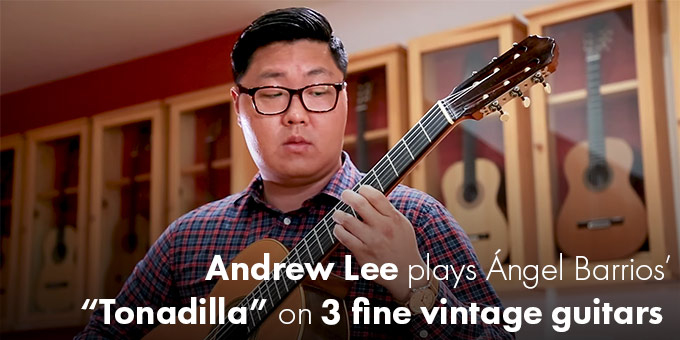 It's nothing but a joy playing the classical guitars in our showroom – you know that (thank you!), and we know that. That's why when we're working around guitars from 9 to 5, 5 days a week, we also try to make time to play them (you know, work & play balance) even if at least for a few minutes a day!
Well, GSI's very own Andrew Lee (you may know him for his friendly and thoughtful assistance when helping you choose the right guitar) decided to give you all a full-length performance rather than just play a few minutes in between work. Here he is playing 3 very fine vintage guitars. We rarely have this many historically significant instruments in the showroom at once, so we thought we should capture the moment. Feel free to relax and enjoy an 1864 Antonio de Torres that is impeccably well-preserved, a 1925 Santos Hernandez featuring a three-piece mahogany back and a 1926 Domingo Esteso in spruce and CSAR – all in the hands of our team member Andrew Lee as he performs "II. Tonadilla" from 'Arroyos de la Alhambra' by Ángel Barrios. All three guitars were recorded using Savarez "Corum/Crystal" medium tension sets (500CR).
You'll see one continuous performance of the piece in the first video while the guitar in Andrew's hands magically changes thanks to transitional edits. Then, below, you can watch all three performances separately.
We're glad to be in the business of providing you all the finest classical and flamenco guitars from around the world for over 30 years, and we wouldn't trade this privilege for anything! Our passion is finding the best guitars from the best makers all around the world, but it's also seriously playing the guitar.
Thanks for watching and listening! Play on!
---