A Former Student of Eliot Fisk and João Luiz, Edison Pereyra, Has Recently Visited GSI for The First Time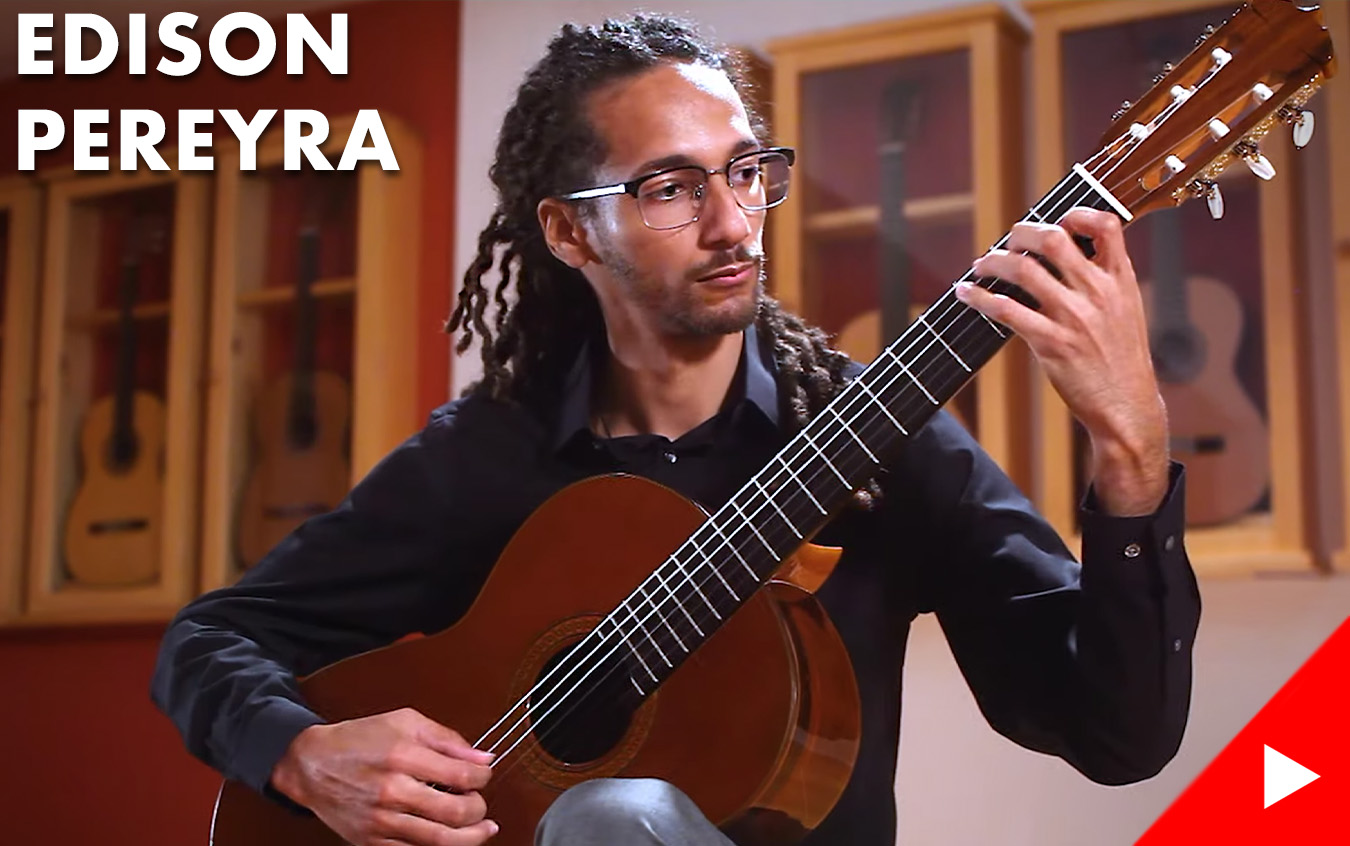 Recently, we had a new guest in our showroom. Edison Pereyra is a Dominican-American classical guitarist who lives in Boston, MA. Edison received his Master's degree from the New England Conservatory and studied guitar with world-famous guitarists, including João Luiz and Eliot Fisk. His career as a classical guitarist led him to perform concerts in many locations in the United States, the Caribbean, and Europe.
While at GSI, Edison managed to record five videos. His recording session started with "Lute Suite, BWV 997: I. Prelude" by Johann Sebastian Bach. Edison recorded this piece on a gorgeous vintage 1965 Jose Ramirez "1a AM" CD/CSAR (ex Laurindo Almeida). The "AM" stamp stands for Antonio Martinez, the same guitar luthier who built Jose Ramirez guitars for Andres Segovia and Christopher Parkening. This particular guitar was also previously owned by the great Laurindo Almeida.
Next, Edison picked a 2021 Antonio Marin Montero SP/IN guitar and recorded "Bagatelle No. 1" on it by English composer, William Walton. This instrument's tone is fantastic and has a robust, and creamy quality to the sound. As for Walton's composition, the set of Five Bagatelles is his only work for solo guitar. It was written and premiered by Julian Bream, and dedicated to Malcolm Arnold.
Then, Edison moved on to the Spanish repertoire. First, he played Federico Moreno Torroba's "Sonatina: II. Andante" on a 1999 Greg Smallman CD/CSAR, which is a fine example of a classic instrument from this maker, very similar to the one used by John Williams in most of his recordings from the 1980s and 1990s. After Andante, Edison recorded Eythor Thorlaksson's arrangement of "Torre Bermeja" from "12 Piezas Características, Op. 92" by Isaac Albéniz. For this piece, Edison chose a 2022 Vicente Carrillo "Primera Especial" CD/AR guitar. This is a traditional Spanish guitar and the "Primera Especial" is a true concert instrument in every regard.
For his final piece, Edison recorded a composition entitled "Xie" by his former teacher, João Luiz. Edison picked another guitar from the Jose Ramirez workshop - 1966 Jose Ramirez "1a MT" CD/CSAR. The letters "MT" stand for Mariano Tezanos, who along with AM (Antonio Martinez) was the most sought-after of the Ramirez makers. It's very interesting to compare Mariano Tezanos', and Antonio Martinez's guitars from around this same period of time.
Leave a Comment