Andrea Tacchi Remembers John Weissenrieder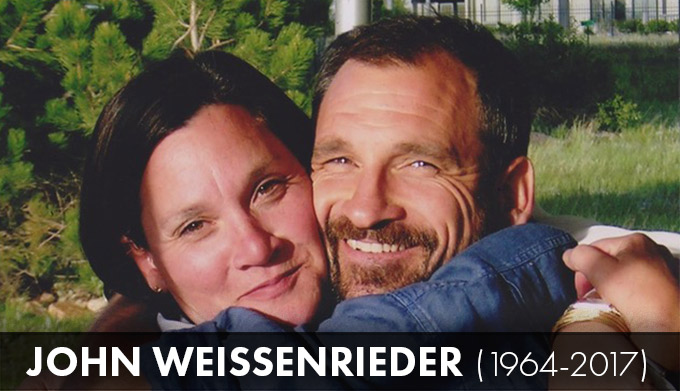 In Memoriam: John Weissenrieder (1964-2017)
by Andrea Tacchi
My friend John Weissenrieder and I had the pleasure of knowing each other, as well as time spent working together and later, harvesting the work of those years. And now – unexpectedly and with great sadness – the time has come for me to share some of my memories of John and the work we did together on guitars.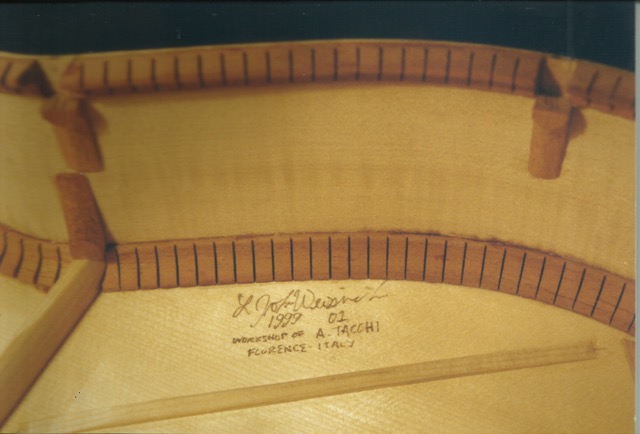 It was a long time ago, in June 1998 that I received a letter from Greece bearing a U.S.A. address from Boulder, Colorado. The two pages contained very precise, tidy and unique handwriting. "My name is John Wessenrieder…" This was the beginning of a long story of friendship and growth in a difficult profession, for John was to eventually become my student and I, his "Master". The letter continued: "I asked the Guild of American Luthiers about builders in the Mediterranean area and then your name came out […] from September on, I'll be in Italy to accompany my wife who will be studying painting in Florence for the next two years." John wrote this to me from Greece, where he had been spending long holidays in remote areas. He described many other interesting details, everything from his long swims, sun to his catching an octopus with his bare hands. Both John and his first wife, Julia, were professional cyclists, and outside of competition season, they spent time training together around the world: in Europe, Turkey, Greece, India and Indonesia. Once they even cycled through the Himalayas in Nepal to test a new track for future competitions. From Greece, John wrote that he had just built a Bouzouki – a lute-shaped instrument – under the guidance of the master George Diamesis on the island of Poros. He attached a picture of himself with the Greek luthier. It showed a young and relaxed man in shorts, with a nice, friendly face. Building a Bouzouki on holiday and in Greece looked like such an enviable situation! He wrote that he desired to continue learning the construction of instruments once in Florence, so he asked if I was available to help him. His ideas weren't yet clear, he claimed to be interested in mandolins, ouds, lutes, guitars and bouzoukis… Jeez, I thought – what kind of a mish-mash of instruments is this? He added, (hiding what I later discovered to be one of his greatest qualities: modesty) "I'm an expert in woodworking, very precise."

I wondered, what kind of young man could this be, who spends very long holidays in the Aegean, during which he constructs a Greek instrument with a local master, then plans to accompany his wife to Florence for her studies, then inquires with me about coming to my workshop to build what to me was a 'soup of various instruments'? In those years I already had a quite complicated life: a new baby, a career to manage, and an aging, elderly mother needing my care. I had to be very selective, my time was precious. So the question I asked John was precise: "Please tell me, what have you done with your life up to now?" And I discovered, John had done a lot. He had just retired from a successful career as a professional cyclist. He had some solid education behind him including two years of of Architectural studies at University.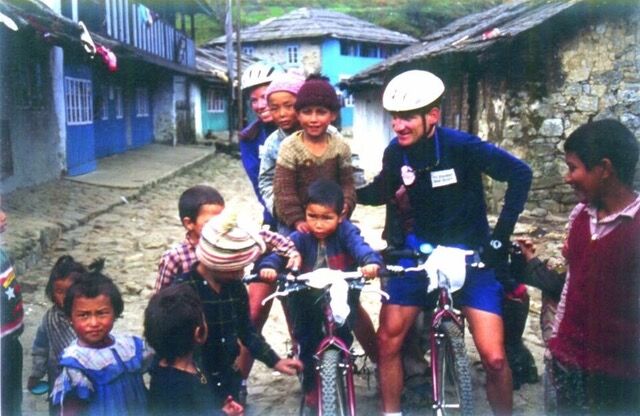 John had discovered road cycling when he was 14 and progressed to become a member of the US Junior National Team. As a senior rider, he became a mountain bike racer – ultimately becoming a professional. The sport was at its zenith and was well supported by sponsorship. This impressive and unusual background impressed me greatly. Later he explained things in greater detail: he had always been one of the firsts in the world with mountain biking, he cycled on every continent. In Darwin, Australia he cycled amongst crocodiles. In France he cycled through hundreds of miles of vineyards. He retired in 1996 at the age of 32. Once he said "My biggest defect was that I would sometimes overuse my brakes when biking downhill". One time this caused him to fall and injure himself greatly, including breaking both of his wrists. But he always came back for the next race… He was a man with some courage!
The idea of having a person like this around – both to work and socialize with – appealed to me. I enjoy the company of people with character and an interesting story to tell. So we continued our correspondence. Although I was excited to meet John, some practical doubts remained. What does he want to do? Perhaps John would do as my colleague and friend from Japan, Matsumura had done: during the '70's, he moved to Paris and built up a little workshop in an apartment so as to work and study with Robert Bouchet. Maybe John would rent an apartment where he could work while learning from me? All I knew is that he wished to work with me. So I said, "Come – and we'll see". We agreed to meet after the summer after my return from a trip to Tokyo where I was attending a guitar exposition organized for the centenary of Bouchet's birth. John and his wife initially moved into a nice apartment in the Oltrarno, a central neighborhood in Florence, about 1 km from my workshop. John had brought a small folding bike with him, which he could easily bring on the train or plane, and despite its dimensions, it was designed to work almost as a racing bike. "Is it fast?" I asked him. "Quite fast", John replied. "Can you beat the motor scooters?" (At the time, Florence had the most scooters per inhabitant of any city). "When the traffic light turns green I can race ahead by a few meters, then they catch me", he said.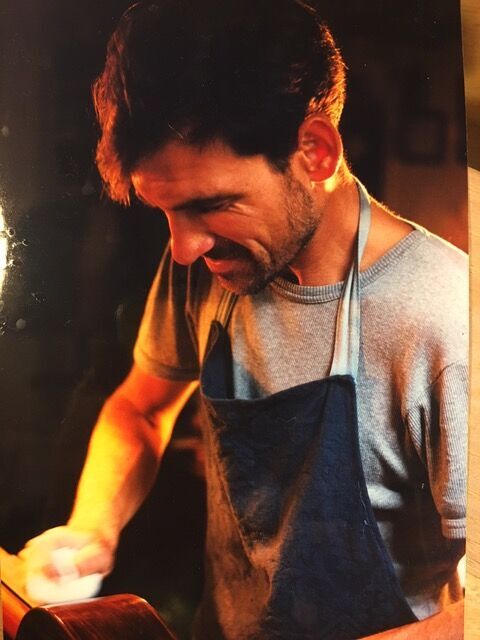 I remember the first time John rang my doorbell. I looked down from the window and saw a young man with an athletic build, a slightly lined face, lean and elegant. At first we agreed that he would come a couple of mornings per week. He sat at one side of my worktable – observing, asking questions, and making many sketches in a notebook while taking notes. He knew how to draw very well. He took so many notes, I thought I must have seemed like a Martian to him! I slowly started to give him some pieces of wood on which he could practice specific techniques of work.
Well, years have passed and I don't remember too many details, but I do have several impressions that have remained with me. John honed many of his guitar-making skills quickly, and at a very early stage, thanks to some of his family background. His father, then a manager at IBM, was an excellent hobbyist in woodworking and passed on some of his knowledge to his son in earlier years. With John's help, he even built a whole house. John's grandfather, who had emigrated from Switzerland to Pennsylvania, worked as a high-level machinist, and later made fine furniture. John had also learned furniture making skills from his grandfather. Furthermore, John had a passion for crafting bows, and practiced Japanese-style archery. He built many finely-constructed bows in the Japanese tradition, as well as arrows. This background was enormously helpful in helping him learn to build stringed instruments. Almost immediately I realized that John was very skilled and talented, so we devised a project to build a guitar that would be partially built in my workshop and partly in his apartment.
Reliable, honest and sincere, John soon became a close friend. In the early afternoons I had to bring my son Giovanni from kindergarten to my workshop, where we would stay until dinnertime around 8 or 9pm. Giovanni had a little workbench where he did his things – small works or drawings, and John often took time to do something with him. I have to admit that the swords, bows and arrows which John made for Giovanni were much better than mine, and decorated with designs of dragons and various animals.
A turning point for John's serious aspirations in lutherie occurred during a trip to the Alps. Every two or three years I head up to the mountains to look for wood in northern Italy, and I invited John to come with me to learn, in exchange for his assistance in working the trunks of wood that we would be sourcing. We visited a sawmill, and I bought a trunk which we split and prepared so that they could ship it to Florence. I then decided to go to another mountain, and during the trip I proposed to John that we continue our work together as colleagues, no longer he as my assistant, and to share the wood that we bought together. He made the decision to invest in the wood and accepted. We found two nice trunks that, once in Florence, we worked and seasoned to serve John in the production of many of his guitars in the following years.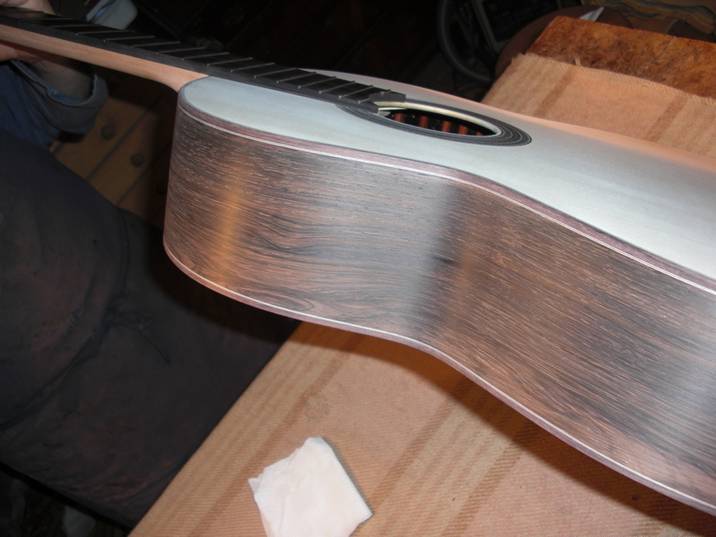 Then came the moment for both of us to become students again – a beautiful Simplicio arrived at my workshop, in need of some minor restoration work. Charmed by the guitars of Barcelona, I had bought some yellow, red, and green veneers some years before, but making a copy of a Simplicio had remained no more than a dream until that moment. I asked the guitar owner for a trade: We would be allowed to take measurements and make a copy of his guitar in exchange for the cost of the restoration work. And so it began: John made meticulous measurements, while I started to develop in my mind all the processes to be done. In December 1999, John and I traveled together to Barcelona for a private visit to the instrument museum, thanks to the help of Stefano Grondona. In that town we had an unforgettable meeting with Fleta and in particular, with the two elder Yague brothers. We learned a lot from them. As the restorers for the museum of instruments in Barcelona, they had many interesting repair tricks and techniques, and a deep knowledge of both Enrique Garcia and Francisco Simplicio, resulting from having restored many of their instruments. They were passionate about sports too, and once they discovered John had been a professional cyclist, they forgot all about me while they talked happily with John about bicycle races! At the end of this short visit, they remained close friends to us. After quite a long period of research and work, the Simplicio copies were eventually completed. We continued for two more years building guitars (among other things), including another later Simplicio copy (much like this one that GSI had with satinwood back and sides), and John was by then mature enough to fly from the nest… and so he did.

Of his career after the years spent together in my workshop I know only a little. By then we were two independent colleagues. We saw each other once in a while and it was always a joy for both of us. Even the last time we met, sometime shortly before his death, he never stopped calling me "Maestro". He was very generous for that. In an almost forgotten photo that I recently found, I see that we look like two young brothers – I look anything but a "Master". Actually, John was more than a brother. I now feel that a pupil to a Master becomes more like a son, and maybe this is the reason why it was so painful to write this memory. Wherever you are, John, I wanted to tell you that it's been an honor to know and work with you.
Andrea Tacchi
Firenze, 2017-18
Leave a Comment