2003 Andrea Tacchi "Omaggio a Francisco Simplicio" SP/SW
| | |
| --- | --- |
| Year | 2003 |
| Top | Spruce |
| Back & Sides | Satinwood |
| Scale Length | 650 mm |
| Nut width | 52 mm |
| Finish | French Polish |
| Country | Italy |
| Luthier | Andrea Tacchi |
This guitar is no longer available in our inventory. If it interests you, click the "notify me when available button" to be notified in the event that we re-acquire this guitar for re-sale.
Description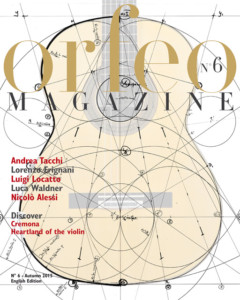 Tacchi builds a variety of models - several of his own (including his well-known Coclea and Thucea) as well as tributes to some historical builders. This guitar is an homage to Francisco Simplicio, one of his favorite historical builders. Tacchi built his first "Simplicio" model in 1999 with his apprentice at the time, John Weissenrieder. Their curiosity was piqued when an original Simplicio came in for repair work, and they found themselves eager to learn more about the background of this fascinating maker, and so down the rabbit-hole they went, culminating in a trip to Barcelona, Spain where a private visit to the musical instrument museum was arranged, thanks to the help of Stefano Grondona. While in Barcelona, they were also able to meet with the Fleta family and importantly, with the two elder Yague brothers, who being the restorers for the museum of instruments in Barcelona, shared their deep knowledge of both Enrique Garcia and Francisco Simplicio. Tacchi has since built many of these "omaggio" guitars, and rather than a literal copy, prefers to call it a "personalized replica", which allows for some of Tacchi's own ideas in the design and production of sound.
This guitar has a big, full and thick quality of sound - very plump and wholesome - attributes found in any great Tacchi guitar. Additionally, in the spirit of Simplicio it also has a very dark and "old world" quality of sound - Tacchi is extremely selective with his materials, both in the intrinsic properties of the wood and how it's cut, and is therefore able to nuance his materials towards the production of an intended tonal character like this. It is also very expressive, having a huge dynamic range and an assertive quality of sound when played at any volume level. Condition-wise it is in excellent, almost like-new condition with very few signs of prior use. It has a gorgeous aesthetic as well, not just in the select materials (including some striking satinwood for the back and sides) but also in capturing the classic shapes, curves, inlays and of course signature "carved head" of Simplicio, which have come together beautifully here under the artful hands of one of the great contemporary masters.
Orfeo Magazine article on Tacchi, Locatto and Frignani
Videos