Armenian Guitarist and Composer, Pardy Minassian, Records New GSI Videos.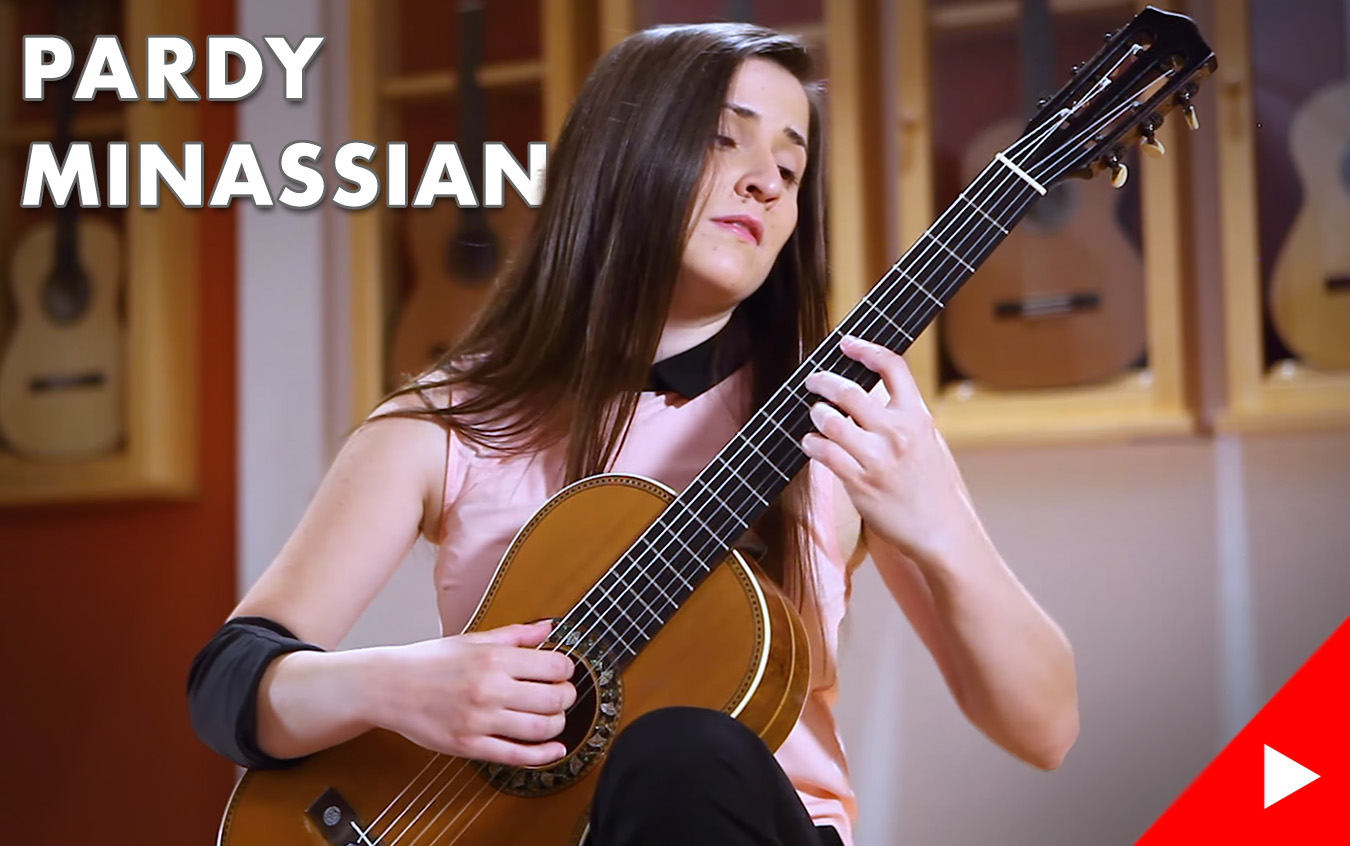 Armenian guitarist and composer, Pardy Minassian, has recently recorded some new videos in our showroom. Pardy came to the United States for the first time to study with Maestro Scott Tennant and William Kanengiser at the USC Thornton School of Music. During her recent visit, she recorded four videos on four different guitars.
Her recording session started with Erik Satie's "Gnossienne No.1" performed on a c. 1840-1850 "Early Vienna school" guitar. The term "Gnossienne" was an experimental form in piano music, which was invented by Erik Satie. The form gives an inherent feeling of timelessness and infinity which comes from the works' cyclical nature. The piece is used in several films and was arranged for various instruments, including guitar. This arrangement was prepared by Roland Dyens.
"Oriental Picture" is Pardy's original composition. She based this piece on oriental artworks by Armenian artist, Martiros Saryan. These artworks are a rich palette full of bright colors, conciseness, and oriental motifs. Pardy said:
I composed this work in 2014 during my years in Armenia. As a group of composers studying in the Yerevan State Komitas Conservatory, we visited The Martiro Saryan Museum in Yerean, and were commissioned by the conservatory to write works inspired by one of the artist's artworks, to be premiered in the concert hall of the museum. As an Armenian, who was born and raised in Syria, I was very delighted by Saryan's Oriental artworks, which he painted during the years he lived in Egypt.
For this piece, Pardy chose a 2012 Edmund Blöchinger "Llobet" guitar. It's a beautiful instrument inspired by the 1859 Torres that was played and cherished by Miguel Llobet and is now housed in the Museu de la Musica in Barcelona, Spain.
Pardy's third recorded piece was "Sareri Hovin Mernem" by Armenien composer, Hovhannes Badalyan. This is a guitar arrangement for an Armenian love song which can be translated to "I'll die for the wind of the mountains". The lyrics describe memories and the nostalgia to the homeland and to the loved one. Pardy recorded this piece on a 2021 Henner Hagenlocher guitar with a cedar top and CSA rosewood back and sides. This instrument features a slightly smaller body shape, and is quite powerful with a rich, textured, quality of tone.
The last piece recorded by Pardy was "Dance of Vagharshapat"by Komitas (also spelled "Dance of Vaagharshabad" by Gomidas). In 1906 Komitas wrote a cycle of dances for piano. While composing six piano pieces, his focus was to capture the richness of Armenian folk dances. He also tried to preserve specific timbres of Armenian tambourine – "tar" as an Armenian plucked string instrument, "Shvi" as a pipe instrument, and "Dhol" as a percussion. Van Aghajanian prepared this arrangement. Pardy recorded this composition on a 2021 Stephen Hill guitar with back and sides made of a set of stunning exotic ebony.
Leave a Comment