Pardy Minassian - Armenian Guitarist & Composer Is Back With Five New GSI Videos.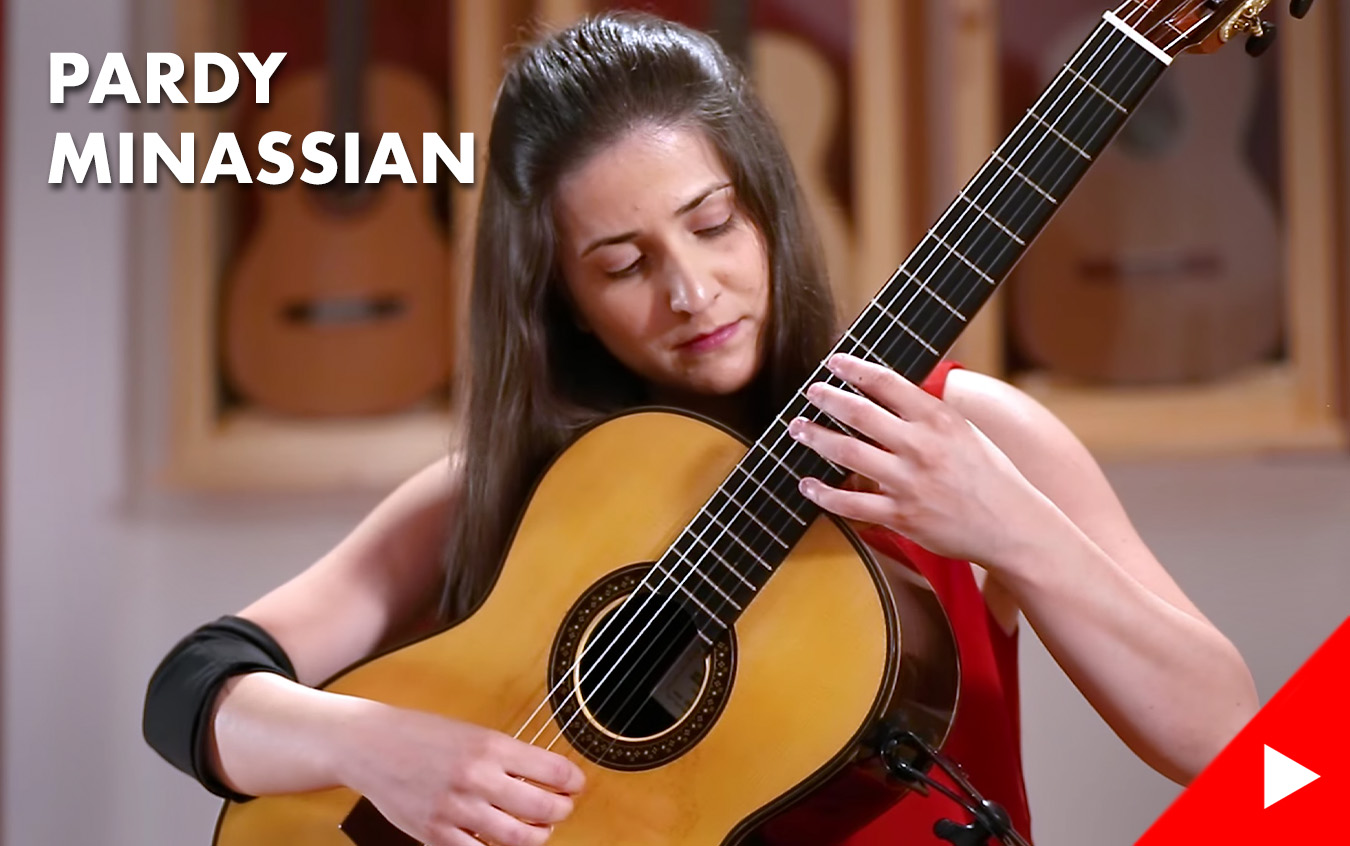 Recently, we've published five new videos of Armenian guitarist and composer, Pardy Minassian. This is Pardy's third visit to GSI. Pardy moved to the United States from Armenia to study with Maestro Scott Tennant and William Kanengiser at the USC Thornton School of Music.
Pardy's recent session opened with a recording of her arrangement of the Armenian Lullaby "Ari im Sokhak" "Արի Իմ Սոխակ" ("Come my Nightingale"). It's a gorgeous lullaby. At the end of the video, you can also hear Pardy singing! For this piece, Pardy chose a 2022 So Kimishima "Stella" SP/IN classical guitar. Luthier, So Kimishima, is the grandson of the greatest maker from Japan, Masaru Kohno, and has been a member of the Sakurai-Kohno workshop since 2007 where he has worked and trained with the great Masaki Sakurai. Although clearly influenced by the designs of both Sakurai and Kohno, Kimishima also infuses his own personality into his guitars. This is his own model, which he calls "Stella". Based largely on the sound of Masaru Kohno's guitars from the 1950s-1960s, he adds design ideas and techniques learned from his master, Masaki Sakurai.
In the next two videos, we can hear two compositions by one of the greatest Armenian composers, Komitas (1869-1935). Both pieces, "Ounabi" and "Marali" were arranged for classical guitar by Van Aghajanyan. Pardy recorded "Ounabi" on a 2015 Otto Vowinkel SP/CSAR. This is a fantastic concert instrument and it's one the lightest guitars we've seen yet from this maker, likely the result of a slightly more compact body size. It is incredibly easy to play, ultra-responsive, and very powerful. For the other piece, "Marali", Pardy chose a 2017 Angelo Vailati SP/IN - It's a guitar with a relaxed, warm, old-world sound that is reminiscent of the early 20th-century Spanish school.
In her fourth video, Pardy played a "Comme un Hommage à Ravel (Étude Mélodique No. 3)" by French guitar composer, Arnaud Dumond. Pardy recorded it on a 1981 Jose Ramirez "1a" CD/IN. This guitar is very easy to play, with a lovely neck and easy action, despite the way many of the guitars from this period were set up. The tone is thick yet clear and has that essential warm, mysterious, and moody quality that made Ramirez famous.
Pardy finished her session at GSI by recording Francisco Tárrega's famous "Capricho Árabe". In this video, you can hear Pardy playing on a 2022 Masaki Sakurai "Concert-R 640" CD/IN. A modest look at this instrument reveals a beautiful, classic design - perfectly executed. The double ebony reinforcing strips in the back of the neck allow for a very accurate setup, so the action is low and easy without buzzing. The stiffer neck also improves sustain.
Leave a Comment