Bill Kanengiser Plays Tribute To Frank Wallace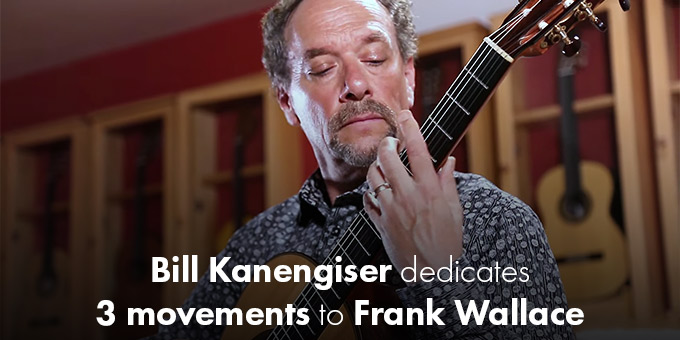 We recently received news from our long-time friend Frank Wallace that he is suffering from cancer when he posted his very touching story on his blog in June. Bill Kanengiser of the LAGQ received the news at the same time we did and contacted us immediately to see if we could arrange a video shoot to record 3 pieces Frank wrote in 1999 from his 6-movement work "Sweet Ladyslipper", which was dedicated to the memory of his friend and colleague John Fleagle, founding member of Trio LiveOak. The entire piece can be heard as played by Frank here. A .pdf file of the piece can also be purchased through that link for those of you interested in adding it to your repertoire.
In addition to performing these 3 beautiful pieces, Bill had some personal anecdotes he wanted to share, to create awareness of Frank's condition, and to get word out that contributions can be made to Frank's medical fund to help pay for his expenses.
From Bill Kanengiser:
It was a pleasure for me to come into GSI the other day and record a few pieces by my friend Frank Wallace. Frank and I go WAY back; as a teenager, I showed up at a summer music camp when I was just beginning to teach myself guitar, and he was there as the incredibly over-qualified instructor. He was a huge inspiration to me, and our musical paths crossed in interesting ways over the years.
Frank wrote a gorgeous solo piece in 1999 called "Sweet Ladyslipper". It was dedicated to the memory of his band-mate John Fleagle, who passed away prematurely from cancer. I was inspired to learn three of the movements a few weeks ago when I learned of Frank's current valiant struggle with the same disease. Close members of my family are experiencing their own similar challenges, and I could think of no better way to send support to Frank and other survivors than to play this beautiful music.
I chose to begin with Frank's evocative "Cantiga"; it's based on an early Spanish Renaissance melody, set in a spare and haunting manner. I used a beautiful 2017 Antonio Marin Montero flamenco guitar to bring out the Iberian qualities of the piece. Next, the heartbreakingly beautiful "Pavane for a Dying Prince", lovingly patterned after Ravel's "Pavane for a Dead Princess". I thought it appropriate to use a French instrument, and the elegant 2014 Bertrand Ligier seemed to fit the bill. Finally, I played the rambunctious "Zar" movement, with its raucous strumming, Egyptian modes and odd-meter counterpoint. A wonderfully exotic instrument built this year by my Uruguayan friend Ariel Ameijenda lent itself beautifully to this piece.
I encourage everyone to check out more of Frank's wonderful compositions, arrangements and recordings, and to support his initiative for cancer research.
All best wishes,
Bill