Boston-based Guitarist, Aaron Larget-Caplan, Visits GSI to Record Works by J. S. Bach, John Cage, and His Own Compositions.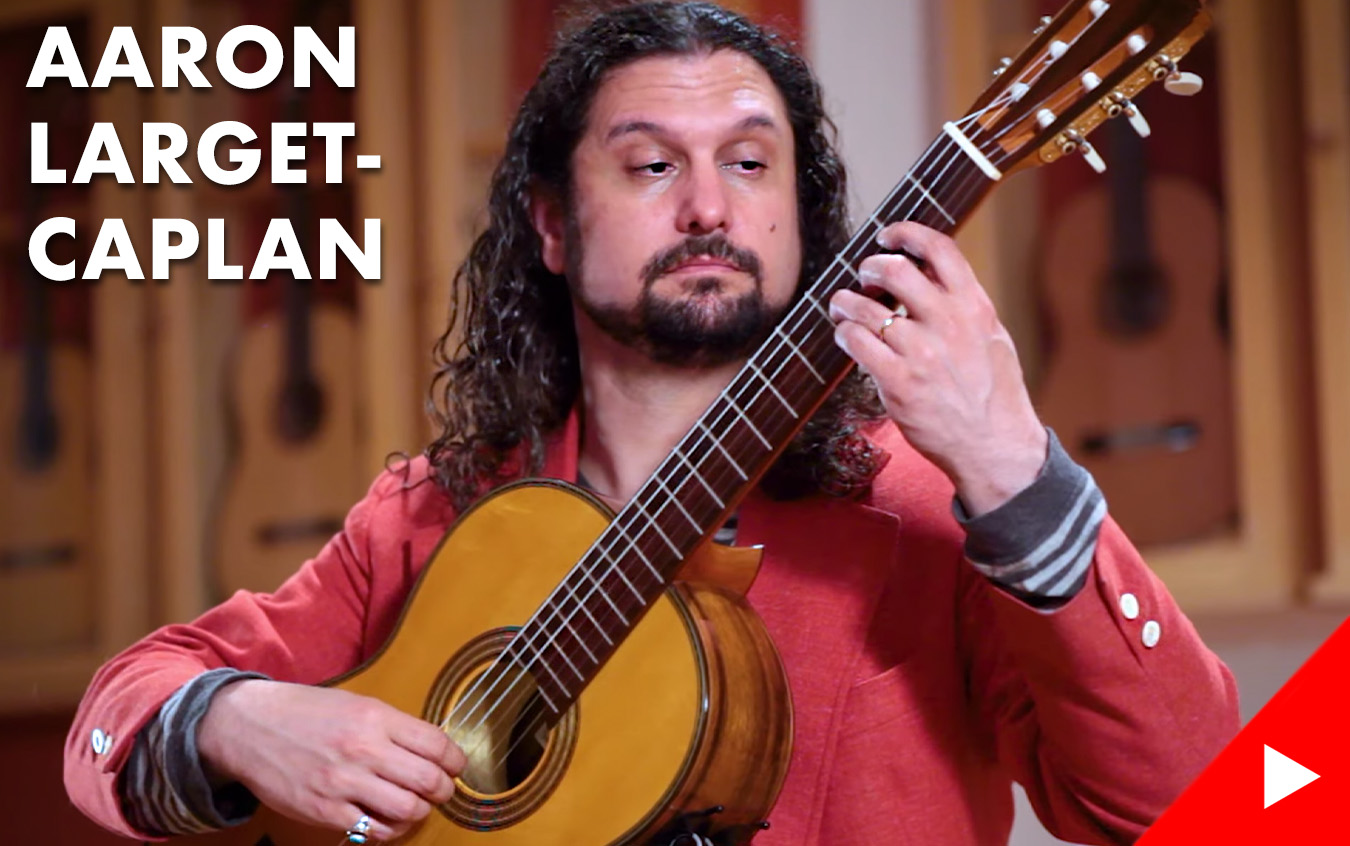 Boston-based classical guitarist, Aaron Larget-Caplan, has recently visited our showroom to record six videos. Aaron is a very active concerting artist. He has premiered over 110 solo and chamber music compositions and has recorded eight solo albums. He is also a faculty member at the Boston Conservatory at the Berklee School of Music and the University of Massachusetts Boston.
While at GSI, Aaron recorded his arrangements of music by Johann Sebastian Bach, and American composer, John Cage. Aaron also recorded one of his own compositions. His recording session started with Bach. Aaron played "Prelude in D Minor, BWV 926" on a 2022 Wolfgang Jellinghaus "Signature CD/CD" CD/ZR guitar. Even though this model is rooted in the deep traditions of the past, it features a variety of modern features, such as a floating fingerboard or a lattice-braced cedar double-top. For the next piece, "Prelude in C Major, BWV 939", Aaron chose a 2022 Juan Garcia Fernandez SP/CO guitar. This instrument has a sound that is very open, the attack is brilliant and crisp, the basses are full, and the trebles are biting. Juan Fernandez is a Granada-based builder having learned guitar making from Rafael Moreno Rodriguez, Juan Miguel Carmona, and Jesús López Martín. Bach's third composition, "Prelude in D Minor, BWV 999", was performed by Aaron on a 2019 Luis Fernandez de Cordoba "Homenaje a Torres" SP/IL guitar. You can hear that the sound is more focused in this instrument due to a brass tornavoz, which is quite unique because it's removable.
Next, Aaron recorded two out of "Three Little Pieces" by John Cage - "Duo" and "Infinite Cannon". He recorded them respectively on a 2011 Jean-Noël Rohé SP/IN and a 2022 Paula Lazzarini CD/IN guitar. Rohé's guitar is an incredibly refined instrument in many ways. The craftsmanship is second to none, since not only is it extremely tasteful but it is perfectly executed to the minutest of details. Paula Lazzarini won the first prize in the 4th International "Antonio Marin Montero" Guitar Building Competition in Granada, Spain. The guitar used in the video by Aaron is based exactly on the specs of the winning guitar which won the jury over for its understated yet precise craftsmanship, bold yet refined tone, and great playability.
As the final piece, Aaron played his composition "Sweet Nuance" on a 1998 Abel Garcia CD/PE. This gorgeous instrument was previously owned by maestro, Angel Romero, who was its only owner to date and played many concerts on it. It has a rich cedar sound, that is very textured and velvety, with great volume and clarity.
Check out all of Aaron's recent videos below!
Leave a Comment