Brazilian Guitarist and Composer, Chrystian Dozza, Records New Videos at GSI!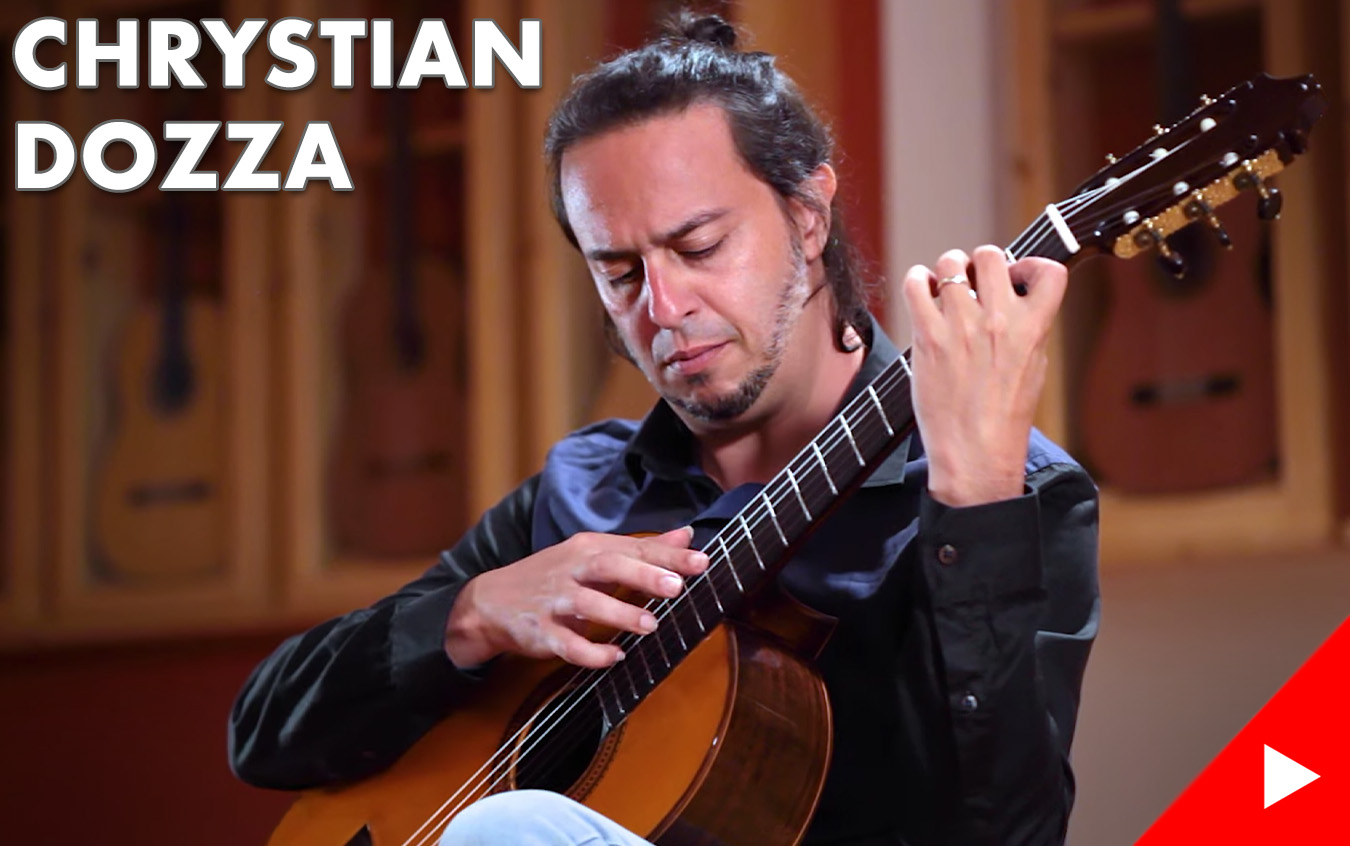 Chrystian Dozza is a Brazilian classical guitarist, composer, and a good friend of GSI. Chrystian is a winner of many prestigeous competitions such as the "Concurso de Violão Musicalis", "Concurso Novos Talentos de Música Erudita" and the "Concurso Violão sem Fronteiras". Chrystian also was a winner of the "XIV Prêmio BDMG Instrumental" – one of the most important awards in Brazilian instrumental music.
Recently, Chrystian stopped by our showroom for his first solo recording session in our showroom. In the past, he recorded for GSI as a member of the Quaternaglia guitar quartet, but this time, he focused entirely on his solo repertoire which featured almost entirely his original compositions.
Chrystian began his session with a recording of his composition "Júlia On The G String" played on a 2022 German Vazquez Rubio "Solista" SP/IN. This guitar is German's most recent concert model, which features his newest bracing system which previously only had been used in his top, elite models.
Next, Chrystian played his "Balada (To My Parents)". It's an absolutely beautiful lyrical composition with a lovely melody and many charming harmonies. For this piece, Chrystian chose a 2007 Paulino Bernabe "Imperial" SP/PF. The sides of this guitar are doubled with a set of maple wood which adds additional volume, projection, and depth of color emanating from the box. It's an excellent instrument for this particular piece.
Later, Chrystian picked a much older instrument, an 1894 Hijos de Melchor de Moya and recorded on it his composition entitled "Sir John Dowland His Pavan". This guitar has several very notable features including the striking and beautiful large rosette and the slightly more compact box dept. It has a very unique, old-world sound.
Chrystian's next video features his composition "Australya" recorded on a 2004 Jose Ramirez "1aF 656" CD/CY flamenco guitar. "Australya" has a dance-like character. At times, one could almost have an illusion that there is more than one instrument playing. Choosing a flamenco guitar for this piece definitely gave this piece a more percussive sound, which combined with the use of percussion techniques on a guitar, created a stunning outcome.
As the final piece of this recording session, Chrystian recorded Alexandre Guerra's "Water Mirror". For this video, Chrystian chose a 1965 Hernandez y Aguado SP/IN. This guitar has a very expressive and unique sound. The initial attack of the note is crisp and "snappy", while the body of the note which follows is fat and warm.
Check out all videos from this recording session below! For a copy of sheet music, please visit: https://payhip.com/chrystiandozza
Leave a Comment