Bryan Fasola Records Six New GSI Videos With Music by Bach, Falla, Narváez, and Chapdelaine.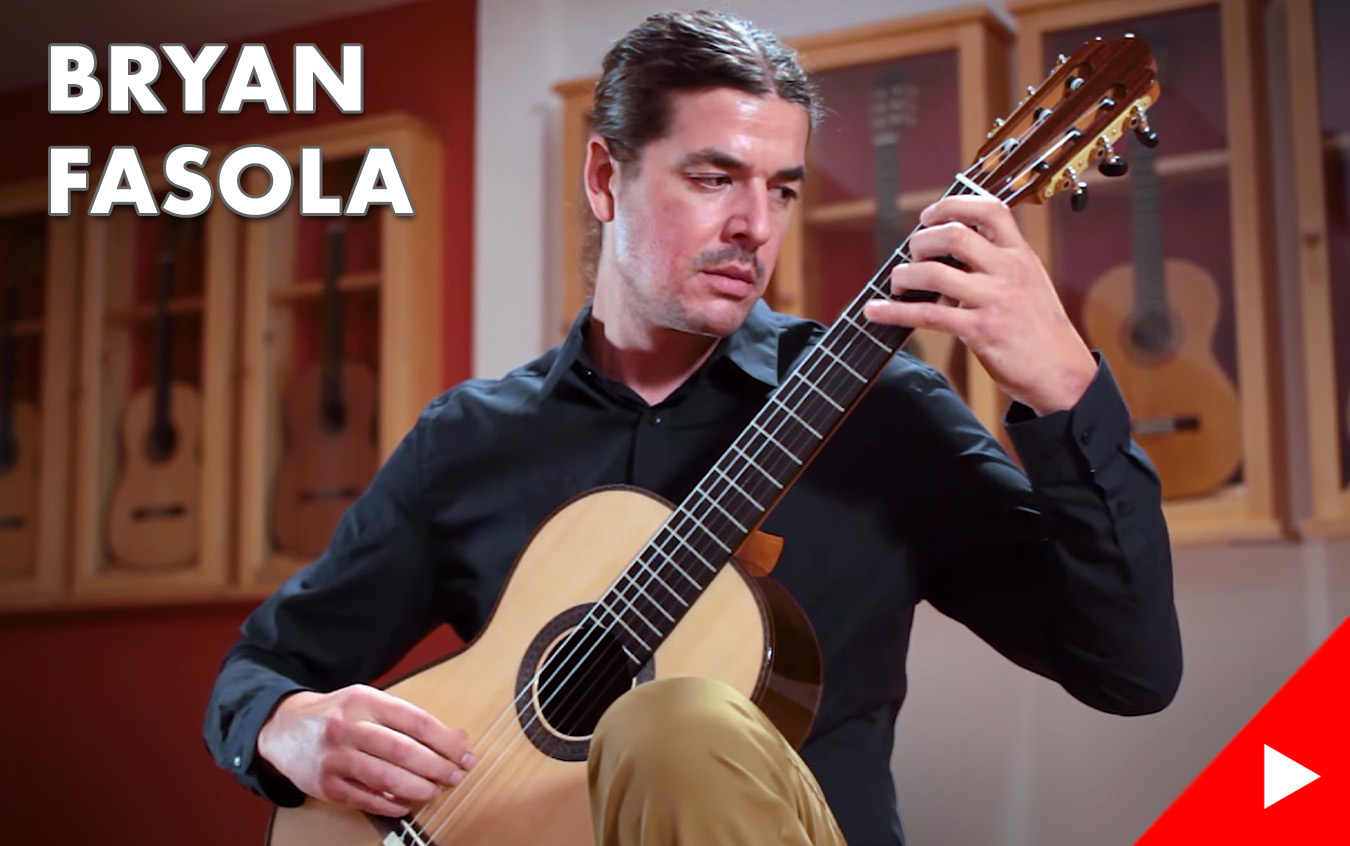 Bryan Fasola recently visited us again this year and recorded six new videos for the GSI YouTube channel. Bryan is a good friend, a concerting artist, and a guitar teacher at the California State University of Northridge and Pierce College. He received his doctorate degree at the USC Thornton School of Music. His performances were featured on various radio stations including KUSC 91.5 in Los Angeles.
This time, Bryan focused on music by Luis de Narváez, Johann Sebastian Bach, Manuel de Falla, and Michael Chapdelaine. His recording session started with "La Canción del Emperador" by Narváez. Bryan performed this piece on a 2022 Mario Aracama SP/IN guitar. Every guitar by this maker has a different and unique aesthetic - Aracama enjoys designing rosettes and purfling to complement the visual qualities of the woods selected for the soundboard, back, and sides.
For his second piece, Bryan recorded the "Cowboy Waltz" by Michael Chapdelaine. For this video, Bryan picked a very interesting guitar - a 1894 Hijos de Melchor de Moya SP/MP. This guitar has several very notable features including the beautiful large rosette and a slightly more compact box depth, a more or less Torres-style plantilla. It's a beautiful instrument with an old-world charm.
Next, Bryan recorded 3 out of 4 movements of J. S. Bach's "Toccata in E Minor, BWV 914" originally written for clavier - "Prelude" played on a 1955 Ignacio Fleta SP/IN (ex Theodore Bikel), "Un Poco Allegro" on a 2020 Manuel Adalid "Hauser" SP/IN, and "Adagio" on a 2021 Annette Stephany CD/AR guitar.
Bryan finished his session with the recording of "Homenaje Le Tombeau De Claude Debussy" by Spanish composer, Manuel de Falla. For this video, Bryan chose a Cordoba Guitars Master Series "Torres" SP/IN guitar. This "Torres" model is based on a smaller bodied instrument with 640 mm scale length. It has surprising volume for its smaller size!
Check out Bryan's videos below!
Leave a Comment