Clarinet and Classical Guitar Duo, Jâca, Records Music By Gus Viseur, Robert Beaser, Zequinha de Abreu, and Candace Bustard.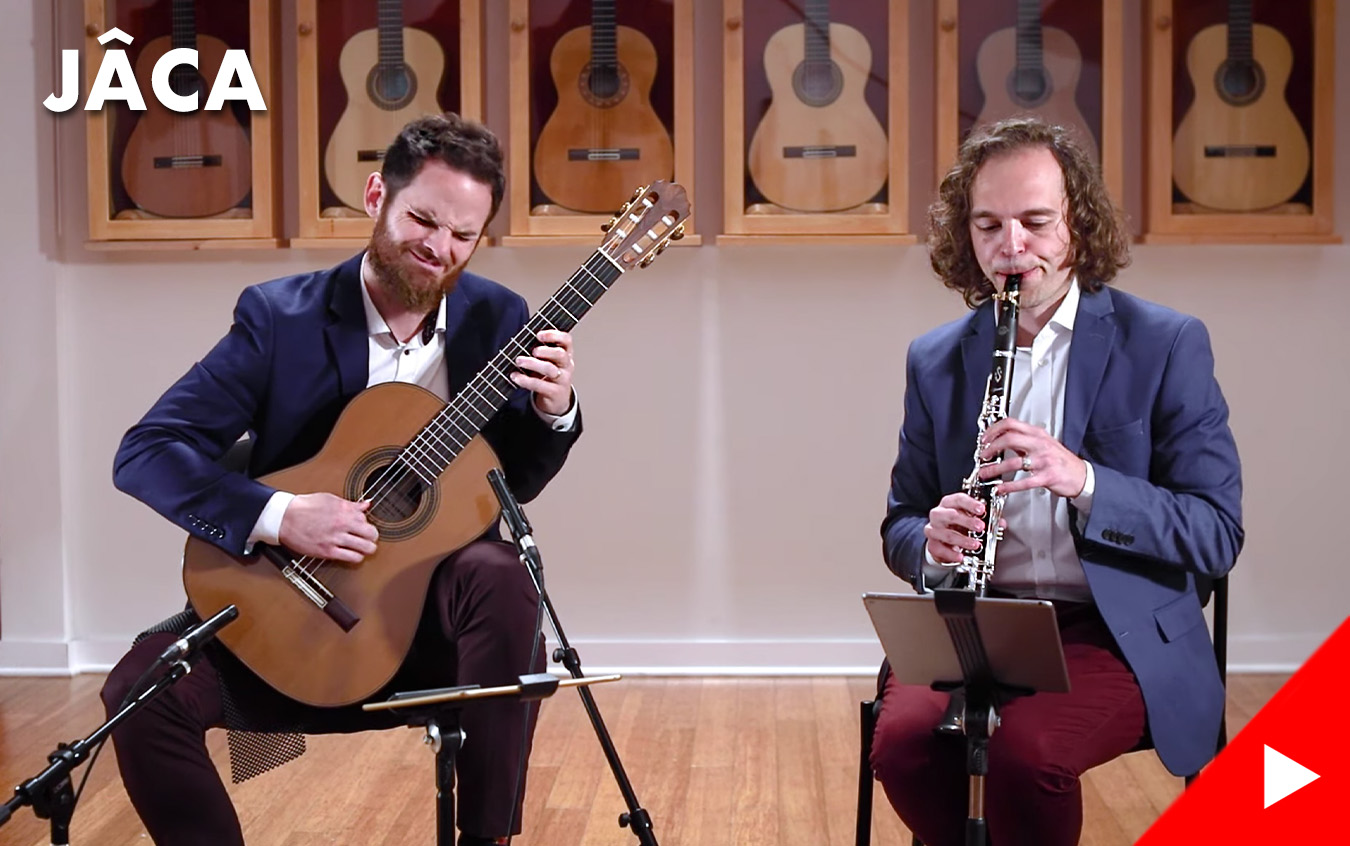 Los Angeles-based duet, Jâca, is a clarinet and classical guitar ensemble comprised of Wesley Ferreira (clarinet) and Jaxon Williams (guitar). Through their collaboration together, Wesley and Jaxon are trying to redefine the traditional concert experience by constantly expanding their repertoire with various arrangements and commissioning original works.
During their first visit as a duet, Wesley and Jaxon recorded six videos in our showroom. The ensemble started with their arrangement of "Douce Joie" - a piece by Belgian/French accordion composer, Gus Viseur. For this piece, Jaxon picked a 2019 Dominik Wurth CD/IN guitar. It's an instrument with improved responsiveness in all registers and a bigger, more robust sound.
Next, the duo recorded three of Robert Beaser's "Mountain Songs" - "I. Barbara Allen" on a 2022 Jake Fuller "Purnell" SP/HR, "II. The House Carpenter" on a 2022 Marco Bortolozzo SP/EE, and "V. Cindy" on a 1966 Manuel Contreras CD/IN. Jake Fuller's guitar has a nice textured sound with excellent clarity and balance. It is a great synthesis of the Spanish and Northern European guitar building styles. The guitar by Marco Bortolozzo is a wonder in terms of its aesthetic and sound. The design is connected with Mario's background in industrial design. In this particular instrument, he explored the motif of the "perfect circle" which is visible in the rosette, headstock, inlay, heel cap, and even the places of the tuning machines. The guitar by Manuel Contreras from 1966 is an absolute classic. It's loud and lively, and the sound is characteristic of the Madrid style.
In the next video, Wesley and Jaxon played Zequinha de Abreu's "Tico-Tico No Fubá". For this piece, Jaxon chose a 2006 Antonio Marin Montero SP/CSAR guitar. Antonio Marin is considered to be the foundational builder of the contemporary Granada school. This guitar has a robust, creamy quality to the sound and has a nice quick, bouncy responsiveness, a characteristic found in the best of southern Spanish instruments.
As the final piece, Jâca recorded Candace Bustard's "Tropotitia" on a 2018 Felipe Conde "Pepe Habichuela" SP/CY flamenco guitar. This guitar is an exact replica of the favorite guitar of the legendary maestro Pepe Habichuela to mark the 60th anniversary since he started playing the guitar. The original dates from 1986, and all details of the original have been meticulously replicated with the exception of the original wooden tuning pegs (this replica has "machined" Planetary pegs for improved ease of tuning). This is a true flamenco guitar, built with a spruce top, cypress back and sides, best ebony for the fret board and a Honduran cedar neck.
Check out the videos below!
Leave a Comment