Classical Guitarist, Yuri Liberzon, Records Music by Konstantin Vassiliev, J. S. Bach, and Ernesto Lecuona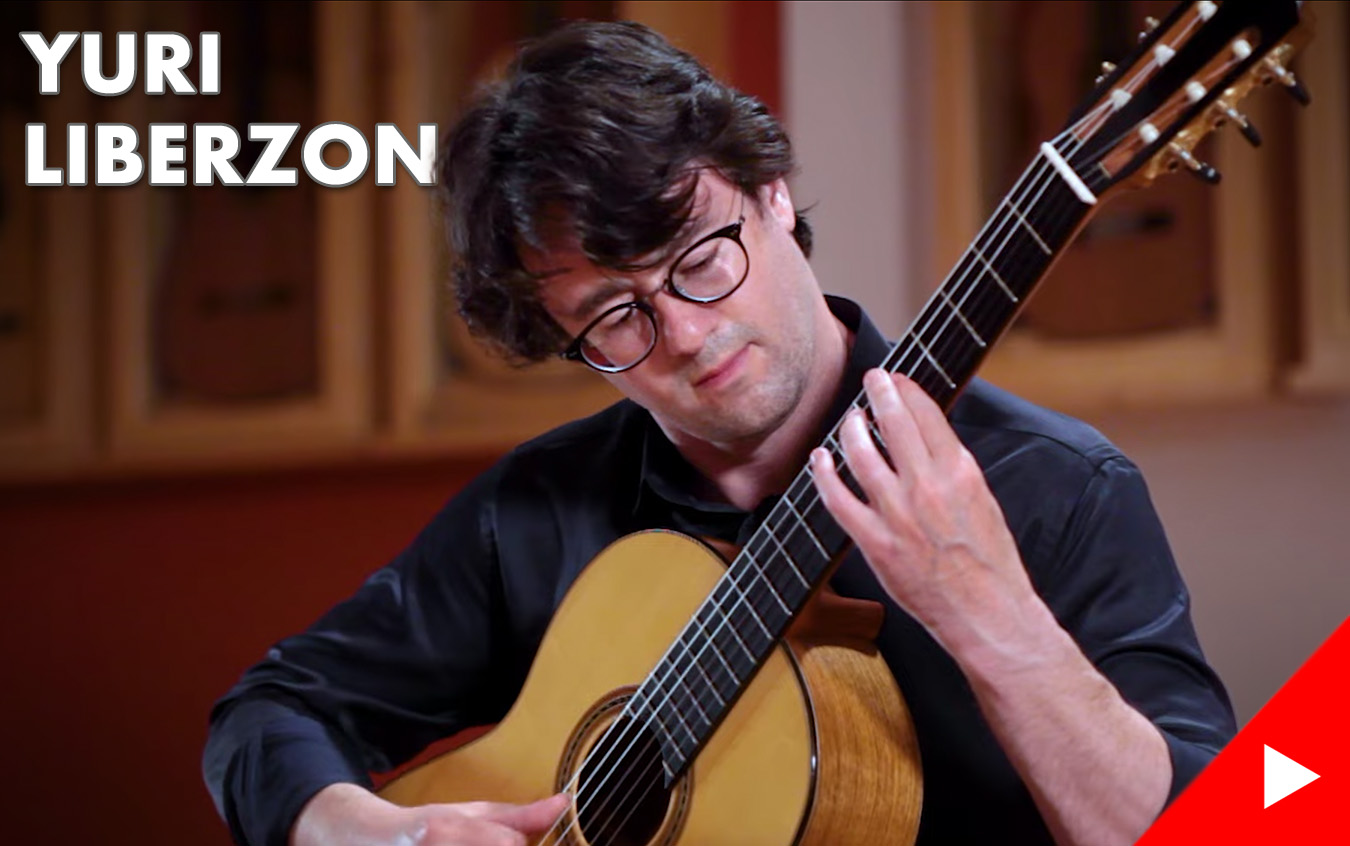 Classical guitarist, Yuri Liberzon, visited us recently to record six new videos for our YouTube channel. This time, Yuri focused on works by Konstantin Vassiliev, J.S. Bach, and Ernesto Lecuona. Yuri mostly focused on the pieces by Vassiliev because just this week, he released a new album on the Naxos label dedicated to the music of Vassiliev.
Yuri recorded four pieces by Konstantin Vassiliev in our showroom. He started three movements from "Hommage à Tom Jobim". For the first movement entitled "Carioca", Yuri chose a 2022 Angela Waltner "Anima" SP/CY. This is our most recent guitar from this Berlin luthier. Quite recently, we featured this guitar in the videos recorded in collaboration with D'Addario. It's a classical guitar, but with Cypress back and sides - wood which is often associated with flamenco guitars. In the second movement, "Contemplation", you can hear Yuri playing on a 2000 Jose Marin Plazuelo SP/CY. This guitar was chosen by a fellow dealer from a selection of many other great flamenco guitars as his personal instrument and was played for 20 years. "Jam beat" is the third movement from "Hommage à Tom Jobim" and for this final movement, Yuri chose a 2022 Youri Soroka "Templars Oak" classical guitar made with a spruce top and 900-year-old ancient oak for the back and sides. This special wood was salvaged from the home of a real Templar knight in the region of Bugey. This seemed to be unbelievable at first, but after further research, Youri was able to confirm the story (read more). In the fourth video, Yuri played Vassiliev's "Wanderer In Time" on a 2006 Luigi Locatto SP/IN. This absolutely breathtaking and meticulously built guitar is Locatto's own design. Structurally, some elements are taken from the work of many of Locatto's influences - primarily Spanish makers of the early twentieth century.
We also had a chance to hear Yuri's playing skills in Johann Sebastian Bach's "Gigue" from the "Violin Partita no. 2 in D minor BWV 1004". For this piece, he chose a 1955 Ignacio Fleta SP/IN. It was previously owned by only one guitarist, Theodore Bikel, who was a well-known folk musician. This guitar features Fleta's standard materials of this era for the top (spruce) and back (Indian rosewood) but curiously, a set of CSA rosewood was used for the sides which is rare.
Yuri finished his recording session with the performance of "Danza Lucumí" by Ernesto Lecuona (arranged by Manuel Barrueco) on a 2022 Daniele Marrabello SP/IN. In our opinion, luthier Daniele Marrabello is one of the great young talents currently on the Italian guitar-making scene. In our opinion, this guitar has a very strong resemblance to Hauser I - specifically by having a tone that has a piano-like clarity in all registers, precise balance, and a vast color palette.
Check out Yuri's videos below!
Leave a Comment