Colombian Guitarist and Composer, Daniel Rodriguez Visits GSI For the Second Time!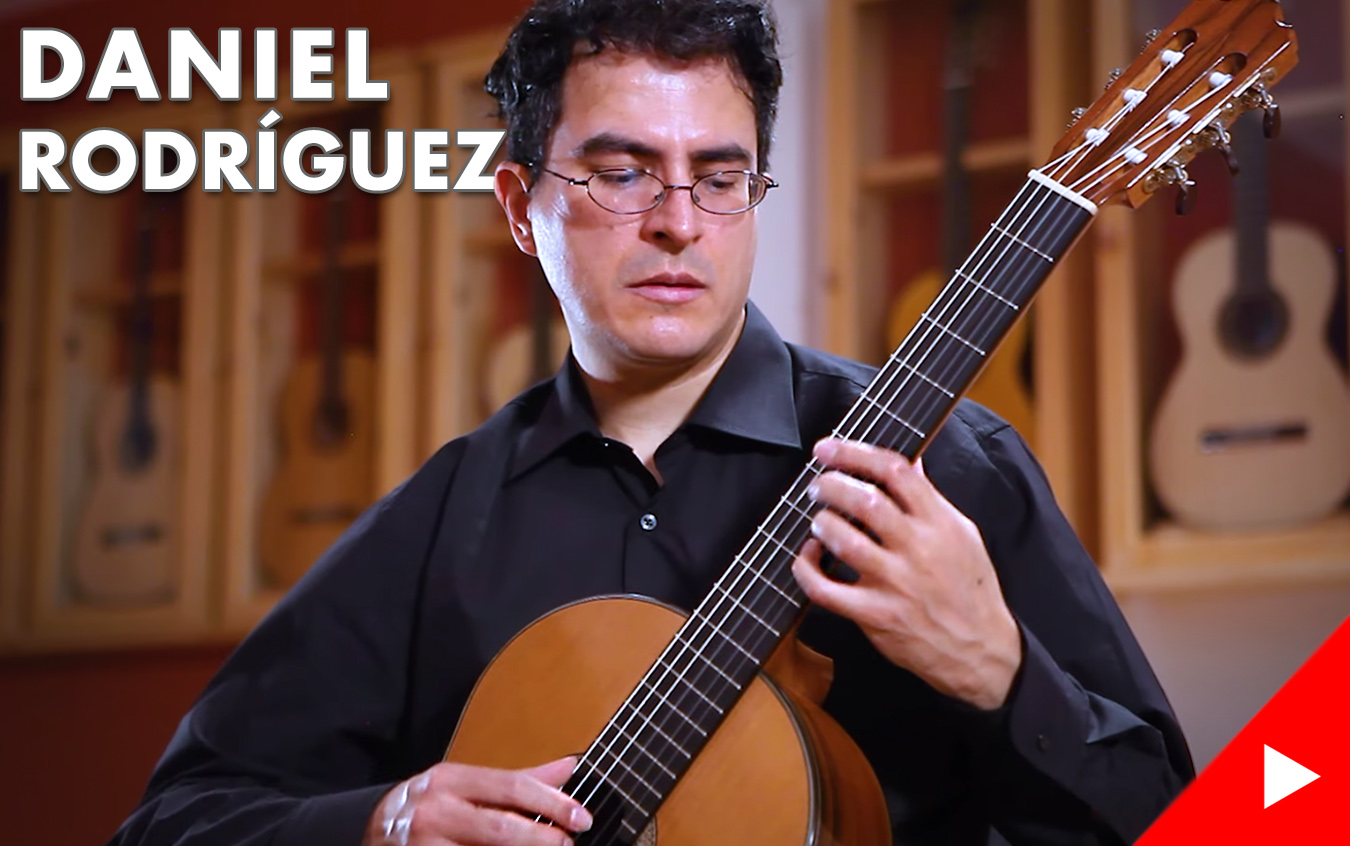 Colombian guitarist and composer, Daniel Rodríguez, has recently visited our showroom for the second time to record more videos. During his first visit to GSI almost two years ago, Daniel had a shorter recording session consisting of two videos, but one of them included a performance of "Mulata I. Cumbia" dedicated to our store! This time, Daniel had a much longer session at GSI and recorded eight videos!
Daniel Rodríguez performs music from baroque, classical to the 21st century. He studied classical guitar with Juan Carlos Calderon Porras, Mario Riveros Tabarés, Ramiro Izasa Mejía, Sonia Diaz, and Roberto Martinez. As a classical guitar performer he received the third prize at the National Guitar Competition in Bogotá (2006). In 2019 he received his Master's degree from Maestría en Educación Artística at Universidad Nacional de Colombia.
While at GSI, Daniel started his recording session with two pieces by Argentine guitar composer, Máximo Diego Pujol – "Trois Pièces: II. Plaza Italia" performed on a 2021 Ariel Ameijenda "Confessional" CD/BW and "Trois Pièces: III. Villa Real" played on a 2020 Alhambra "Mengual y Margarit NT" CD/IN. Next, Daniel recorded the piece "Villa Pueyrredón" also by the same composer. For this piece, he chose a 2013 Dominique Delarue CD/CSAR. These three pieces are great examples of Argentine music by one of the top guitar composers from that country. After that, Daniel recorded one of the greatest hits by Francisco Tarrega – "Maria (Gavota)". Daniel decided to record this piece on a 2021 Wolfgang Jellinghaus "Signature SP/SP" SP/ZR guitar. This is a very interesting concert guitar with some special features such as a floating fingerboard. Subsequently, Daniel picked our first guitar from German luthier, Angela Waltner, a 2021 Angela Waltner "Anima" SP/IN and recorded two pieces on this instrument. The first one was his own composition "Mulato, Porro" (FREE SHEET MUSIC HERE), which is a piece dedicated to one of his previous teachers Juan Carlos Calderon Porras. Then, he played a very charming and expressive composition titled "Déjate (Pasillo)" by Jorge Alejandro Medellín Becerra. The seventh piece was José Barros' "El Pescador y Navidad Negra" performed by Daniel on a 2018 Kenneth Brögger "Stradivarius" SP/CSAR – a guitar featuring motifs inspired by the violins of the great luthier, Antonio Stradivari. Daniel's recording session concluded with a famous "Odeon" tango by Brazilian composer, Ernesto Nazareth. This piece was recorded on a 2015 Federico Sheppard "Camino Dos Bocas" SP/AR.
Check out Daniel's new videos below!
Leave a Comment