Crossover Model From Valerio Licari - the "Zen" Guitar. Coming Soon to GSI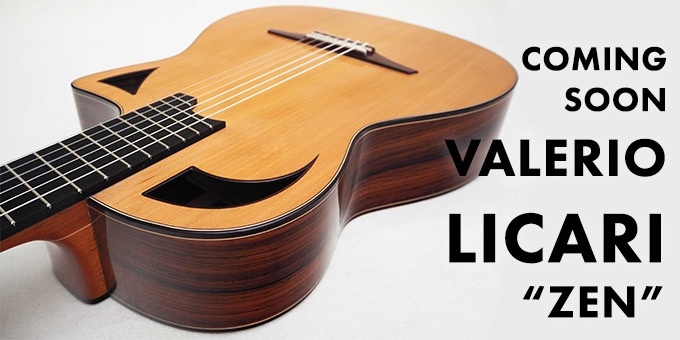 Perfect for the gigging musician needing amplification who seeks a natural nylon sound with no feedback. Look no further than right here! Valerio Licari's nylon-string "Zen" model is a beautifully built and masterfully designed guitar with a robust, balanced and clear sound as well as many other special features. And, as you can see in the gallery below, we have one of these "Zen" guitars coming soon the Salon.
As you browse through the photos below, here's a bit more on the interesting Licari "Zen" guitars. There are three configurations available: Classical, Flamenco and Fusion where the Classical and Flamenco are constructed with standard 52mm nut, 650mm string length and appropriate action as we've come to know traditional classical and flamenco guitars, except these have electronics and a single cutaway for players that need access to the highest frets. The Fusion configuration breaks tradition in an exciting way where it offers a shorter 48/50mm nut width and shorter string scale of 640mm if chosen, and this configuration allows for potentially playing faster much like on an acoustic and/or electric guitar.
Inspired by Stradivarius violin making and the Italian style of artisanship, Valerio Licari employs both the use of mathematical, geometric proportions and a simple and minimal design aesthetic for this model. One of the more notable featues is the double soundhole system fitted in the upper reaches of the upper bout. The theory behind this design is that the positioning of the soundholes as far as away from the bridge area leaves a larger vibrating surface of soundboard area – indeed in the 1920s, Francisco Simplicio made use of this design (see Simplicio's 1929 example in gallery below, and 2015 Federico Sheppard "Dos Bocas"). In the gallery below, you'll see what looks like a black and white X-ray rendering (called an interferometric holographic analysis), which demonstrates how vibration does not reach the upper bout area of soundboard.
These sound excellent either plugged in or even played acoustically, in either case they have a balanced sound and rich sustain. Licari builds these with a Piezo undersaddle pickup and contact mic, and the pickup system plugs into a Phantasma EQ controller by Acus Sound Engineering.
Leave a Comment