Eva Beneke – The 1952 Hauser Sessions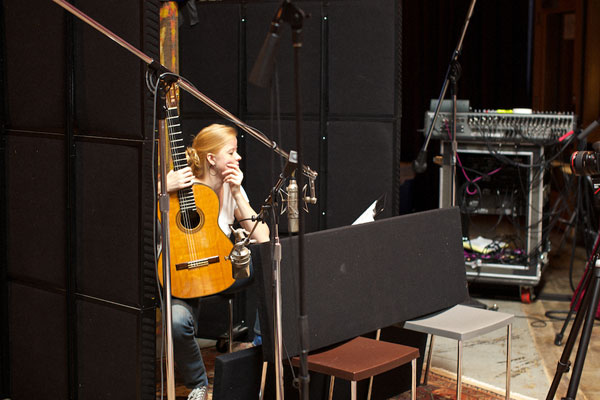 We had a great session yesterday over at Apogee's Berkeley St. Studios in Santa Monica with Eva Beneke recording an amazing 1952 Hauser I which I've written quite a bit about before. The project is Eva's CD – In Dulci Jubilo: A Classical Guitar Christmas – that GSI is producing and which will feature Eva playing solo guitar, duos with Scott Tennant and chamber music featuring the ensemble we recorded yesterday: Lars Hoefs on cello; Phil Popham on English horn and oboe; and Moni Simeonov on violin.
We've been collaborating with the folks at Apogee (makers of some of the world's best digital audio gear) and for this session they not only lent us their amazing studio, but we used their Symphony interfaces and mic pres to record as well, and legendary engineer/producer Bob Clearmountain (who has recorded or produced Bruce Springsteen, The Rolling Stones and Tina Turner among many many others) lent a hand – he's the one who built Eva her 'gobo fort' and lent us some amazing microphones for the session.
The great photos were taken by GSI's own Felix Salazar, who stopped by the session for a bit and captured the session beautifully.