GSI Acquires The Russell Cleveland Collection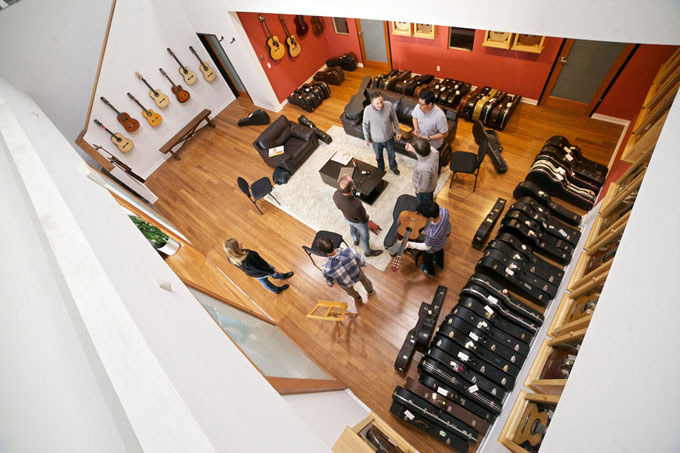 We are thrilled to announce that GSI has just acquired the Russell Cleveland collection, made famous in the book Classical Guitar: A Complete History. As you'll see in the press release below, this collection includes Segovia's Ramirez, Bream's Hauser, an 1888 Torres, Bouchet's very first guitar and 59 other historically significant guitars.
Our first priority was to get the guitars safely from Texas to Santa Monica, so David Collett, JohnPaul Trotter and Andy Lee flew out to Dallas, and then JohnPaul and Andy embarked on a pretty epic road trip with a U-Haul full of amazing guitars. They drove straight through and we all got a chance to see and play these incredible instruments, as you can see in the photos.
In coming weeks we will begin to record these guitars for posterity, and we will do our very best to get the best players possible and make some great videos that will stand as records of these historic instrument.
You can see guitars from the Cleveland Collection here, and in coming weeks we will be posting all of them.
Read on to see the press release and some inital photos of these guitars.
Guitar Salon International Buys Historic Guitar Collection
David Collett, President of Guitar Salon International (GSI), announced today that the company has purchased one of the most important guitar collections in the world: the Russell Cleveland Collection. This collection is comprised of 63 instruments spanning the years 1830 to 2011, and represents the most important classical and flamenco guitar makers from the past 185 years. Among the most prized instruments is a Torres from 1888 previously owned and concertized by Emilio Pujol; Julian Bream's famed 1957 Hauser II, Robert Bouchet's first guitar which remained his personal instrument until his passing; and Segovia's 1969 "AM" Ramirez which he used regularly from 1969-1980. This amazing list continues, and GSI will roll out the entire collection over the coming weeks on guitarsalon.com as each guitar is documented, photographed and assessed on an individual basis. Many of these instruments are also featured in the acclaimed book, "The Classical Guitar — A Complete History" of which Tim Miklaucic, GSI's CEO and founder, was one of the contributing authors.
"It's very rare to have the chance to purchase a collection of this quality and size. As far as I know, it's the largest classical and flamenco guitar collection ever sold to a single buyer. I'm proud to have helped Russell acquire many of these instruments over the past thirty years and grateful that he has given me the chance to find new owners and caretakers of each of these extraordinary pieces." – Tim Miklaucic, CEO, GSI
"I acquired my major collection over many years. I decided it was time for others to play and cherish these fine instruments. I am pleased that the folks at Guitar Salon International are undertaking this effort." – Russell Cleveland
"I was fortunate to have a copy of Russell's book when it was first published in the late 1990s and in the subsequent years have spent countless hours poring over every single page, marveling at each of these instruments one by one. For me, this is a highlight in GSI's history to have this collection here in our offices to study, play and share with the guitar community, both here locally in Santa Monica, and online with the world. Perhaps even more exciting for us as players is that most of these instruments are in fantastic playing condition and are ready for the concert stage. We are going to do our best to give many of these instruments a chance to be heard in live performances and in the highest quality audio and video recordings before they find their new homes." – David Collett, President, GSI
Leave a Comment