1888 Antonio de Torres SP/MH (ex Matilde Cuervas, Emilio Pujol)
| | |
| --- | --- |
| Year | 1888 |
| Top | Spruce |
| Back & Sides | Mahogany |
| Scale Length | 650 mm |
| Nut width | 52 mm |
| Finish | French Polish |
| Country | Spain |
| Luthier | Antonio De Torres |
This guitar is no longer available in our inventory. If it interests you, click the "notify me when available button" to be notified in the event that we re-acquire this guitar for re-sale.
Description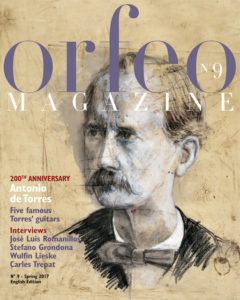 Built the same year as Tarrega's favorite Torres guitar (SE 114) and almost identical in dimensions and materials, this guitar (SE 115) is one of the great masterpieces of Torres' output for its provenance, quality of sound, condition and historical importance. It is in phenomenal condition with all original elements preserved, including original polish, tuning machines (Baker), internal pencil marks and even the original wooden hardshell case! Yuris Zeltins recently did some repair work to re-repair some old cracks, but left all original materials (including finish) intact.
The guitar was once owned by concert artist Matilde Cuervas (1888-1956) who used it professionally throughout her career. After her death, it was inherited by her husband and duo partner, the great pedagogue, composer and concert artist Emilio Pujol (1886-1980) who continued to use it professionally as well. Before his passing, he donated the guitar to his niece and in 1997 it was sold to Russell Cleveland, where it remained until coming to GSI.
Words are inadequate in describing just how rich and harmonious the sound is, how perfectly balanced the notes are when they blend together, and the sensation of playing the guitar as it vibrates against the players body. The trebles have an intoxicating, "velvety" texture to the sound and it is remarkable just how sensitive each note is to the slightest change in right hand position - allowing for a wide variety of color and expressivity. The basses are wide and deep, also with great lyrical charm and character. When evaluating the sound of a guitar like this, it's difficult to tell where the genius of Torres ends; and the accumulated years of being played by great artists begins. This instrument is truly a marvel of guitar making history.
For more information on the life of Antonio de Torres, be sure to read this short biography and this excerpt about the Torres sound from the Jose Romanillos book, "Antonio de Torres". We also have an interview between Pepe Romero and Kenny Hill about the master luthier.
Scroll down to the third video to hear a recording done c. 1932 by Emilio Pujol and Matilde Cuervas playing the Danza from "La vida breve" by Manuel de Falla - possibly on this Torres.
Orfeo Magazine #9 - The 200th Anniversary of Antonio de Torres
Videos
Guitars by Antonio De Torres