In Memoriam - Enrique de Melchor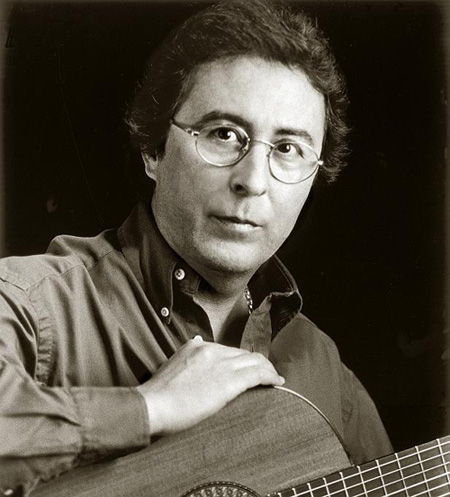 This week we lost another of the great flamenco guitarists of our generation, and again at a very young age – Enrique de Melchor was only 61. Enrique was the son of the legendary guitarist Melchor de Marchena, whom many of us consider the best player for cante to have come along. Enrique started out playing at 'Los Canasteros' in Madrid with his father and Manolo Caracol, and then he went on to tour with Paco De Lucía and to accompany some of the best singers of the younger generation, like Jose Merce, Jose Menese, Vicente Soto and tons more.
In the mid 1990's I was living in Russia and going back and forth to Spain every few months to renew my visa. I was hanging out at the Conde shop one day and I mentioned to Felipe Conde that of all the greats the guy I would most like to study with was Enrique Melchor – something about the way he accompanied, his sound, and the way that where other guys would noodle Enrique would always have a melody that grabbed me. I was shocked when Felipe got out his little book and gave me Enrique's phone number.
I set up a lesson and went to his house, and was surprised to find him practicing while watching tv. There were so many things I wanted to ask him about, but of course the first thing he did was to make me play Solea. We spent a few lessons on Solea, and we talked a lot about accompanying – he was the first person to really talk to me about listening to the compas that the singer was hearing (or creating) and follow that rather than trying to impose anything on the singer.
When I came back from Moscow a few months later I brought him some caviar and vodka and he went crazy. Turned out he loved caviar. So from then on I paid for my lessons in caviar, and I'm pretty sure we each thought we were getting the better deal. He taught me tons of the falsetas that I already knew so well, but more than anything he taught me how to groove with the compas. I had pretty good compas already (thanks to Dennis Koster and Juan Fernandez) but just hanging out and playing with Enrique made me feel it differently, and that's still with me.
He's one of my all time favorite guitarists. The early Jose Merce records that he played on and arranged are brilliant, as are the Jose Menese records (which tend to be less arranged – just cante and guitar). I found a compilation CD in Spain a few years back of his really early recordings, mostly with singers, and you can hear his father's influence and just how great Enrique always was with the cante. 'Bajo La Luna' was one of his solo records that made me want to study with him, too. It's awash in 80's reverb, but the playing and the songs are amazing and hard hitting in the way things were before everything got smoothed out in flamenco. His later solo record 'La Noche y El Dia' is probably his masterpiece, and features Jose Merce and a lot of other great musicians.
Here are a couple of videos in case you've never heard him:
Leave a Comment