Josh Moore Visits GSI to Record Four Solo Works and a Duet with Bokyung Byun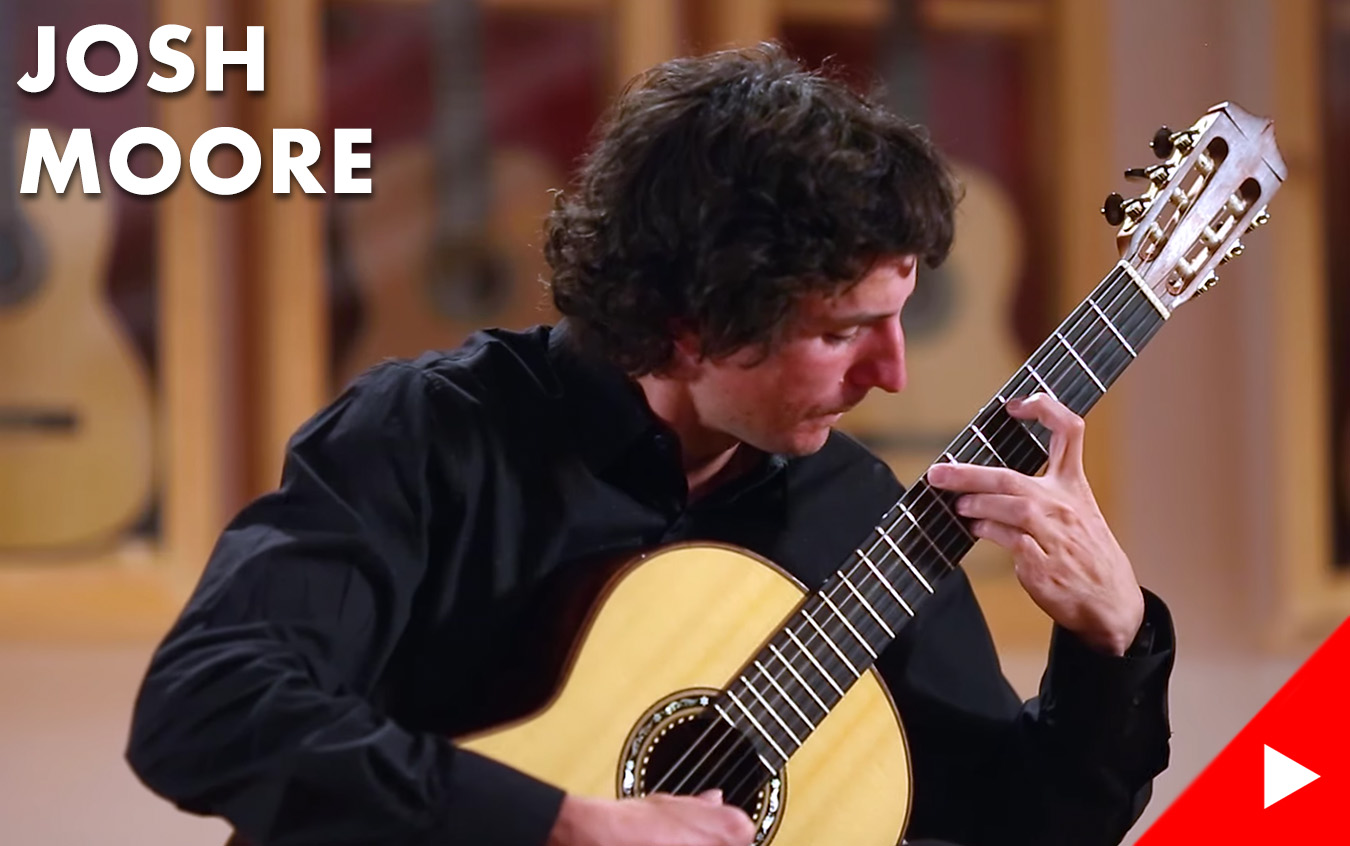 Our good friend, Joshua Moore has recently visited GSI to record five new videos in our showroom. Josh currently lives in Flagstaff, Arizona. He performs as a solo classical guitarist, and as a member of various classical, jazz, and contemporary ensembles. Josh holds a Doctorate of Musical Arts degree from the USC Thornton School of Music, where he studied with Scott Tennant and William Kanengiser. He also received a Professional Studies Diploma from the San Francisco Conservatory of Music, where he studied with Sergio Assad.
This time, Josh started his recording session with Mario Castlnuovo-Tedesco's "Sonata, Op. 77: II Andantino" played on a 1968 Miguel Rodriguez CD/CY. It's a superb flamenco blanca made by one of history's greatest guitar luthiers. As the second piece, Josh recorded selections from Alban Berg's "Piano Sonata, Op. 1" arranged by Christoph Dejour. For this video, Josh picked a 2002 Jose Oribe "Classic Suprema" CD/CSAR. This particular Oribe's guitar has a big, deep, and rich tone with a huge volume. Next, Josh recorded Eduardo Baranzano's arrangement of the famous "Arabesque No. 1" by the French master of impressionism in music, Claude Debussy. In this recording, Josh plays on a 1983 Robert Ruck SP/CSAR guitar. This luthier is regarded as one of the most recognized names in American guitar making. Manuel Barrueco recorded nearly all of his classic recordings on a guitar made by this maker. As the final solo piece, Josh recorded Victor Main's "Perseus". Victor is a young composer on the classical guitar scene, but his piece is very interesting! It features a creative use of harmonics combined with hammer-ons and pull-offs. For this piece, Josh picked a 2007 Dake Traphagen "35th Anniversary" SP/CSAR. It's a very detailed guitar with a sound as elegant as its appearance.
In addition to his solo videos, Josh also recorded a duet with the recent GFA winner, Bokyung Byun. Together they performed Charles Ives' "The Alcotts" on two guitars made by German luthier, Julia Wenzel (2022 Julia Wenzel SP/GR; 2022 Julia Wenzel CD/PW).
Watch the videos below!
Leave a Comment