Julia Wenzel Sends Guitar Photos from Munich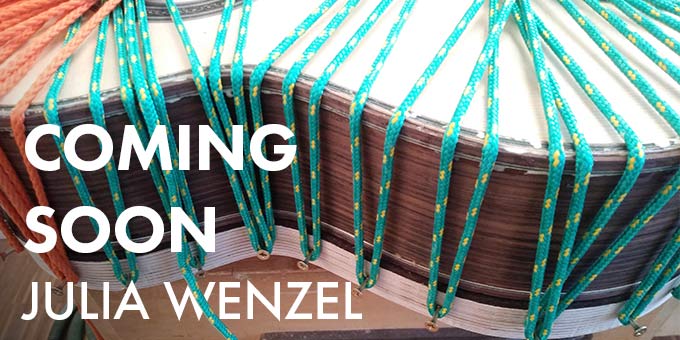 Winner of the 2nd prize at the prestigious Antonio Marin Montero Guitar Making Competition Julia Wenzel sent us photos of her new guitar that will be in the showroom shortly. Take a look! It's coming from her workshop in Munich, Germany, from where she produces exceptional work. This instrument takes on a minimalist aesthetic and is overall subtle in appearance, but that only makes it understated and particularly stunning to us nonetheless! It is made up of a spruce top and is appointed with beautiful purfling (with green accents) that outlines the top and sides and matches the rosette perfectly. Simple yet sophisticated.
Julia tells us our mutual friend Florian Blöchinger actually played this very guitar before it was shipped, and he said it plays beautifully.
We love the guitar photos, of course (check out the last one of the finished product), and we especially like seeing Julia so cheerful around her work in her traditional dirndl. As Andy said on Instagram, it's not Oktober yet, but we'll celebrate with Julia in Bavarian style any day!
Leave a Comment