Kremona NG-1 Acoustic Guitar Pickup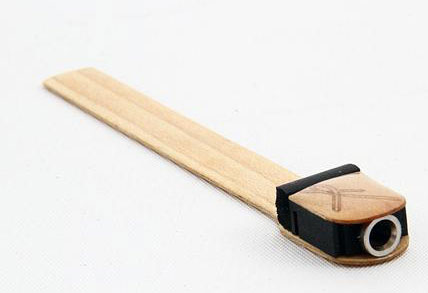 I'm an unabashed snob when it comes to guitar pickups for nylon. I like the sound of a guitar, and I don't like the sound of pickups. I've spent years putting together a rig so I can be as loud as I need to be without feeding back, and as a flamenco guy I'm competing with dancers, percussionists and sometimes electric bass and other instruments. I know it can be done, but I also know that it's not easy or cheap, so while I don't like the sound of pickups I get why a lot of players need to use them. And I also know that some people actually like that sound, which is another story, and a matter of taste, just not my thing.
So I'm clearly not a connoisseur of pickups. But here's why I think this Kremona NG-1 pickup is pretty cool: You don't have to make a single hole in your guitar. That's pretty huge. There are reviews around the web that will attest to the sound of the thing (some love it, some don't – that can be said about almost any pickup), but in my limited testing I didn't think it sounded any worse than any of the other pickups I've tried, or any worse than the B-band I had installed for years in one of my guitars (well, the film transducer part of the B-band may have sounded better, but not the piezo part). I thought the Kremona sounded, with a little tweaking, about as good as an undersaddle thingy can sound. And it's $69. And you don't have to make a single hole in your guitar (did I mention that?).
I'll probably buy one. Almost any other pickup costs a lot more and requires some sort of installation (i.e. holes in your guitar). This thing you install when you're changing strings, and that's that. Snob though I am, I used to use that guitar with a pickup from time to time, and I know it can be handy for rehearsals, etc… I also know that a lot of the new combo pickups (pickup and mic, pickup and ribbon thingy, two kinds of pickup) will probably do a better job than this at actually sounding like a guitar. But not for $69 and not without putting holes in your guitar.
Leave a Comment