Luthier: Edmund Blochinger
---
Current Inventory     |     Past Inventory
---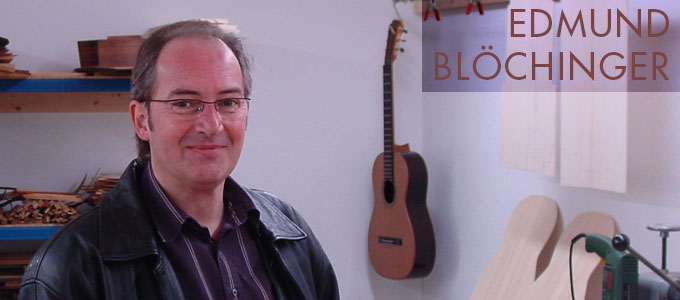 Born in a small town 30 miles outside of Munich, Edmund Blöchinger grew up with a love of both the aural and the visual qualities of music. Wandering through town with his mother, he would become transfixed by not only the sound, but also the shapes of the fine classical guitars hanging in the windows of music stores. The seeds for his passion were also sown at an early age via his grandfather, a retired forest master who instilled in him a love of the natural and vibrant qualities of the woods from which he would eventually craft his own instruments. His grandfather taught him how to choose a perfect tree from the spruce forests that surrounded his home, and to this day Edmund still selects the wood for his guitar tops and cuts the trees himself.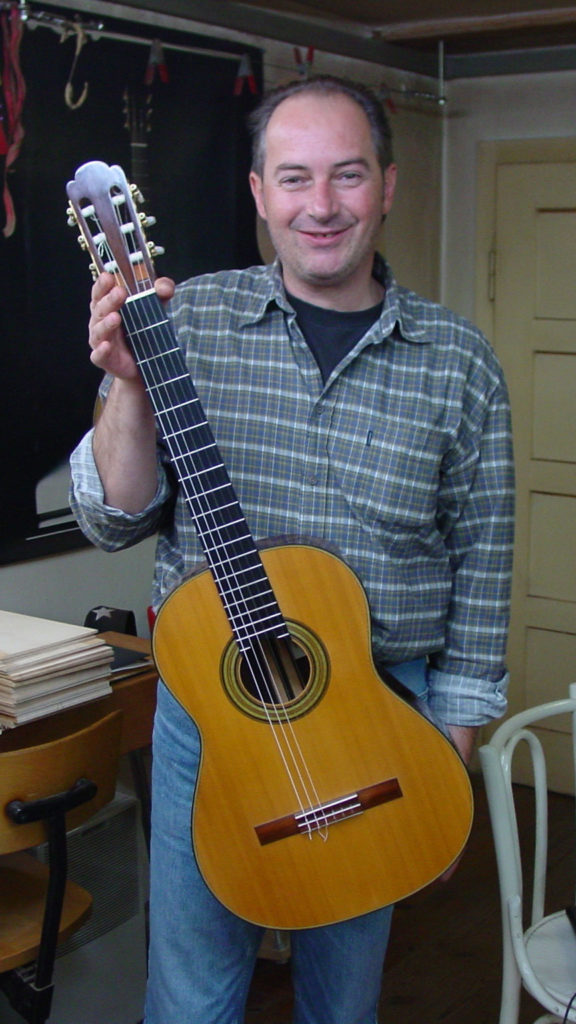 Owing much to his grandfather's inspiration, Edmund first apprenticed as a cabinetmaker but dreamt of becoming a luthier. In 1982 he began an apprenticeship in a guitar workshop near his home. A critical moment in his growth as a luthier came in 1987, when he discovered the José Luis Romanillos book "Antonio de Torres: Guitar Maker–His Life and Work". The full impact of this event was realized two years later when he participated in the Romanillos master class in Cordoba, Spain. Through Romanillos, Blöchinger was introduced to the old building techniques and aesthetic sensibilities of the great traditional masters, stemming from Torres.
Since the mid '90s, Blöchinger's close association with the Romero family has been another driving force in defining his style. The Torres/Romanillos foundation gave him the tools to build a guitar using traditional methods to attain great warmth and depth to the note, while maintaining a great amount of clarity and balance. In building for all members of the Romero quartet, his guitars have developed a bigger concert sound with quicker response and sharper focus. The shape of the fingerboard, fretting and the relief in the neck are all designed in order get the action lower without diminishing the tension at the bridge – a quality that Pepe and Celin Romero look for in their best instruments.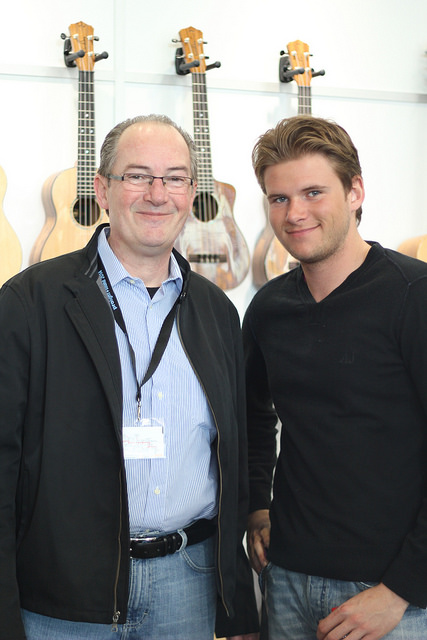 Edmund also builds a smaller, "Llobet" model (sometimes with tornavoz) based on the famous 1859 Torres made famous in the hands of the great maestro Miguel Llobet. This model has become increasingly popular with concert players, aficionados and guitar lovers world-wide for its easy playability and surprisingly huge sound for its smaller size.
Although Edmund uses hand-split Alpine spruce as the primary wood for his soundboards, he has built some fantastic cedar instruments as well and uses only the highest grade materials for the backs and sides – including various rosewoods, maple, yew, cypress and others. What really distinguishes his guitars, however, is that "Each one of them is built with love." And although it is natural to affiliate fine concert guitars with their country of origin or influence, he is proud to define his instruments as "universal." They are not limited by borders or language.
In the end, all of Edmund Blöchinger's guitars are a culmination of his own experience and understanding of sound and of the tonal possibilities of wood. Although he works alone and produces just 10 handmade instruments per year, GSI is proud to be the only dealer of Edmund Blöchinger guitars in the world.
Hauser III, Blöchinger and Ober in Orfeo Magazine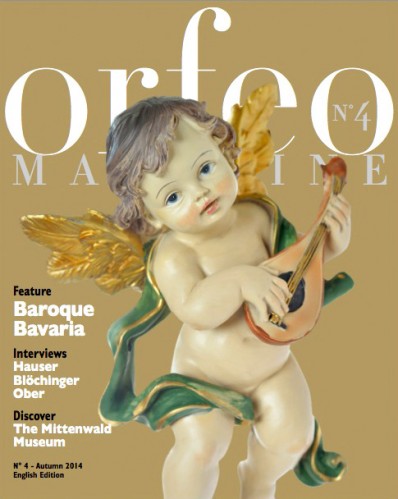 The latest issue of Orfeo classical guitar magazine boasts a triple-feature of master luthiers Hermann Hauser III, Edmund Blöchinger, and Fritz Ober. Orfeo magazine interviews each luthier and gains substantial information about them all; Hauser III tells about his family legacy in guitar-making and the popularity of the Hermann Hauser I Segovia Model, while Blöchinger lets us into his building philosophies and techniques, and Ober gives thoughts on past masters and contemporary luthiers. All the wonderful intricacies of a luthier's life are included in this issue as well as a gallery of their phenomenal works of art. Click here for the full issue of Orfeo.
Leave a Comment