Luthier: Lorenzo Frignani
---
Current Inventory     |     Past Inventory
---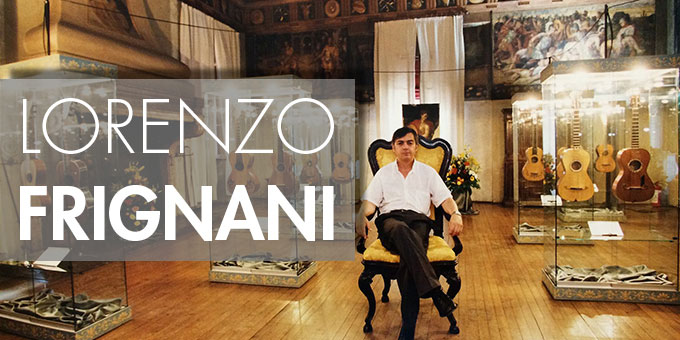 Lorenzo Frignani lives and works in the charming city of Modena, Italy. Established as an independent luthier in 1986, he has been building a variety of instruments including guitars, lutes and violins for nearly 3 decades. In addition to his own concert guitar models, Frignani makes a unique replica of a 1910 Manuel Ramirez guitar (Frignani owns the original and has studied it extensively) and gives it an aged/distressed look, built into each new guitar – a technique common in the violin world which he has adopted for this model. Frignani has won many awards for his guitars and his lutes both in Italy and around the world (Including his nomination in July of 2011 as "luthier of the year" by the town of Fiuggi-Lazio).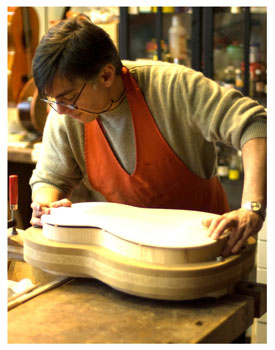 In addition to his work as a guitar maker, he is deeply involved in many other aspects of the larger musical community. He has been a member of various international juries in guitar competitions. He has also taught regularly, including violin making courses for The Arts and Crafts School of Centopievese. He also collaborates with the city council of Pieve di Cento (Bologna) as artistic consultant for the schools' activities pertaining to lutherie. And he has taken on several apprentices over the years, to study privately with him.
Frignani is also involved extensively in publishing. He is dedicated to researching and preserving the history of these instruments and has collaborated in numerous publications to this end including "Ricercare – Sull' arte liutaria" in 1987 at Finale Emilia and "Ricercare – Sull' Arte Liutaria" in 1989 at Medolla. He provide a chapter of the book "Il Salotto Musicale"(Bologna 1992, Forni) which discusses the musical instruments of the classical period (ca. 1780-1820). In collaboration with the town council of Pieve di Cento and the arts and crafts school he published a new text about historical plucked instruments of the 18th and 19th century, "Chitarre e Mandolini – piccola raccolta di strumenti a pizzico italiani del 18° e 19° secolo". In 2007 he founded the publishing house LF Edizioni. Together with Sauro Malagoli, he translates foreign scripts about lutherie to the Italian language and publishes their own books as well. In 2005 he published the book "Marino Capicchioni and Mario Capicchioni, liutai".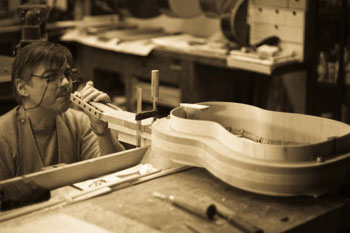 Frignani is also sought after for his general expertise – he is the technical advisor for matters concerning musical instruments at the Modena law court, where he is arbitrator for the Arturo Toscanini Foundation which works for the Symphonic Orchestra of the Emilia Romagna. He also works as an instruments' expert for the insurances Assimusica (Cremona) and AXA ART. He's a member and Vice President of the associations A.L.I. Professional (Italian Association of Professional Luthiers) and A.L.A.D.F.I. (French Association of Bow and Violin Makers).
He also collects instruments, and enjoys making them available to the public, as well as collaborating with other collectors for this purpose. He has held instrument expositions at Parma, Finale Emilia, Medolla, Pieve di Cento, Spezzano and Rome, as well as abroad, at Beijing, Geneva and Mittenwald, and he has participated at exhibitions dedicated to contemporary luthery in Austria and China. In 2002, he was the trustee and organizer of the "Musica a Corte e in collezione" antique musical instrument exhibition in Modena (Italy).
GSI is the exclusive dealer in the USA for this fine maker.
Tacchi, Locatto and Frignani in the Latest Issue of Orfeo Magazine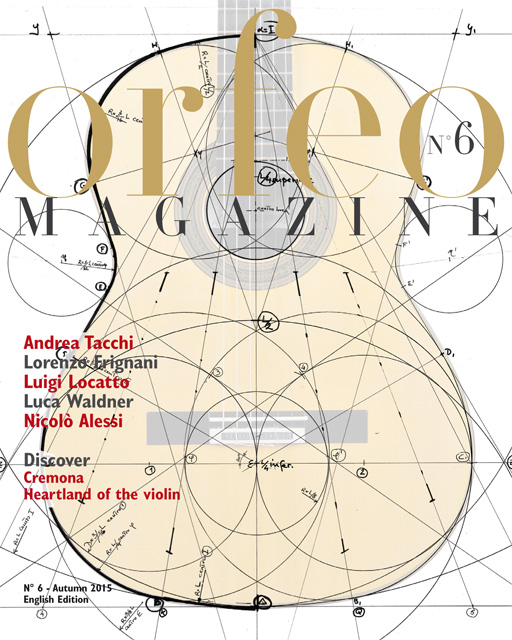 Orfeo Magazine has published a feature article in their latest issue for Autumn 2015, taking a look into the workshops and at the work of master luthiers Andrea Tacchi, Luigi Locatto, and Lorenzo Frignani. Featuring interviews with the luthiers themselves, as well as highlighting some of the unique approaches these luthiers take when building their instruments, this issue is loaded with tons of great information for anybody interested in the art and craft of luthierie, as well as classical guitar in general. This issue also has some splendid photography, some nice shots of the luthiers and their workshops accompany the articles to give the reader a well rounded image of how and why these craftsmen do what they do. Click here to see the full issue of Orfeo. Also, check out some of the guitars we've had here at GSI as the exclusive retailers for these fine luthiers in the United States. You can see all of the guitars we've had from the workshops of Tacchi, Locatto, and Frignani in our store and in our museum archive.
Leave a Comment