Luthier: Miguel Rodriguez
---
Current Inventory     |     Past Inventory
---

This famous family of guitar makers was based in the city of Cordoba, which is nestled deep in Andalucia – the region of Southern Spain that gave birth to the modern Spanish guitar in the person of Antonio de Torres (1817-1892) who had been active in neighboring Seville and Almeria. The slimmer and sleeker style of Rodriguez' guitar is regarded by many to be an enlarged and "modernized" traditional guitar with its roots stretching back to Torres, with little modification to any of the critical design elements of bracing, proportions and dimensions. Yet these guitars have a unique majesty of their own, with great subtlety of contour and texture to the tone, and their own distinct evolutionary history.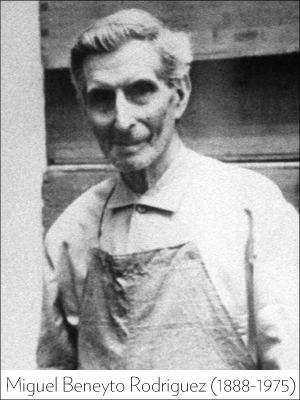 Throughout the 20th century, the Rodriguez family produced some of the most compelling instruments in Spain, if not the world over. When speaking of "Miguel Rodriguez", one is actually referring to four makers – Miguel Beneyto Rodriguez (1888-1975, also known as "Miguel Sr."), his twin sons, Rafael Rodriguez Serrano (1921-1965) and Miguel Rodriguez Serrano (1921-1998, also known as "Miguel Jr."), followed by Miguel Jr.'s son, Jose Rodriguez Alamo (1949-1996, also known as "Pepe"). The early period was dominated by Miguel Sr., whose instruments were lightly built, and small-to-medium-bodied, with a very expressive, lyrical and singing quality to the sound. They also had overwhelming resonance and projection which made them perfect instruments for playing without amplification with orchestras or in large halls. As Pepe Romero Sr. has told us "What the jet engine did for aviation, the Rodriguez family did for the guitar." As Miguel Jr. and Rafael rose to prominence in the 1950s and 1960s, the guitars evolved into a more consistent, streamlined style with increased body proportions, still quite lightweight, with 7-fan build. The later (1970's – 1998) period of Miguel Jr. and son Pepe, is perhaps the best-known phase, where the instruments tend to have longer scales, deeper-boxes, a more lightweight bracing system of 5 fans, and are more commonly found with cedar tops. This is the "Churchdoor" as well the decorated "Centenario" period. Despite the larger build at this time, the instruments are known in particular for maintaining a very lightweight build and yielding a fast flamenco-like response with a warm, romantic and soulful Spanish character.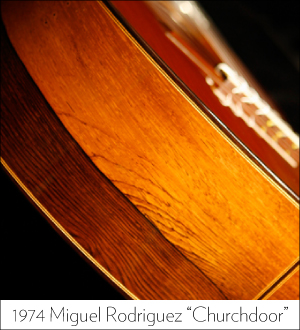 All members of the Romero family have performed on these instruments for decades and their own artistic development and expression are immutably linked to them – a lifelong relationship that wrote one of the great chapters in the history of the guitar.
Leave a Comment