Miguel Angel Carrillo - Los Angeles-based Classical & Flamenco Guitarist Records at GSI.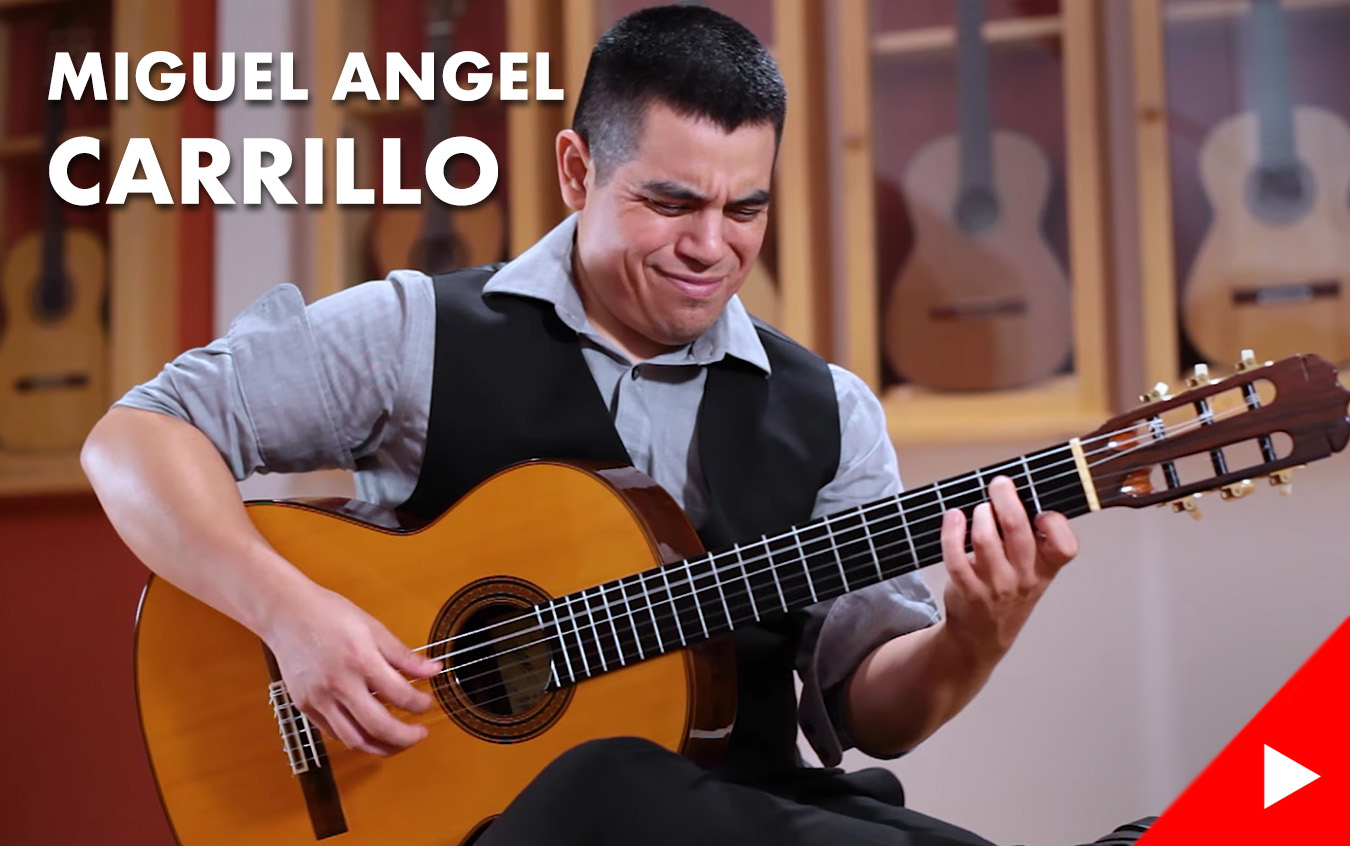 Los Angeles-based classical and flamenco guitarist, Miguel Angel Carrillo, recently stopped by our showroom to record a new set of videos for our YouTube channel.
Miguel is a first-generation Mexican-American born and raised in Los Angeles. As a child, he started learning the guitar from his father, a professional musician. In his youth, he also learned how to play the drums and violin, but it wasn't until high school that he began playing classical guitar with professors, Charles Suovanen and Michale Kozubek. Miguel decided to pursue music as his major and entered the Los Angeles City College's applied program where he received the David A. Alpert scholarship.
Miguel is currently a student at California State University Dominguez Hills, where he is studying guitar under the tutelage of Kai Narezo, Matthew Greif, and David Isaacs.
Miguel recorded five new videos during his second recording session in our showroom. He started with his own arrangement of "Gema", a song by Mexican composer, Guicho Cisneros (1943-2014). Guicho wrote hundreds of songs, but "Gema" is his most well-known hit. Miguel played this piece on a very rare guitar - a 1962 Daniel Friederich "Flamenco blanca" SP/CY. We first "met" this guitar about 20 years ago and contacted Friederich for details. He confirmed that he had only built 8 of these flamenco guitars, and even made the tuning machines himself! It is an absolutely stunning instrument.
Next, Miguel recorded his arrangements of two traditional flamenco dances on two excellent flamenco guitars. For the first piece, "Soleá" (plural for Soleares), Miguel picked a 1967 "Jose" David Rubio "Blanca" w/pegs SP/CY. David "Jose" Rubio is mostly known for his classical guitars (e.g. he built guitars for Julian Bream in the 1960s). Rubio was a flamenco player himself, but he built very few flamenco guitars, making this instrument a very rare find. For the second flamenco piece, "Alegrías", Miguel chose a 2004 Paulino Bernabe "Blanca" CD/CY. This is a cedar-topped flamenco blanca. It features extremely fine and aged materials, and is appointed with intricate detailing throughout.
Miguel finished his recording session with two pieces from the canon of classical guitar repertoire. First, he played Francisco Tarrega's famous "Adelita" on a 2022 German Vazquez Rubio "Classic Estudio" SP/PE. This is a modestly priced, top-of-the-line student/entry-level instrument, but it sounds great and represents a great value for the price. For his final piece, Miguel recorded his arrangement of "Serenata Española" by Joaquín Malats 2007 Jose Ramirez "1a C650-AP" SP/CSAR. This guitar has all the color and warmth normally associated with a great Ramirez and has playability more like the instruments produced in the 1950s with an easy neck angle and standard string length of 650 mm.
Leave a Comment