New Videos: Evan Taucher visits GSI!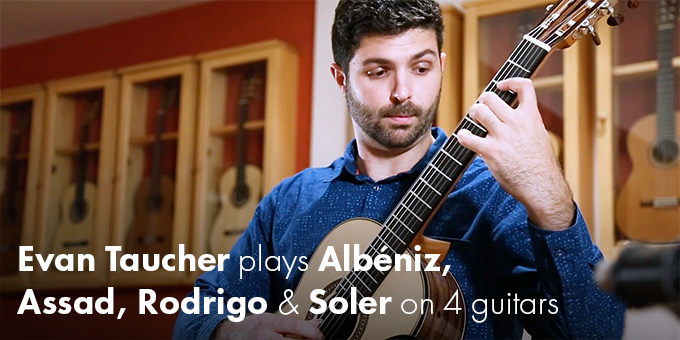 Here are four new videos of Evan Taucher who recently visited GSI for the first time. In recent years, Evan has won eight prizes in professional music competitions, including three Grand Prizes. Currently, he is a student of Adam Holzman at the University of Texas in Austin, where he is pursuing his Artist Diploma, and has also had the opportunity to study guitar at the University of Alicante in Spain.
Evan recorded four pieces on four different guitars in our showroom. He performed the beautiful, but not often-played arrangement of the "Pavana-Capricho, Op. 12" by Isaac Albéniz on the 1952 Hermann Hauser I SP/CSAR, ex Sophocles Papas, "Sonata R. 24" by Padre Antonio Soler on a 2019 Valerio Licari SP/IN, the second prelude from Joaquín Rodrigo's "Dos Preludios" on a 2008 Gioachino Giussani "Humphrey" CD/CSAR and the only non-Spanish piece in this collection, "Feliz" from Sérgio Assad's "Seis Brevidades" on a 2019 Mario Aracama SP/KA.
Evan is also active on Instagram. If you like his music, make sure to follow him there. We would also like to remind you to check our Instagram for more content.