Player Spotlight: Andrea de Vitis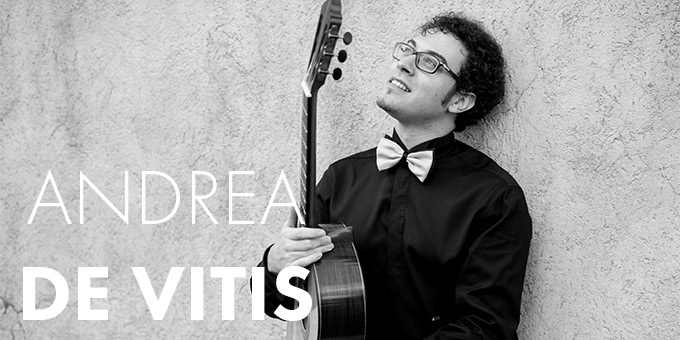 Andrea De Vitis (Rome, 1985) graduated with full marks from the Morlacchi Conservatory in Perugia, Italy, where he studied under Leonardo De Angelis. He continued his studies at the Segovia Guitar Academy in Pordenone, Italy with Paolo Pegoraro and Adriano Del Sal. There, he attended masterclasses with Oscar Ghiglia, Carlo Marchione, Arturo Tallini, Pavel Steidl, Frédéric Zigante, Carles Trepat and Piero Bonaguri among others.
In the last few years, Andrea won more than 40 prizes in many international competitions. Among the most important are: first prize at Guitar Masters 2016 in Wroclaw, Certamen Internacional "Julian Arcas" de Almerìa, Forum Gitarre Wien, Iserlohn Guitar Competition, Budapest Guitar Competition, Mercatali Guitar Competition, Kutna Hora  Competition, Gargnano International Competition, Mottola International Competition; second prize at Guitar Foundation of America in Denver, "Pittaluga" International Competition in Alessandria and "Frauchi" International Competition in Moscow.
As a recognition of his artistic merit, in 2013 he received the Golden Guitar Award for the best up-and-coming guitarist of the year at the 18th International Guitar Convention Pittaluga held in Alessandria.
Andrea De Vitis has performed in prestigious concert halls all over the world, including in the US, Russia, Spain, Austria, Germany, Belgium, Netherlands, Poland, Hungary, Czech Republic and Slovakia, and his recitals have been highly acclaimed by audience and press. He regularly plays with orchestras such as the Aukso Kameralna (Poland), Anima Musicae (Hungary), Orchestra classica di Alessandria (Italy) and Capella State Orchestra (Russia).

His debut album "Colloquio with Andrés Segovia", released by DotGuitar web label in March 2015, gained a great success with both critics and audience, and it received the Golden Guitar Award for the Best CD of the Year at the 22th International Guitar Convention Pittaluga.
Andrea is frequently asked to teach masterclasses in prestigious guitar festivals which include: Forum Gitarre Wien, Conservatorium Maastricht, Poznan Academy, Budapest Guitar Festival, Kutna Hora Guitar Festival, Gitarrenakademie Pforzheim, Kamermuziek Hengelo, Falaut Campus and Rospigliosi Guitar Competition.
Andrea De Vitis plays a guitar made by Walter Verreydt and he is a D'Addario Artist.
ANDREA DE VITIS GUITAR DEMOS
Leave a Comment