Player Spotlight: Ricardo Giuffrida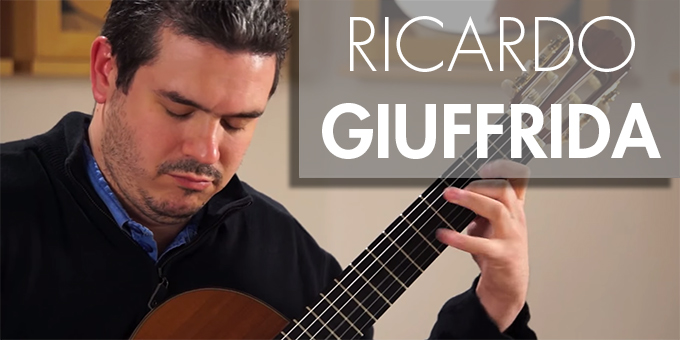 Ricardo Giuffrida is a very accomplished guitarist and composer, born and raised in Sao Paulo, Brazil. He belongs to an extremely rare and unique category of gifted musicians, who are able to combine the technique and discipline of classical music and blend it effortlessly and unmistakably with the most intricate rhythms and harmonies of jazz and Brazilian music. We are pleased to present to you a dear friend of GSI and phenomenal performer – Ricardo Giuffrida.
Ricardo started his musical studies at a very young age, and also coming from an inspiring musical background, he was surrounded by very sophisticated sounds, produced by some of the most highly-regarded musicians in Brazil who were all heavily influenced by the Bossa Nova style. As a matter of fact, his father, the pianist, composer and lyricist Fernando Guê, was one of his first and most present influences. There were also some illustrious performers during these informal musical sessions in his house, including the songwriter and guitar player Natan Marques, who worked with Elis Regina – an artist who was considered the most famous Brazilian singer at the time. As time went by, Ricardo kept expanding the horizons of his music-making abilities, becoming a well-grounded self-taught musician. During this era of his musical journey, he was primarily influenced by flamenco styles of the ingenious Spanish guitarist Paco de Lucía, and the jazz fusion of Al di Meola, John McLaughlin and Larry Coryell, which added great variation to his established musical background rooted in Brazilian tradition.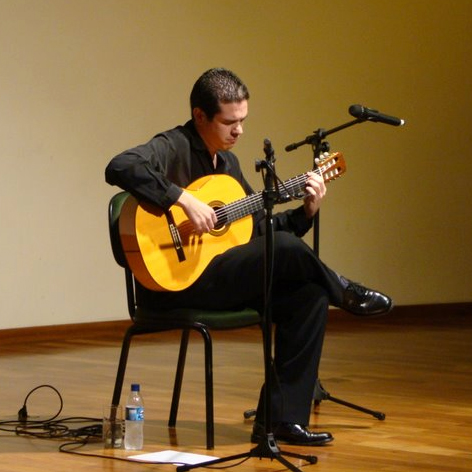 At the age of seventeen, Giuffrida began his studies at USP's (Universidade de Sao Paulo) Medical School, and soon after, he subsequently began studying classical music with the renowned Henrique Pinto, considered by many as an iconic figure in the history of Brazilian guitar, and one who had been responsible for mentoring some of the greatest guitar players in the country. To top off his workload, Ricardo also began studying flamenco under the tutelage of Agustin Carbonel 'El Bola'.
Performing his own compositions at the time, along with those of John McLaughlin, Chick Corea, Garoto, and João Pernambuco themes, Ricardo was nominated six times for "Prêmio Abril de Música" (Abril Musical Award) during his late teens, an award sponsored by the University of Sao Paulo and Abril Publishing.
After graduating from USP's Medical School, Ricardo decided to follow his career path as a psychiatrist. He continues to manage and maintain a well-balanced life as both a psychiatrist and a musician who not only teaches privately and works as a session musician, but also produces and publishes a considerable amount of articles and music books.
Over the last decade, Ricardo has worked as the editor of the most important Brazilian acoustic guitar publication – the music magazine Acústico (Acoustic). While working with Acústico, Giuffrida has collaborated with some very accomplished names in the Brazilian music scene as well as the worldwide scene – musicians such as Ulisses Rocha, Conrado Paulino, Henrique Pinto and many others. In 2006, the guitarist launched his best-selling book Toque de Mestre–Violão Técnicas, with the book being commercially successful across his native country.
Since 2010, Giuffrida works as a collaborator and contributor to the famous Guitar Player magazine. In 2012, he released Violão–Estilos e Técnicas, another guitar book that received very positive reviews and one that has become a commercially successful book.
Recently in his illustrious career as a musician, Ricardo has had the chance to perform and jam with some of the most renowned musical figures such as André Martins (Brazilian fusion guitarist), Duca Belintani (Brazilian blues guitarist), Conrado Paulino (Brazilian/Uruguaian guitarist), Luciano Magno (A virtuoso from Northeastern Brazil), Guinga (considered the most important composer still active in the country), Tito Gonzales and Fernando de la Rua (flamenco guitarists from Brazil).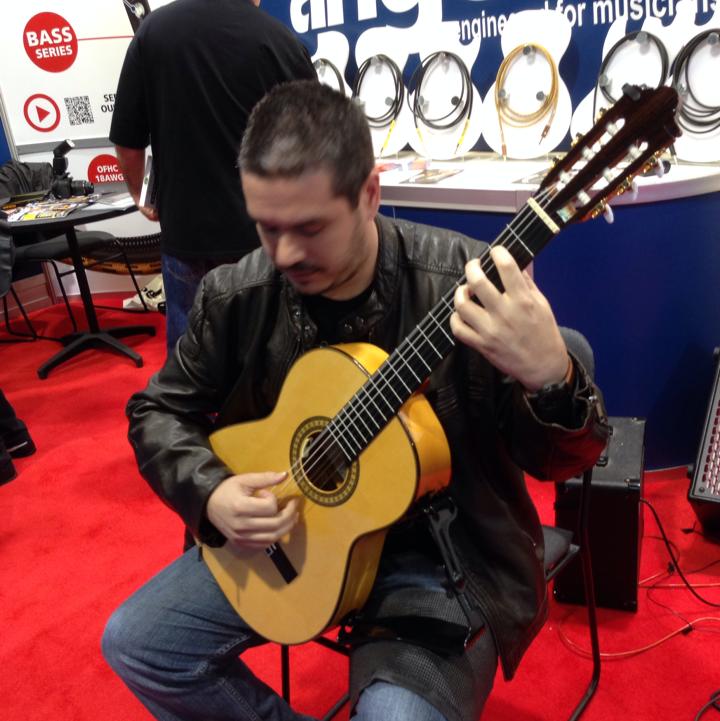 In 2015, Ricardo was invited by the Brazilian company "Santo Angelo Cables and Systems" to perform at the NAMM Show. With his exquisite sense of rhythm and style, along with an astonishing technique, and, of course, the ability to blend everything with his irresistible Brazilian "spice", the guitar player caught the attention of an astonished audience.
As a sonic perfectionist, Ricardo keeps tirelessly refining his musicianship and performance abilities. He continues to be mentored by Everton Gloeden, founder of the Brazilian Guitar Quartet, and he also performs and provides lectures and master classes all over the country.
RICARDO GIUFFRIDA GUITAR DEMOS

(view all)