Recording Artist: Julian Bream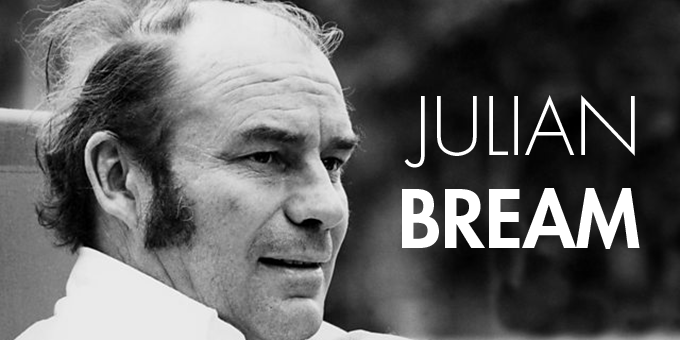 Julian Bream is an English classical guitarist and lutenist, widely regarded as one of the most distinguished classical guitarists of the 20th century. He has also been successful in renewing popular interest in the lute.
Bream was born in Battersea, London and brought up in a musical environment in Hampton. Bream described his parents as both "conventional suburban", but in another way "very unusual". His father was a commercial artist, with an "extraordinary talent for drawing" and a "natural musician" according to Bream. Bream would lie under the piano in "ecstasy" when his father played. His mother, of Scottish descent, was a very beautiful women who was often, according to Bream, "not always there" mentally and didn't like music, but was a warm-hearted person. His grandmother owned a pub in Battersea, and Bream spent much time there during his youth. His father played jazz guitar and the young Bream was impressed by hearing the playing of Django Reinhardt; he would later call his dog "Django". Bream began his lifelong association with the guitar by strumming along on a small gut-string Spanish guitar at an early age to dance music on the radio. He become frustrated with his lack of knowledge of harmony, so read instruction books by Eddie Lang to teach himself. His father taught him the rudimentary basics. The president of the Philharmonic Society of Guitars, Dr. Boris Perott, gave Bream further lessons, while his father became the society librarian, giving young Bream access to a large collection of rare music.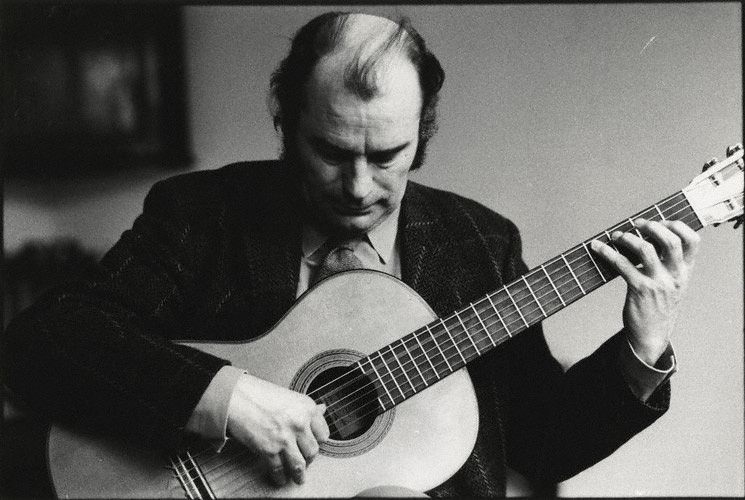 On his 11th birthday, Bream was given a guitar by his father. He became something of a child prodigy, at 12 winning a junior exhibition award for his piano playing, enabling him to study piano and cello at the Royal College of Music. In 1947, aged 13, he made his debut guitar recital at Cheltenham.
Leaving the RCM in 1952, Bream was called up into the army for national service. He was originally drafted into the Pay Corps, but managed to sign up for the Royal Artillery Band after six months. This required him to be stationed in Woolwich, which allowed him to moonlight regularly in London with the guitar.
After three and a half years in the army, he took any musical jobs that came his way, including background music for radio plays and films. Commercial film, recording session and work for the BBC were important to Bream throughout the 1950s and the early 1960s.
He played part of a recital at the Wigmore Hall on the lute in 1952 and since has done much to bring music written for the instrument to light.
1960 saw the formation of the Julian Bream Consort, a period-instrument ensemble with Bream as lutenist. The consort led a great revival of interest in the music of the Elizabethan era.
Bream pursued a busy career playing around the world, his first European tours took place in 1954 and 1955, followed (beginning in 1958) by extensive touring in the Far East, India, Australia, the Pacific Islands and other parts of the world. Bream performed for the Peabody Mason Concert series in Boston, first solo in 1959, and later with the US debut of his Consort. In addition to master classes given in North America, Bream has conducted an international summer school in Wiltshire, England. Bream has recorded extensively for RCA and EMI Classics. These recordings have won him several awards, including four Grammy Awards, two for Best Chamber Music Performance and two for Best Classical Performance. RCA also released The Ultimate Guitar Collection, a multi-CD set commemorating his birthday in 1993.
From the beginning of the 1990s Julian Bream continued his recording career with EMI Classics, featuring music by J. S. Bach, a Concerto album (with the City of Birmingham Symphony Orchestra and Sir Simon Rattle), and discs devoted to contemporary works and guitar sonatas. Despite his importance as a classical guitarist, however, many of his RCA recordings (including the series of 20th-century guitar music) were out of print for several years. In 2011 RCA/Sony Classical released My Favorite Albums, a 10-CD set of albums chosen by Julian Bream himself.
A highly successful biographical film, A Life in the Country, was first shown on BBC TV in 1976. Bream also presented a series of four master-classes guitarists on BBC TV. BBC TV has presented a programme about Julian Bream's life as a concert guitarist. In 1984 he made eight films on location in Spain for Channel 4, exploring historical perspectives of Spanish guitar music.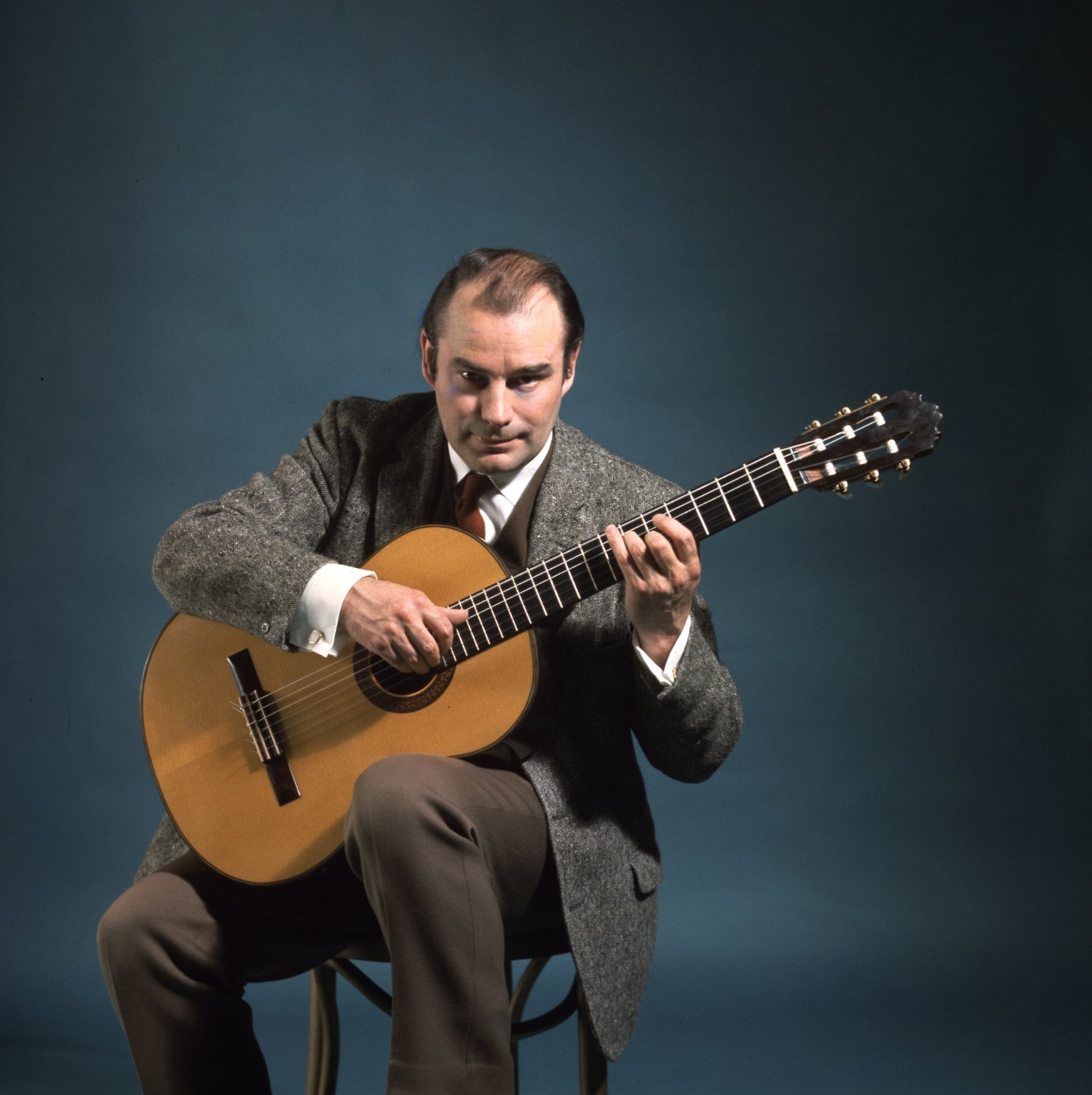 In 1991, BBC Radio and TV broadcast Bream's BBC Prom performance of Malcolm Arnold's Guitar Concerto. He also participated in a recital and concerto performances of works by Tōru Takemitsu at the Japan Festival in London with the London Symphony Orchestra.
During the 1992-93 season he performed on two separate occasions at the Wigmore Hall – at their Gala Re-opening Festival, and at a special concert celebrating his 60th birthday. In the same period, he toured the Far East, visiting Hong Kong, Taiwan, Korea and Japan, and performed the premiere of an arrangement by Leo Brouwer for guitar and orchestra of Albéniz's Iberia at the Proms. In 1994 Bream made debuts in both Turkey and Israel to great acclaim, and the following year played for the soundtrack to the Hollywood film Don Juan DeMarco.
In 1997, in celebration of the 50th anniversary of his debut, he performed a recital at Cheltenham Town Hall. A few weeks later, the BBC dedicated a special television tribute This Is Your Life programme to Julian Bream, filmed after a commemorative concert at the Queen Elizabeth Hall, London.
In recent years, his engagements have included a Gala solo performance at the Philharmonic Hall, Liverpool, a Kosovo Aid concert at St. John's, Smith Square, London, with the Academy of St. Martin in the Fields recitals at the Snape Proms, Aldeburgh, and at the Norfolk and Norwich Festival and a tour of UK National Trust properties in summer and autumn 2000.
In November 2001 he gave an anniversary recital at Wigmore Hall, celebrating 50 years since his debut there in 1951. The 2003 DVD video profile Julian Bream: My Life in Music contains three hours of interviews and performances. It has been declared by Graham Wade "the finest film contribution ever to the classic guitar." It became "Gramophone DVD of the year". His series Guitarra! was made for British television and charts a journey across Spain.
Bream's recitals are wide-ranging, including transcriptions from the 17th century, many pieces by Bach arranged for guitar, popular Spanish pieces, and contemporary music, for much of which he was the inspiration. He has stated that he has been influenced by the styles of Andrés Segovia and Francisco Tárrega. Bream's playing can be characterised as virtuosic and highly expressive, with an eye for details, and with strong use of contrasting timbres.
Leave a Comment