Recording Artist: Tomatito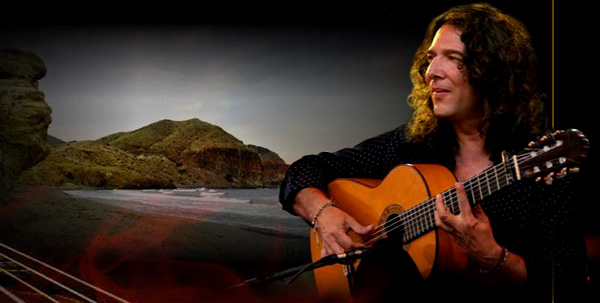 José Fernández Torres "Tomatito" was born in Almería in 1958, in the Pescadería neighbourhood. His family is associated with Almería since many generations back and has an inherent musical tradition. His Grandfather Miguel Fernández Cortés "El Tomate" was a well-known figure at private parties at the turn of the century and among the young aficionados of Almería's traditional musical evenings, at which he played duets with his brother Antonio.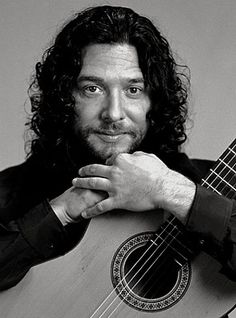 His father, José Fernández Castro, also "El Tomate", was a guitar enthusiast at home and played the clarinet in the city's Municipal Band. His brothers and thus Tomatito's uncles, were Antonio, who played the bandurria as a youngster and later developed a career as a guitarist in France playing for artists such as Paco Isidro, and also Miguel "Niño Miguel", who became a virtuoso classical guitarist in Huelva where he still lives. Tomatito grew up in an environment closely linked to music and especially, to flamenco. He learnt his first chords from his father and grandfather and showed strong musical talent and almost innate ability from an early age.
Before long, at just 10 years old, his first break as an accompanist came about through José Sorroche of Almería's Peña El Taranto flamenco club.  The concert, at which he was presented as "Pepín Fernández", had extensive coverage in the local press, as if destiny had bestowed a certain degree of notoriety for him right from the start of his public career. From then on, he maintained a close relationship with this Peña club and was called on innumerable times to accompany many of the singers who appeared there.
In 1970 his father, El Tomate, took the family to live in Málaga, where he played in local orchestras. There he arranged for his son to work nightly at La Cañeta's club in Marbella.
Later, he was to appear at the Taberna Gitana as a member of the resident cuadro flamenco. La Kika and Pepito Vargas danced there, among others, and Pedro Escalona played the guitar. Aside from accompanying the dance troupe Tomatito played solo, normally Entre dos aguas by Paco de Lucía.
He also took lessons at that time with Pedro Blanco and Enrique Naranjo.
These three years were a key period in his career since top artists whom he revered, such as Pansequito, Lebrijano, Paco de Lucía and even Camarón de la Isla, would hear him play for other well-known singers. He met Paco de Lucía at the marquee, which the Taberna Gitana would mount at the Málaga Feria. Camarón, who was working at the time in the prestigious Torrebermejas club in Madrid, often spent time in Málaga.
One day when Tomatito was 15, Camarón de la Isla unexpectedly needed a guitarist to perform at a festival in Málaga. It was suggested that he call on the youngster at the Taberna Gitana who could play Paco de Lucía numbers well, to which Camarón agreed. This was the first encounter Tomatito would experience with José Monge Cruz, one which would lead to an 18-year professional relationship up to the singer's tragic death in 1992.
At 21, Tomatito returned to the city of Almeria with his family and still lives there. During his time with Camarón, he alternated sell-out concerts in Spain and overseas with work at clubs and festivals playing for great artists such as Enrique Morente, La Susi, Vicente Soto, Pansequito, José Mercé, Chano Lobato, Terremoto de Jerez, Antonio Mairena, Juanito Villar, Rancapino, among others.
Highlights of this period include performances with Camarón at Montreaux Jazz and in New York, as well as solo concerts at events such as:
The 'El Giraldillo' Guitar Competition at the III Bienal de Arte Flamenco, Seville, in 1984, with the singer Juan Villar and the legendary dancer Farruco
The Cumbre Flamenca Festival at the Alcalá Palace Theatre, Madrid in 1985
The V Festival de Jazz de Madrid in 1986 with the Ray Barretto orchestra
The Festival de Verano de la Villa de Madrid in 1991
The Lope de Vega Theatre, Seville, with the singer Parrita
At this last concert, during the performance, Tomatito was surprised by a sudden audience response. Camarón had gone onstage and had sat beside him without being asked. When the singer was asked about this unexpected appearance he replied that "he didn't always require a fee to sing". This was but one demonstration of the union between the two artists which shows Camarón's kindness.
Tomatito's affinity with the Peña El Taranto in Almeria won him, in 1985, the Taranto de Oro prize and later, in 1988, the 'Lucas Lopez' award. At this time he was already one of the most prestigious accompanying guitarists in Spain. His musical philosophy emerged in total affinity with that of Camarón, a unique and very flamenco sound in which they featured the rhythmic breaks as part of the melody as well as exploring fully the cadences of Camarón's Cante. La leyenda del Tiempo, released in 1979, was the first recording of a long discography accompanying Camarón. On Como el agua (1981), he had the chance to play with his idol, Paco de Lucía, for whom he would establish thenceforth, great respect and admiration. Calle Real (1983), Viviré (1984), Te lo dice Camarón (1986), Flamenco vivo (recorded live in 1987), Disco de Oro (compilation released 1988), Soy gitano (1989), Autorretrato (remixes and unedited material, 1991), were to follow. Potro de rabia y miel (1992) was Camarón's las album on which Paco de Lucía played. Later releases include Camarón nuestro (1993), París 1987 recorded live in Paris (1999) and Camarón, Antología inédita (2000).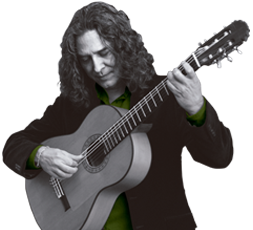 1997 was an important year in Tomatito's career, with an explosion of activity coinciding with official recognition of his work by the Andalusian Autonomous Government in the form of the Silver Medal of the Community. That year he composed his first theatrical score for the Centro Andaluz de Teatro's production of Antonio Onetti's Madre Caballo, directed by Emilio Hernández. Onetti later stated that he had "always envisaged the play with this music" and the play's leading lady Terele Pávez said "…when you appear on stage that music takes your breath away. The whole cast is in awe of it…".
Tomatito's acclaimed collaboration with the pianist Michel Camilo started that year with a tour of Spain's major stages: The Barcelona Jazz Festival, the Palau de la Música, Valencia, the Gran Teatro, Córdoba and overseas at Sardinia Jazz.
The following year, he created the score for the German film Bin Ich Schoen directed by Doris Doërrie. He played such diverse events as Espárrago Rock 98, in Granada, Nuits de la Guitare de Patrimonio, Corsica, sharing the bill with Irakere and Chick Corea, Mont-de-Marsan Flamenco Festival, France, as well as in Finland at the Tampere Flamenco Festival.
At the X Bienal de Arte Flamenco de Sevilla, he presented Tomate & Friends, one of the event's most talked-about concerts. He spent time in Argentina participating in the 'El Guitarrazo' tour with Luis Salinas and Lucho González.
He began 1999 at the II Miedzynarodowy Guitar Festival, in Poland and went on to tour Cuba, Germany, Argentina, France and Italy. He also appeared with Michel Camilo at the Blue Note Jazz Club in Tokyo and the International Jazz Festival, Basle.
The following lines appeared in the Argentinian press:
"In 1998 Tomatito came to Argentina and shared stages with two of our great guitarists, Luis Salinas and Lucho González. "El guitarrazo" brought us this musician, born on the Spanish tablaos, who alongside Camarón de la Isla and Paco de Lucía would become part of the Nuevo Flamenco legend which began in the '70s. A noble, virtuoso and inspired guitarist, Tomatito returned to our country with his own show, "Noches Gitanas", and left the magic of his art in Buenos Aires' atmosphere" (Maria Belén Luaces).
Another of his important collaborations was with the Turkish baglama maestro Arif Sag with whom he toured Europe in 2000. He also worked with the film director Tony Gatlif on his movie Vengo. Finally, that same year, the album Spain, a compilation of Tomatito's work with Michel Camilo was released. It won a Latin Grammy for best Latin-Jazz recording. Together they played Carnegie Hall during the New York JVC Jazz Festival and went on to do a stint at the prestigious Blue Note Jazz Clubs in New York, Tokyo and Osaka. Tomatito also collected another Grammy for best flamenco recording for the live album París 1987 on which he played for Camarón de la Isla.
After closing the XI Bienal de Flamenco in Seville with his concert Bajandí, he travelled to Rio de Janiero, Nimes and Santo Domingo to give concerts.
The Tony Gatlif film went on to obtain the César prize for best soundtrack and signified nomination for Tomatito for the Premio de la Música in 2001. Pase de Los Castaños, was released on Universal-Polydor in 2001 and caused a sensation among followers of flamenco. In spite of having recently ventured into many other musical fields, this album is pure flamenco, with Tomatito's own personal sound. Its deep, mysterious qualities contrast with fresh harmonies and sparks of brightness. It covers the whole flamenco's 150-year spectrum of history and the voices of his own daughters appear, as well as a duet with George Benson.
After the national tour presenting the new repertoire, Tomatito played with Camilo at the major European Jazz Festivals including North Sea, Umbria Jazz and Montreaux. He was selected to become the "face" for the new JVC publicity campaign in Spain.
The Swiss festivals in Guitar and La Batie de Geneve featured Tomatito with his own sextet in their line-up with enormous success. Nuevos Medios, the flamenco record label, had just released Tomatito, a compilation including tracks from Barrio Negro and Guitarra Gitana, to commemorate the label's 20th anniversary.
He began 2002 with a sellout concert at the Palais de Beaux Arts, Brussels, going on to participate in the Basel International Jazz Festival. Other events that same year include Flamenco à Biarritz, Nuits de la Mediterranée, Tangier and Fiesta des Suds, Marseille. Special projects include composition of the score for Aida Gómez production of Salomé directed by Carlos Saura and also for the Centro Andaluz de Teatro's new work Romeo & Juliet.
Joining forces with his close friend Raimundo Amador, the two toured Spain as Raimundo & Tomate throughout the summer of 2002. Tomatito has spent considerable time venturing into the musical world of Astor Piazzolla with his friend and colleague Carles Trepat, a collaboration which was showcased at the XII Bienal de Flamenco and later at the Colegio Ma Juan Evangelista, Madrid.
Tomatito has more recently toured Japan and Switzerland as well as played the Town Hall Theatre in New York and the Lisner Auditorium in Washington D.C.
Leave a Comment