Robert Wang - The 2022-2023 GSI Foundation Scholar Records In Our Showroom.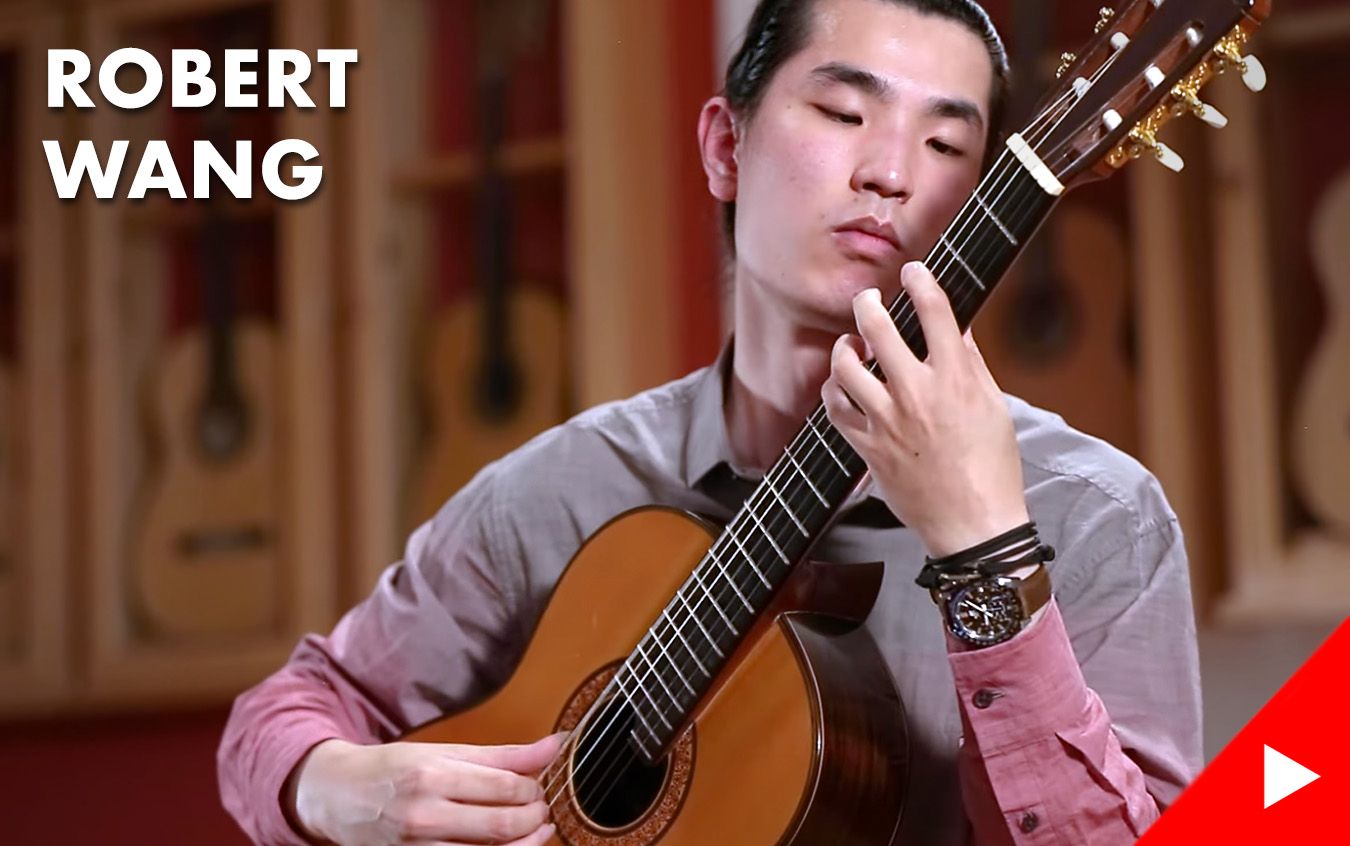 The recipient of this year's GSI Foundation scholarship, Robert Wang, has visited us for his first recording session at GSI. Robert is a student at the USC Thornton School of Music. He is the first prize winner of the 2018 Montréal International Classical Guitar Festival Youth Competition, the second prize winner of the 2016 Boston GuitarFest International Youth Competition (Senior Division), and the first prize winner of the 2017 GTA (Qinling) International Guitar Festival Youth Competition in China.
Robert recorded five videos. His session at GSI started with two of Frank Koonce's arrangements of pieces by Johann Sebastian Bach. First, Robert played "Allegro" (4th movement) of "Violin Sonata No. 2 in A Minor, BWV 1003". For this piece, Robert chose a 1982 Jose Romanillos "La Velez" SP/CSAR. This instrument has all the qualities of an exceptional Romanillos - a sweet and lyrical tone with excellent separation. In the second video, we can hear Bach's "Andante" from the "Violin Sonata No. 2 in A Minor, BWV 1003" recorded on an 1891 Benito Ferrer SP/CY - this "tablao-style" guitar has a truly old-world charm with a very sweet and mysterious tone. Robert also used a lower tuning with A = 415 Hz.
Also within the Baroque period, the next video features Robert playing William Kanengiser's arrangement of "Allemande" from "Keyboard Suite in D Minor (HWV 437)" by George Frideric Handel. The choice of guitar for this video was quite bold since Robert picked a flamenco guitar for this video - 1962 Daniel Friederich "Flamenco blanca" SP/CY - it's a breathtaking instrument. Friederich built only 8 of these models and he even made the machine heads himself. It doesn't only play like a dream, but also is a very rare instrument.
Next, Robert presented his skills in the avant-garde repertoire - George Crumb's "Toccata" from "Sonata for Solo Violincello" (arr. Alexander Dunn) which he recorded on a 1994 Thomas Humphrey "Millennium" SP/CSAR. This guitar has the trademark quality of tone known to Humphrey lovers - a powerful, "hollow" and very focused sound which makes these instruments particularly well-suited to the concert stage where added projection is welcomed by audience and player alike.
As the final piece, Robert recorded "Elsa's Procession to the Cathedral" from Richard Wagner's Romantic opera "Lohengrin". This piece was arranged for guitar by our good friend, Cameron O'Connor. In this video, we can hear Robert playing on an absolutely stunning 1960 Hermann Hauser II SP/CSAR. This particular guitar is very powerful for a Hauser II of this period, with excellent projection. The fundamental tones are very clear and bell-like with almost perfect separation.
Check out Robert's videos below!
Leave a Comment