Scott Morris' Students at GSI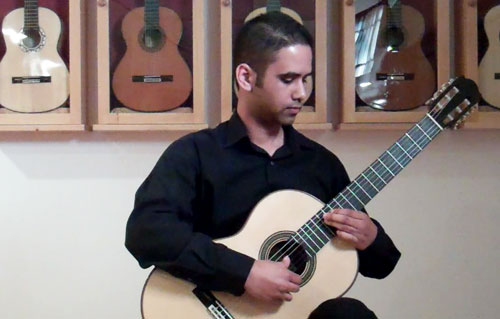 As many of you already know, Scott Morris is the director of the Cal State Dominguez Hills guitar program. His program is growing so fast that he recently hired Matt Grief (of LAGQ fame) to help him out. Scott and I had been talking about how it might be fun to have some of his students come in and do some videos, so this week he came in with four of his students – one sophomore, two juniors and a senior – to try out some of their repertoire on some of our guitars. I was impressed not only with their playing, but with how quickly they took to playing for a camera, and I think everyone, including the demanding Dr. Morris, was pretty happy with the results.
Here's sophomore Jose Gutierrez playing Leo Brouwer's Etude #7 on a Matsuoka '706'.

Here's senior Jan Pequeno playing Villa Lobos' Prelude #4 on a 2011 Lucas Martin.

Here's junior Ivan Chavarria playing Villa Lobos' Mazurka-Choro on a Ramirez '125 Años' spruce.

And here's junior Erick Barrientos playing the fourth movement of Domeniconi's 'Koyunbaba' on a 2000 Conde Hermanos 'AC23′.