Slovenian Guitarist, Doris Cosic, records at GSI music by Castelnuovo-Tedesco, Legnani, Bach, Brouwer and Kuhar.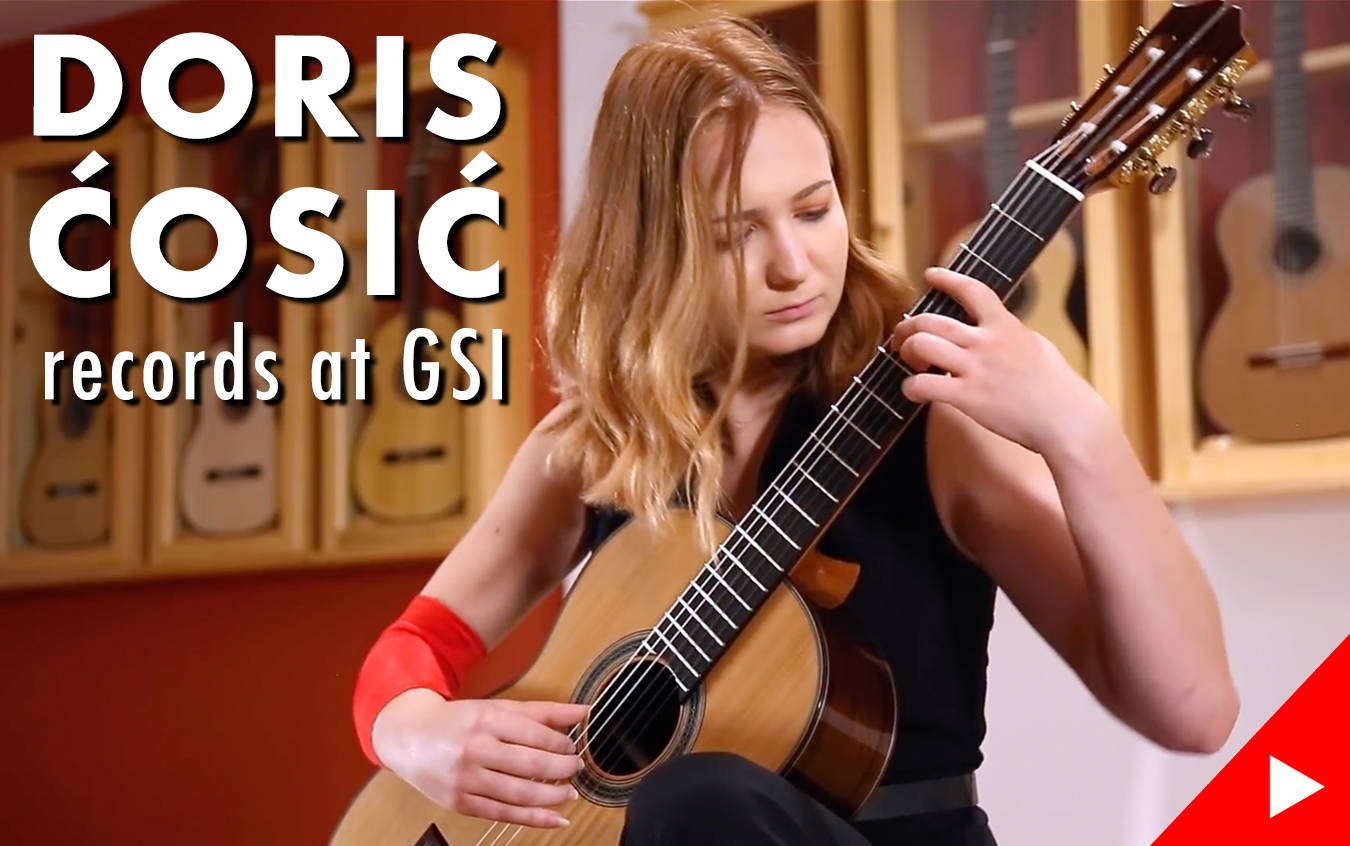 Recently, we've had a new guest artist visiting us at GSI. Doris Ćosić is a Slovenian guitarist who came to the United States to study with Brian Head and pursue her Bachelor's degree at the USC Thornton School of Music.
Doris was only four years old when she took her first foray into music at a local school in Velenje, Slovenia. At the age of six, when she was supposed to pick an instrument, she quickly decided that guitar was the best choice for her. Even as a kid, she considered herself to be practical – her older brother used to play guitar, so she knew that her choice won't burden her parents financially. She knew that, besides the beautiful sound a guitar has, it is also easily transportable, popular in every genre of music, so she had no second thoughts. Her first teacher Kruno Zlatar confirmed that guitar was a great decision for her, and provided her with great guidance and support throughout the first eight years of music education.
Her dad would walk her to the music school every day (because guitar wasn't as easily transportable for a tiny child as Doris first thought), and her family always supported her musical endeavours, even though they had no musical background.
Doris's family was and still is very involved in tennis; her brother now has a tennis club in Germany, and her dad used to be a referee. However, despite her efforts to get involved in the family sport, Doris gave up after six years of training and decided to focus on what she was really passionate about: music. She loved being involved in various activities as a child, and trained in swimming, took dancing lessons and performed at her school. She enjoyed being versatile, and from an early age, having a tight schedule has always been the best motivation.
Even as a child, she'd set very high standards and goals for herself, and her parents sometimes had to remind her that there are more important things in life than success. She was raised in the home of love, care and support. Nevertheless, she was still driven and passionate about what she did and her parents encouraged her every step of the way.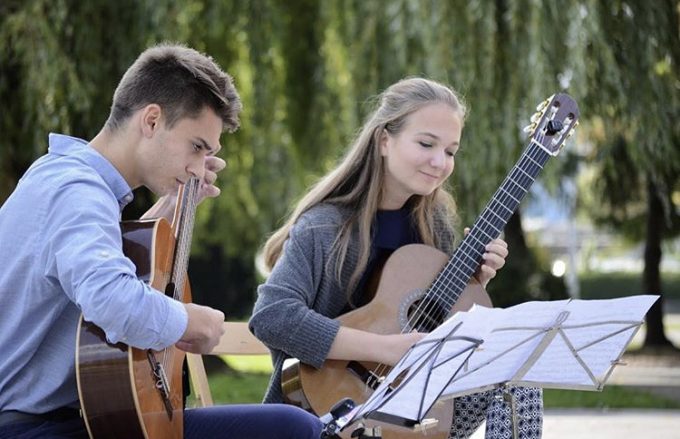 As she was growing up, she started to struggle with performance anxiety. What helped her most was sharing the stage with her duo partner, whom she successfully played with until her junior year of high school.
"For some reason, I've always enjoyed making things harder for myself. I never quite figured out why, but I guess the challenges I set for myself became sort of addicting. I had to attend two high schools at the same time, just because I knew I could, and I had to finish my music high school early and apply for a Bachelor's program in music that I was planning on doing during my senior year of high school. And then I also applied to a medical school in Slovenia, which I was planning to do at the same time as my Bachelor's in music. You could say I was irrational at that point. My mom kept telling me that I'm pushing myself too hard, and that I should take care of myself better. I guess that's what you'd call being too ambitious. Good thing I never got into the BM program I applied for."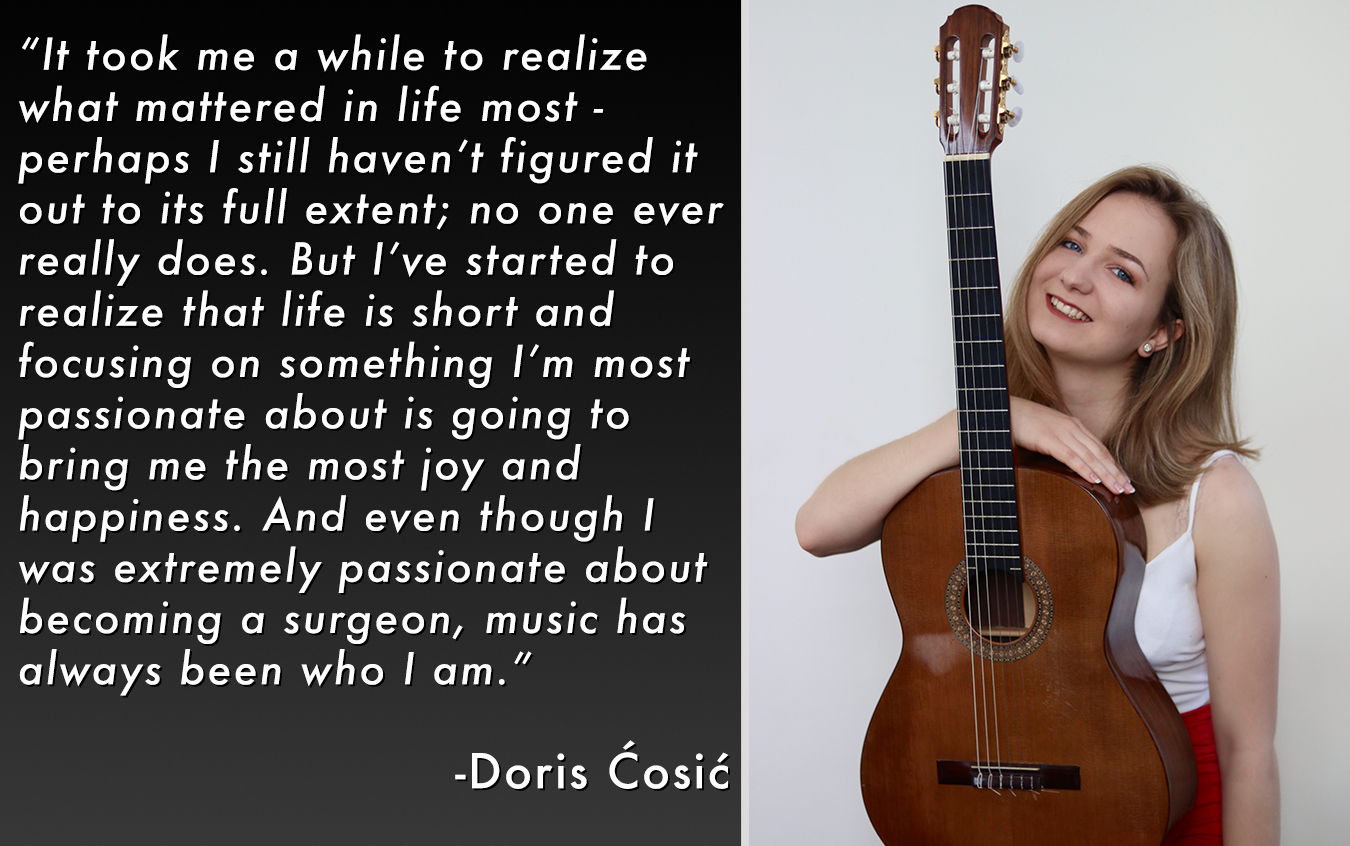 During her junior year of high school and her last year of music high school, Doris started to realize how important music is in her life. She decided to have "one final concert" before she was supposed to say goodbye to her music career, but she ended up having two concerts at the school for kids with special needs, and Doris says that it was the best experience of her life.
Doris's high school guitar teacher Monika Krajnc Štih has been a tremendous inspiration for her and believed in her from the very beginning. She understood who Doris truly was even before Doris realized it herself.
"I realized that what makes me happy the most is helping others. But I also realized that becoming a doctor is not the only way I can help people. I can bring joy into people's lives by doing what I love to do – making music."
She found out about the classical guitar program at USC at a guitar camp in Slovenia the summer before her senior year. The program offered a full scholarship for students from Slovenia, so she decided to apply, but didn't tell anyone about it except her parents.
"I was convinced that I didn't stand a chance of getting into such a prestigious program on the other side of the world, but I knew I'd regret it if I didn't at least try. I always say that I only regret things I don't do. I still applied to the medical school in Slovenia – I figured that life will make a choice for me."
She ended up getting into both schools, so she had to make a decision. However, she made it in an instant. She knew that an opportunity like this only comes around once in a lifetime and she wasn't going to let it go. Once she got to meet her guitar professor, Brian Head, she knew she made the right choice. She'd never be able to achieve what she truly wanted as a musician if she stayed in Slovenia, but moving to Los Angeles opened so many doors for her.
"At first, I was afraid of picking more of an uncertain future for myself. I knew that going to a medical school would guarantee me a successful career, but it just didn't feel right. I felt the need to leave the country, see the world, learn about the world and find ways to make a difference. I needed to discover who I am and who I want to be."
Doris also became really interested in the neurological aspect of music therapy, and found a way to bring her interests in both medicine and music together. She's worked with different non-profit organizations (Mis Hermanos Pequeñitos and LAC+USC Medical Center) and played a number of outreach concerts. She's planning to take some neuroscience classes at USC while pursuing her Bachelor's of Music in Classical Guitar Performance, in hopes to attain the foundation she'd need to get onto a science-based research on music therapy.
"I never thought of myself as someone who can articulate their feelings well with words. I've always expressed myself best through music, and I believe that music can be an easier way to communicate for many others. A lot of kids with special needs, for example, kids who live with autism, have limited communication skills. And there has been enough case studies and research done that encouraged me to believe that music truly can heal. I do think that music therapy is still very new and fresh, but it has a ton of potential to be able to make a change in people's lives, and I want to be a part of that. I want to make that change happen."
In her free time, Doris loves to go boxing. She's a member of the Trojan Boxing Club and thinks that boxing is a great way to release stress and stay in shape. As well, her freshman year, she joined an all women a cappella group "Sirens", which became an important part of her life. Currently, she's the music director of the group and is working on recording their first EP.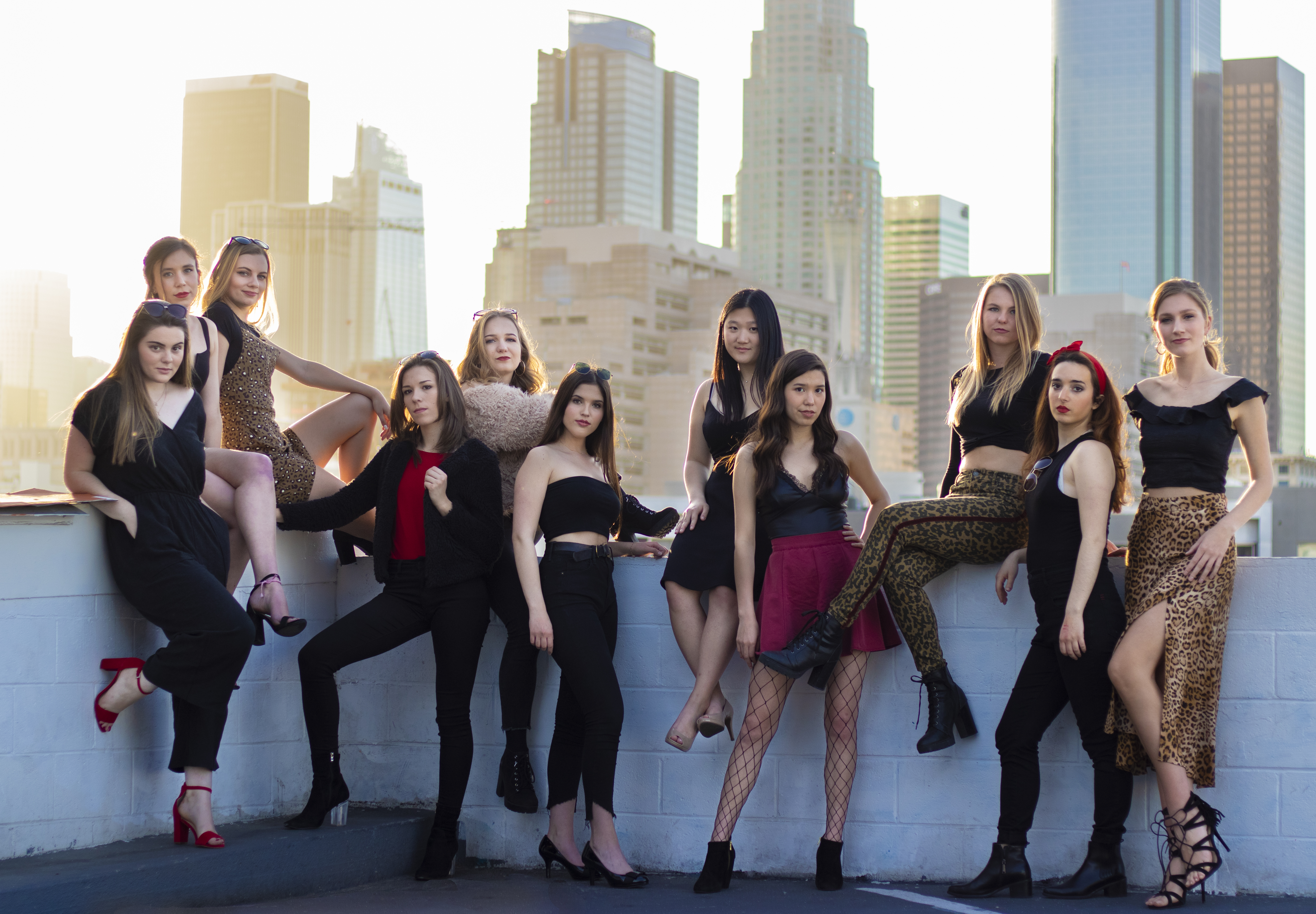 "Becoming a music director of an a cappella group during the pandemic was definitely not easy. However, the challenges all musicians have been facing when we transitioned to working remotely have sparked some new ideas and lead us to completely change the way our group functions. At the beginning of the semester, I had a few music theory and arranging workshops for all members, and then we all contributed to arranging the setlist for our album. I'm incredibly proud of everyone— we have formed a tight community during this pandemic and have been an incredible support for one another."
While visiting GSI, Doris recorded five pieces on five different guitars: Mario Castelnuovo-Tedesco's "Capriccio Diabolico" on a 2020 Eric Sahlin CD/CSAR, Luigi Legnani's "Fantasia, Op. 19" on a 2007 Eric Sahlin CD/IN, J. S. Bach's "Lute Suite in c Minor, BWV 997: Fugue" on a 2006 Robert Ruck CD/IN, Leo Brouwer's "Six Preludios Epigramaticos (I-IV)" on a 2020 Paolo Coriani "Manuel Ramirez" SP/CSAR and Nejc Kuhar's "West Sad Story"on a 2014 Stephan Connor CD/IN.
In the future, Doris is hoping to travel, teach, and perform, as well as work on music therapy research. She found a way to combine music and medicine, the two fields she's most passionate about, and she hopes to be able to pursue both further.
Leave a Comment