The fourth model in Bastien Burlot's "Alkemia" series just unveiled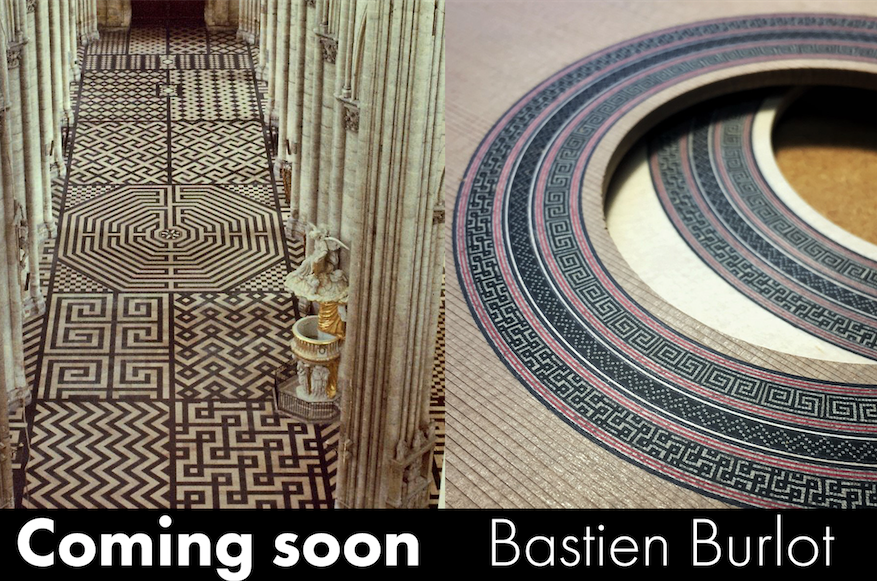 Here are some photos and commentary from Bastien Burlot's about his newest guitar to emerge from his "Alkemia" series based on the great cathedrals of France. This time Bastien focuses on the Amiens cathedral (La Cathédrale d'Amiens), particularly on the beautiful patterns of the cathedral's iconic floor originally created in the year 1288 during the late Middle Ages. In the center of this Gothic cathedral's floor, there is a labyrinth that is linked to the one in the Chartres cathedral by having the same path arrangement and widths, however it differs from its round counterpart in its octagonal shape. As many of you recall, the Chartres cathedral was used as the inspiration by Burlot in the very first guitar of his "Alkemia" line. The labyrinth of the Amiens cathedral and its style – all black and white with straight geometric lines, are echoed in the entire cathedral floor featuring simple, but beautiful patterns, clearly replicated by Burlot in his newest rosette where Bastien chose 3 patterns of that floor to represent the 4 elements. Why only 3? His idea is to let the musician be the 4th one…
Perhaps its best to hear directly from Bastien some of his insights into this model:
"For all specialists in medieval architecture, the cathedral of Amiens represents an absolute masterpiece of Gothic art, of daring design and execution that has provided centuries of admiration. Standing beneath the stone vaulted nave at a height of 43 meters (140 feet) makes us think we are dreaming! The entire Notre Dame de Paris would comfortably fit in this incredible space – Amien's volume being double that of Paris at 200,000 cubic meters. To get an idea of ​​what such size means, consider that the Arc de Triomphe de Paris is barely taller. In Amiens, we see what at the time was the absolute limit of what was achievable: a few years after the completion of Amiens, the builders of the Beauvais cathedral would try to surpass Amiens in size, only to have the roof partially collapse, leaving Amiens the tallest enduring cathedral in France to this day. So it is with Amiens that Gothic architectures seems to have had found its limit. Concerning the creation of the rosette of this guitar, I chose this time to draw my inspiration from the magnificent floor of the cathedral. A centuries-old tradition attributes to each of the four motifs of the nave pavement the name of one of the four elements. 3 have been integrated into this rosette whose complexity of construction was a real technical challenge. The 4th element will therefore be the guitarist…"
The floor of La Cathédrale d'Amiens

Burlot's rosette
In the pictures you can see 2 tops, one of spruce and one of cedar. The cedar one will be completed with a beautiful set of Indian rosewood and the spruce with African rosewood for the back and sides.
---
Check out other Burlot's guitars from the "Alkemia" series
2020 Bastien Burlot "Alkemia-Paris"
2019 Bastien Burlot "Alkemia-Strasbourg"